In June 2019, BMW presented the future concept Vision DC Roadster, an electrically powered motorcycle. According to media reports, B...
BMW M Performance has been offering carbon wheels for the S 1000 RR since 1 August 2020.
Blechmann is the nickname of Bernhard Naumann, a renowned customizer from Austria. Together with BMW he presented his latest creatio...
On Tuesday evening, a 30-year-old car driver had already hit several motorcyclists on the Berlin city motorway A100 (Germany). Autho...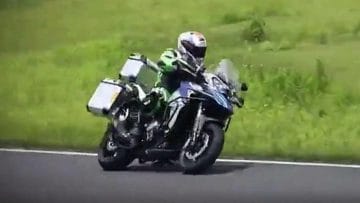 A video on TikTok shows the QJMotor SRB 750 during test drives. The sister model should have a very high similarity to the upcoming...
The small volume naked bike is not only intended for beginners and combines a certain retro look with trendy colours
They have already proven with the HP4 Race that BMW is a pioneer when it comes to carbon chassis. Now they want to take the carbon f...
Because of the rather simple architecture and the deliberate avoidance of complicated technology, the BMW R 18 is particularly well...