As the James Bond movies celebrate their 60th anniversary this year, Triumph won't miss the opportunity to release a new 007 special...
Already since July there are rumors that the 2023 Tracer GT will be equipped with a radar system.  First prototype pictures confirme...
It has been no secret for a long time that Honda will launch a new Hornet on the market.  Now Honda has revealed details of the engi...
Indian Motorcycles is recalling the FTR 1200 to the workshops, a coolant flange must be checked.
Triumph has announced it will supply a revised engine for the Moto2 World Championship in 2023.  It is said to be more stable in add...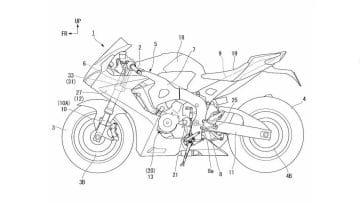 Honda is using experience from the automotive industry to implement a lane keeping assistant for motorcycles, according to patent ap...
That a new Benelli TRK702 is coming was already revealed in April through type approvals in China.  Design filings now give more det...
Due to Corona, the motorcycle meeting in Nuremberg could not take place for two years. Nevertheless, it was not forgotten, more than...
Querly had to face the accusation of having driven an illegal race on 14. April 2022 in front of the district court of Bad Neuenahr-...
Bournemouth University, in collaboration with DocBike, has studied motorcycle accidents and found that car drivers and motorcyclists...
In the future, anyone driving in a lane closed by a "red X" in Great Britain could automatically receive a 100-pound fine and three...
Motorcycles and scooters are the most important means of transportation in Indonesia, with approximately 107 million motorcycles on...
Mobile or stationary speed cameras are a good way to prevent speeding. However, stationary speed cameras in particular are usually v...