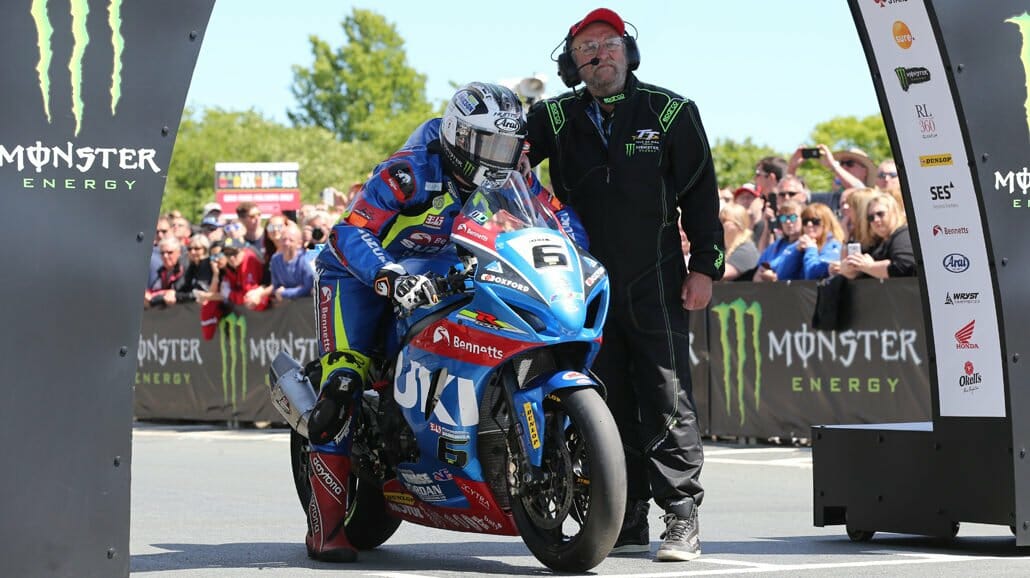 Ian Hutchinson gewann das erste Rennen der Isle of Man TT 2017. Er konnte das das extrem spannende RST Superbike für sich entscheiden. 
Das erste Rennen der Isle of Man TT 2017, die erste Runde
[sam_ad id="1″ codes="true"]James Hillier (JG Speedfit Kawasaki) führte bei Glen Helen in der Eröffnungsrunde mit einem Vorsprung von 0,8 Sekunden vor Harrison, Hutchinson und Michael Dunlop. Bis Ramsey Hairpin konnte Harrison 1,3 Sekunden aufholen und hatte die Führung mit 0,5 Sekunden Vorsprung. Dunlop war nun auf dem dritten Platz vor Hillier, Hutchinson, Hickman und Conner Cummins.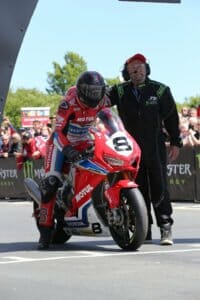 Guy Martin der in diesem Jahr wieder zur TT zurückkehrte hatte keinen guten Start in die Rennwoche. Er hatte einen Unfall bei Doran`s Bend was das Aus für ihn bedeutete. Verletzt hat er sich dabei aber nicht.
Bis Bungalow konnte Dunlop die Führung übernehmen und schaffte eine Eröffnungsrunde von 131.135 mph. Er führte mit 1,8 Sekunden vor Harrison. Dahinter lag mit einer halben Sekunde Abstand Hillier, dann Hutchi und Hickman. Die Top 5 schafften alle einen Rundenschnitt von über 130 mph aus stehendem Start.
Auf der zweiten Runde führte Dunlop noch bei Glen Helen. Harrison war aber schneller und konnte schon 1,4 Sekunden aufholen. Bei Ballaugh führte er bereits, mit einem Vorsprung von 5,3 Sekunden auf Hillier. Dunlop musste seine Bennetts Suzuki bei Handley`s abstellen.
Bei Ramsey hatte Harrison einen Vorsprung von 7,5 Sekunden vor Hutchinson der sich auf den zweiten Platz vorschieben konnte. Er lag aber nur 0,4 Sekunden vor Hillier. Bis Bungalow schrumpfte der Abstand zum Leader auf 6,5 Sekunden.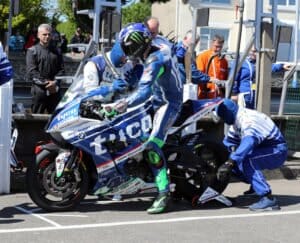 Die zweite Runde
In der zweiten Runde erreichte Harrison 130.907 mph und er führte mit 5,4 Sekunden Vorsprung. Bei den Boxenstops fiel Hutchinson auf den vierten Platz zurück aber auch Hillier verlor Zeit. Cummins und Kneen die auf fünf und sechs lagen hatten auch Probleme an der Box. Kneen bekam außerdem eine 30 Sekunden-Strafe wegen überhöhter Geschwindigkeit in der Boxengasse.
Die dritte Runde
Am Anfang der dritten Runde führte Harrison vor Hutchinson, Hickman und Hillier. Kneen fiel auf den neunten Platz zurück und Cummins bis auf Platz 17. David Johnson spülte es auf den fünften Platz und Michael Rutter auf den sechsten vor.
Nach der Hälfte des Rennens konnte Hutchinson die Führung übernehmen, aber mit einem knappen Abstand von 0,4 Sekunden vor Harrison.  Die Top Ten lag nur 10,5 Sekunden auseinander. Hickman und Hillier lagen auf drei und vier, Johnson und Rutter weiter auf fünf und sechs. Danach folgten Kneen, Bruce Anstey, William Dunlop und Brookes.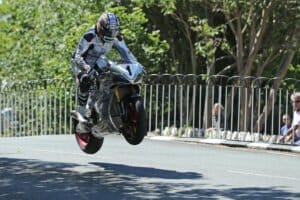 Die vierte Runde
In der vierten Runde änderte sich an der Spitze wenig. Harrison übernahm wieder die Führung und hatte bei Glen Helen einen Vorsprung von 0,6 Sekunden. Bei Ramsey lag Hutchinson wieder vorn mit  nur 0,07 Sekunden. Fünf Sekunden dahinter fuhr Hickman auf Platz drei. Anstey musste bei Ramsey stoppen, konnte dann aber weiterfahren. Steve Mercer und Gary Johnson fielen bei Cruickshanks und Sulby Bridge aus.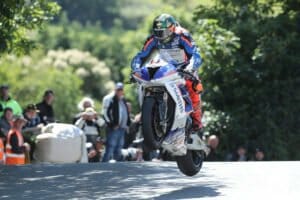 Hutchinson erreichte einen Vorsprung von 4 Sekunden nach dem Mountain. Hickman lag jetzt auf Platz zwei, 1,6 Sekunden vor Harrison und vier Sekunden vor Hillier.
Die fünfte Runde
Bei den nächsten Stops führte Hutchinson mit 10 Sekunden Vorsprung vor Hickman. Hillier war zurück auf den dritten Platz da Harrison Zeit verloren hat und auf vier zurückviel. Bei Glen Helen lag Hillier auf Platz zwei.
Die sechste Runde
Zu Beginn der Finalrunde lag Hutchinson vorn, aber der Abstand auf Hickman schmolz. Er war noch  7,9 Sekunden bei Glen Helen und bei Ballaugh nur noch 2,5 Sekunden. Harrison war nun dritter da Hillier Probleme mit der Spritversorgung hatte. 9,5 Sekunden lagen zwischen den ersten Vier.
Bis Ramsey Hairpin konnte Hickman die Lücke weiter zufahren. 1,6 Sekunden lagen nur noch zwischen den ersten beiden.
Letztlich konnte sich aber Hutchi durchsetzen und gewann mit einem Vorsprung von 5 Sekunden vor Hickman. Danach folgten Hillier und Kneen der trotz der 30 Sekunden Zeitstrafe den Platz vor Rutter behalten konnte. Ein Wimpernschlag lag dazwischen.
Horst Saiger war der Beste Privateer und erreichte den elften Gesamtrang.
Ergebnisse Isle of Man TT 2017 RST Superbike
Pos        Rider       Machine/Entrant          Time       Speed
Ian Hutchinson BMW / Tyco BMW 01:45:58.474 – 128.170
Peter Hickman BMW / Smiths Racing 01:46:03.544 – 128.068
Dean Harrison Kawasaki / Silicone Engineering 01:46:11.545 – 127.907
James Hillier Kawasaki / JG Speedfit Kawasaki 01:46:13.281 – 127.873
Dan Kneen BMW / Team Penz 13.com BMW Motorrad 01:47:50.068 – 125.960
Michael Rutter BMW / Bathams SMT Racing 01:47:50.203 – 125.957
David Johnson Norton / Norton Motorcycles 01:48:25.512 – 125.273
Joshua Brookes Norton / Norton 01:48:39.174 – 125.011
William Dunlop Yamaha / Temple Golf Club 01:48:50.858 – 124.787
Martin Jessopp BMW / Riders Motorcycles BMW 01:48:53.943 – 124.728
Horst Saiger Kawasaki / iXS 01:49:48.762 – 123.691
Sam West BMW / PRL / Worthington 01:49:56.914 – 123.538
Bruce Anstey Honda / padgettsmotorcycles.com 01:50:18.570 – 123.134
Philip Crowe BMW / Handtrans / Fleetwood Grab / Sheff 01:50:23.240 – 123.047
Jamie Coward BMW / Radcliffe's Racing 01:50:33.005 – 122.866
Dan Stewart BMW / Wilcock Consulting 01:51:20.121 – 121.999
Brian McCormack BMW / Vanfleet Transport 01:51:21.066 – 121.982
Stefano Bonetti BMW / Speed Motor 01:52:01.189 – 121.254
Mark Parrett BMW / C & C Ltd IOM 01:52:14.648 – 121.011
Michael Sweeney BMW / MJR Racing 01:52:16.785 – 120.973
Dominic Herbertson BMW / WH Racing 01:52:20.909 – 120.899
Shaun Anderson Suzuki / Anderson Race Developments 01:53:06.427 – 120.088
Davy Morgan Kawasaki / Angry Bee 01:53:24.905 – 119.762
Rob Hodson BMW / Hodson Racing 01:53:34.283 – 119.597
Kamil Holan BMW / McRace by IVR BMW Motorrad CS 01:53:55.718 – 119.222
Xavier Denis Kawasaki / Optimark Road Racing Team 01:54:10.566 – 118.964
Jochem van den Hoek Honda / TC Racing 01:54:13.579 – 118.911
Alan Bonner BMW / NW Racing 01:54:33.032 – 118.575
Ian Pattinson BMW / Weardale Racing Ltd 01:54:41.366 – 118.431
Raul Torras Martinez Yamaha / Martimotos.com Racing 01:54:53.370 – 118.225
David Hewson BMW / Obsession Engineering LTD 01:55:01.638 – 118.083
Marco Pagani BMW / Team Franciacorta Corse by LOGIC 01:55:09.825 – 117.943
Tom Weeden Honda / ThePeoplesBike.com 01:55:42.069 – 117.396
Barry Furber Kawasaki / Vauxhall / Greenhous / Moto-De 01:55:47.972 – 117.296
Adrian Harrison Kawasaki / Silicone Engineering Racing 01:55:51.955 – 117.229
Anthony Redmond BMW / Team Tony 01:56:10.666 – 116.914
Richard McLoughlin Kawasaki / Abtech Precision / Breslin Autob 01:56:11.839 – 116.894
George Spence Yamaha / Dod Spence Racing 01:56:31.924 – 116.558
Julien Toniutti Yamaha / Optimark Road Racing Team 01:57:35.972 – 115.500
Alessandro Polita BMW / Team Penz13.com BMW Motorrad 01:58:05.739 – 115.015
Richard Wilson Honda / Takumi Woodwork 01:58:38.057 – 114.493
David Madsen-Mygdal Honda / CSC Branson Racing 01:58:54.775 – 114.225
Bildergalerie RST Superbike 2017
Quelle: IOMTT.com or click Info
Video Unfall Guy Martin
Die Pressekonferenz nach dem Rennen im Video
Video vom Mad Sunday und dem Superbike-Rennen: