Ian Hutchinson won the first race of the Isle of Man TT 2017. He won the extremely exciting RST Superbike.

The first race of the Isle of Man TT 2017, the first round
[sam_ad id="2″ codes="true"]James Hillier (JG Speedfit Kawasaki) led Glen Helen in the opening round with a lead of 0.8 seconds ahead of Harrison, Hutchinson and Michael Dunlop. Harrison was able to catch up with Ramsey Hairpin for 1.3 seconds and had a lead of 0.5 seconds. Dunlop was now in third place ahead of Hillier, Hutchinson, Hickman and Conner Cummins.
Guy Martin, who returned to TT this year, did not have a good start to the race week. He had an accident at Doran`s Bend which meant the end for him. But he did not hurt himself.
Until bungalow Dunlop took over the lead and made an opening round of 131.135 mph. It took 1.8 seconds before Harrison. Behind him lay Hillier, half-second, then Hutchi and Hickman. The top 5 all made a round of 130 mph from the start.
On the second lap, Dunlop was still at Glen Helen. Harrison was faster and was able to catch up for 1.4 seconds. At Ballaugh, he already had a lead of 5.3 seconds on Hillier. Dunlop had his Bennett's Suzuki at Handley's.
At Ramsey, Harrison had a lead of 7.5 seconds ahead of Hutchinson, who was able to advance to second place. He was only 0.4 seconds ahead of Hillier. Until bungalow the distance to the leader shrank to 6.5 seconds.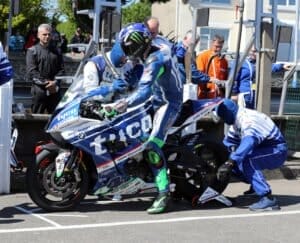 The second round
In the second round, Harrison reached 130.907 mph and he led 5.4 seconds ahead. At the pit stops, Hutchinson fell back to fourth place but also Hillier lost time. Cummins and Kneen on five and six were also had problems in the pits. Kneen also got a 30 second penalty because of excessive speed in the pit lane.
The third round
At the beginning of the third round, Harrison led Hutchinson, Hickman, and Hillier. Kneen fell back to ninth place and Cummins to 17th. David Johnson rinsed it to fifth place and Michael Rutter to sixth.
After the half of the race, Hutchinson was able to take the lead, but with a close gap of 0.4 seconds ahead of Harrison. The top ten was only 10.5 seconds apart. Hickman and Hillier were on three and four, Johnson and Rutter on five and six. This was followed by Kneen, Bruce Anstey, William Dunlop and Brookes.
The fourth round
In the fourth round, there was little change at the top. Harrison took the lead again and had a lead of 0.6 seconds at Glen Helen. At Ramsey, Hutchinson was back in front with just 0.07 seconds. Five seconds behind, Hickman finished third. Anstey had to stop at Ramsey, but then could continue. Steve Mercer and Gary Johnson were at Cruickshanks and Sulby Bridge.
Hutchinson reached a lead of 4 seconds after the mountain. Hickman was now second, 1.6 seconds ahead of Harrison, and four seconds ahead of Hillier.
The fifth round
At the next stops, Hutchinson led a 10-second lead over Hickman. Hillier was back to third place since Harrison has lost time and returned to four. At Glen Helen Hillier was second.
The sixth round
At the start of the final, Hutchinson was ahead, but the distance to Hickman melted. He was still 7.9 seconds with Glen Helen and with Ballaugh only 2.5 seconds. Harrison was now third since Hillier had trouble with the fuel supply. 9.5 seconds between the first four.
To Ramsey Hairpin, Hickman could continue the gap. 1.6 seconds lay only between the first two.
Ultimately, however, Hutchi managed to get through with a lead of 5 seconds ahead of Hickman. Afterwards, Hillier and Kneen, who despite the 30 second time penalty could keep the place before Rutter. There was a lash stroke.
Horst Saiger was the best privateer and reached the eleventh overall ranking.
Results Isle of Man TT 2017 RST Superbike
Pos        Rider       Machine/Entrant          Time       Speed
Ian Hutchinson BMW / Tyco BMW 01:45:58.474 – 128.170
Peter Hickman BMW / Smiths Racing 01:46:03.544 – 128.068
Dean Harrison Kawasaki / Silicone Engineering 01:46:11.545 – 127.907
James Hillier Kawasaki / JG Speedfit Kawasaki 01:46:13.281 – 127.873
Dan Kneen BMW / Team Penz 13.com BMW Motorrad 01:47:50.068 – 125.960
Michael Rutter BMW / Bathams SMT Racing 01:47:50.203 – 125.957
David Johnson Norton / Norton Motorcycles 01:48:25.512 – 125.273
Joshua Brookes Norton / Norton 01:48:39.174 – 125.011
William Dunlop Yamaha / Temple Golf Club 01:48:50.858 – 124.787
Martin Jessopp BMW / Riders Motorcycles BMW 01:48:53.943 – 124.728
Horst Saiger Kawasaki / iXS 01:49:48.762 – 123.691
Sam West BMW / PRL / Worthington 01:49:56.914 – 123.538
Bruce Anstey Honda / padgettsmotorcycles.com 01:50:18.570 – 123.134
Philip Crowe BMW / Handtrans / Fleetwood Grab / Sheff 01:50:23.240 – 123.047
Jamie Coward BMW / Radcliffe's Racing 01:50:33.005 – 122.866
Dan Stewart BMW / Wilcock Consulting 01:51:20.121 – 121.999
Brian McCormack BMW / Vanfleet Transport 01:51:21.066 – 121.982
Stefano Bonetti BMW / Speed Motor 01:52:01.189 – 121.254
Mark Parrett BMW / C & C Ltd IOM 01:52:14.648 – 121.011
Michael Sweeney BMW / MJR Racing 01:52:16.785 – 120.973
Dominic Herbertson BMW / WH Racing 01:52:20.909 – 120.899
Shaun Anderson Suzuki / Anderson Race Developments 01:53:06.427 – 120.088
Davy Morgan Kawasaki / Angry Bee 01:53:24.905 – 119.762
Rob Hodson BMW / Hodson Racing 01:53:34.283 – 119.597
Kamil Holan BMW / McRace by IVR BMW Motorrad CS 01:53:55.718 – 119.222
Xavier Denis Kawasaki / Optimark Road Racing Team 01:54:10.566 – 118.964
Jochem van den Hoek Honda / TC Racing 01:54:13.579 – 118.911
Alan Bonner BMW / NW Racing 01:54:33.032 – 118.575
Ian Pattinson BMW / Weardale Racing Ltd 01:54:41.366 – 118.431
Raul Torras Martinez Yamaha / Martimotos.com Racing 01:54:53.370 – 118.225
David Hewson BMW / Obsession Engineering LTD 01:55:01.638 – 118.083
Marco Pagani BMW / Team Franciacorta Corse by LOGIC 01:55:09.825 – 117.943
Tom Weeden Honda / ThePeoplesBike.com 01:55:42.069 – 117.396
Barry Furber Kawasaki / Vauxhall / Greenhous / Moto-De 01:55:47.972 – 117.296
Adrian Harrison Kawasaki / Silicone Engineering Racing 01:55:51.955 – 117.229
Anthony Redmond BMW / Team Tony 01:56:10.666 – 116.914
Richard McLoughlin Kawasaki / Abtech Precision / Breslin Autob 01:56:11.839 – 116.894
George Spence Yamaha / Dod Spence Racing 01:56:31.924 – 116.558
Julien Toniutti Yamaha / Optimark Road Racing Team 01:57:35.972 – 115.500
Alessandro Polita BMW / Team Penz13.com BMW Motorrad 01:58:05.739 – 115.015
Richard Wilson Honda / Takumi Woodwork 01:58:38.057 – 114.493
David Madsen-Mygdal Honda / CSC Branson Racing 01:58:54.775 – 114.225
Pictures RST Superbike 2017
[flagallery gid=133 skin=minima_jn align=Center]
Quelle: IOMTT.com or click Info
Accident Video Guy Martin
Press Conference after the RST Superbike Race 2017
Video from Mad Sunday and the RST Superbike Race: