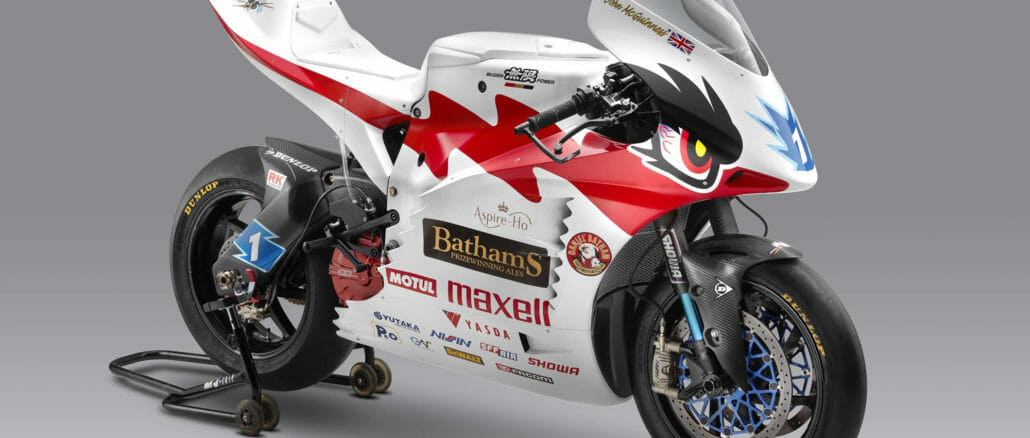 Mugen Shinden Hachi presented
John McGuinnes` motorcycle for the ZeroTT 2019
Even a racing machine for the Isle of Man TT celebrated its debut at the Tokyo Motorcycle Show, the Mugen Shinden Hachi.
Hachi is the Japanese name for the number eight. It is also the eighth version of the electric powered superbike Mugen Shiden. According to the data sheets, nothing has changed compared to its predecessor (Mugen Shinden Nana). Optically, however, aerodynamic changes occur, e.g. changed the front intake and the rear.
Many changes are probably in the detail. Also used are Showa's prototype forks, where the fork tubes are made of carbon fiber to save weight. Mugen wants to break with the new package the lap record for electric motorcycles at the Isle of Man Zero TT. Currently it is 121,824 miles per hour.
Michael Rutter and John McGuinnes will again compete for Mugen this year.
Technical specifications of Mugen Shinden Hachi:
null
Overall length / width / height (mm): 2.125 / 680 / 1.130
Ground clearance (mm): 130
Seat height (mm): 810
Total weight (kg): 248
Tires • Front: 120 / 70ZR17M / C (58W)
Tires • Rear: 200 / 55ZR17M / C (78W)
Frame: CFRP monocoque frame
Engine type: Oil-cooled, three-phase, brushless motor
Maximum power (KW [HP]): 120 [163.2]
Maximum torque (N-M (kgf-M)): 210 [21.4]
Battery Specification: Lithium Ion Laminate
Battery output voltage (V): 370 or more
Isle of Man TT Rennen T-Shirt*
Perfektes T-Shirt für alle Motorradfahrer, die jeden Tag gerne fahren. Es sieht unter jeder Motorrad-Sicherheitsausrüstung gut aus. Wenn Ihre Lieben Motorradfahrer sind, ist dieses T-Shirt für sie
Die Isle of Man TT (Tourist Trophy) ist ein seit 1907 auf der Isle of Man stattfindendes Motorradrennen. Es gilt als das älteste, aufregendste, gefährlichste und umstrittenste Motorradrennen der Welt.
T-Shirts sind tailliert geschnitten. Für eine lockere Passform bitte eine Nummer größer bestellen.
Letzte Aktualisierung am 2019-03-26 / *Affiliate Links / Bilder von der Amazon Product Advertising API