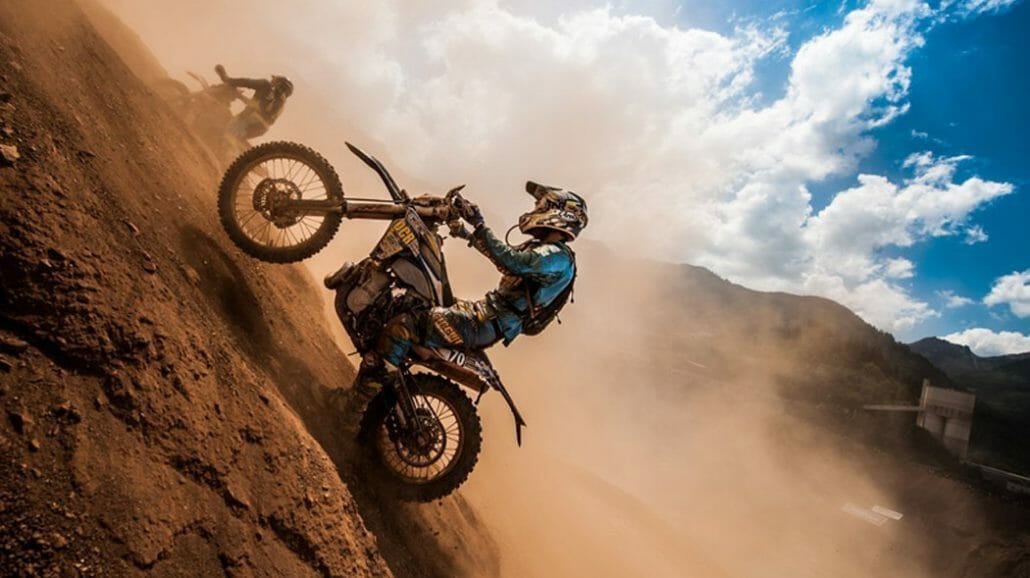 Das härteste Straßenrennen der Welt findet gerade auf der Isle of Man statt. Das härteste Enduro-Rennen der Welt letzten Wochenende am Erzberg in der Steiermark. Es gibt hier keine Startgelder, keine Siegprämien und als Trophäe nur einen Fellsklumpen, trotzdem kommt jedes Jahr die Weltelite des Hard Enduro nach Österreich.
Das Erzbergrodeo
[sam id="1″ codes="true"]Das Event gibt es mittlerweile seit 1995 auf dem größten Steinbruch Europas, der außerdem auch immer noch in Betrieb ist. Es geht über 4 Tage. Begonnen wird es mit dem Sturm auf Eisenerz. Bei der Fahrt durch die Stadt präsentieren sich die ca. 3000 Fahrer und bedanken sich gleichzeitig bei den Anwohnern.
Das erste Rennen dann ist das Rocket Ride – ein Steilwandrennen über 4 Steilwände. Hier geht es darum möglichst schnell den Hang zu erklimmen. Das Rennen konnte Florian Salbrechter mit seiner Suzuki, vor Christian Resinger (Husquvarna) und Chris Perry (KTM) für sich entscheiden.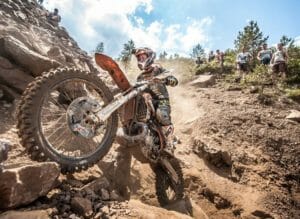 Neu ist in diesem Jahr die Actionzone-Arena. Hier treten mehr als 200 Teilnehmer mit gestellten KTM Freeride Elektromotorrädern über einen Offroadparcours an.
Besonderheit hierbei ist die 5 Meter hohe Stelwandkurve. Den drei besten winkt ein fixer Startplatz in der ersten Reihe des Red Bull Hare Scramble!
Das Red Bull Hare Scramble ist der Höhepunkt des Erzbergrodeo. Am Freitag und Samstag können sich die 1800 Fahrer bei dem sogenannten Prolog qualifizieren. Beim Rennen am Sonntag dürfen dann 500 Fahrer starten. Die wenigsten kommen überhaupt ins Ziel, im letzten Jahr waren es nur 5. Die Strecke wird jedes Jahr abgeändert, und da sich ja auch der Berg verändert durch den Erzabbau, ist das Rennen jedes Jahr ein neues.
Die Ergebnisse der Rennen beim Erzbergrodeo 2016
Endergebnis KÄRCHER ROCKET RIDE 2016:
Florian Salbrechter (AUT/Suzuki)
Christian Resinger (UK/Husqvarna)
Chris Perry (AUS/KTM)
Brad Williams (UK/Husqvarna)
Ossi Reisinger (AUT/Husqvarna)
Bernhard Schöpf (AUT/KTM)
Zwischenstand GENERALI IRON ROAD PROLOG 2016 (erster Lauf):
Paul Bolton (UK/KTM) 12:33,096 Minuten
Ossi Reisinger (AUT/Husqvarna) 12:38,551
Travis Teasdale (RSA/KTM) 12:40,64
Joakim Ljunggren (SWE/KTM) 12:43,6
Lars Enöckl (AUT/KTM) 12.46,711
Colton Haaker (USA/Husqvarna) 12:46,945
Rudi Pöschl (AUT/Husqvarna) 12:47,651
Wade Young (RSA/Sherco) 12.50,165
Cody Webb (USA/KTM) 12:50,528
Taddy Blazusiak (POL/KTM) 12:50,696
Results Red Bull Hare Scramble 2016 Erzbergrodeo XXII
Graham Jarvis (GBR), Husqvarna, 2:18:47 h
Cody Webb (USA), KTM, +33:07 min
Alfredo Gómez (ESP), KTM, +36:02
Mario Roman (ESP), Husqvarna, +58:19
Billy Bolt (GBR), KTM, +1:08:46 h
Wade Young (RSA), Sherco, +1:12:28
Paul Bolton (GBR), KTM, +1:19:35
Taddy Blazusiak (POL), KTM, +1:23:08
Philipp Scholz (GER), KTM, +1:37:24
Die restlichen 491 Fahrer kamen nicht ins Ziel!
Fotos vom Erzbergrodeo 2016:
Bedienung:
FS – Ansicht über ganzen Bildschirm an/aus
SL – Diaschau an/aus Bild wechselt alle 5 Sekunden
Wenn ein Bild gefällt darf gern der Daumen angeklickt werden.
Adobe Flash Player muss aktiviert sein um die Galerie zu nutzen
Extreme Enduro 2011 - The Tough One 2011*
Dv (Michl) (03.06.2011)
DVD, Freigegeben ohne Altersbeschränkung
Laufzeit: 92 Minuten
Graham Jarvis, Paul Bolton, Andreas Lettinbichler, Gavin Houson, Vukcevic Michael
Englisch
Letzte Aktualisierung am 25.10.2018 / *Affiliate Links / Bilder von der Amazon Product Advertising API
Bericht darüber am Montag ab 18 Uhr in den Motorrad Nachrichten auf Youtube.