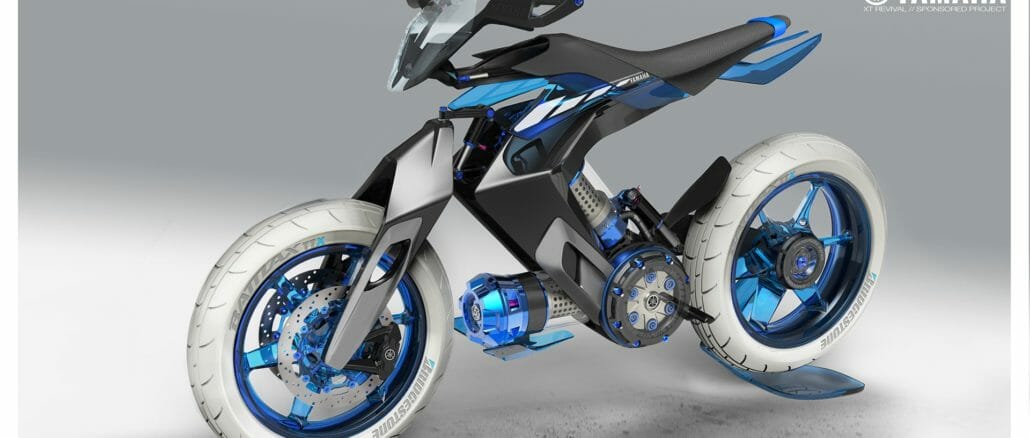 Will this be what motorcycles will look like in 2025? At least industrial designer Maxime Lefebvre could imagine that, because he developed the concept on behalf of Yamaha.
Strictly speaking, this is about the further development of the Yamaha XT 500, which was originally published in 1976. It was an enduro for dual sport, developed by Shiro Nakamura with knobby tires, 21-inch front wheel and 18-inch rear wheel.
Lefebvre started working on the concept back in 2016 and after numerous discussions with the Yamaha design team finally created this concept, which he describes as "inexhaustible". In fact, this is the third version of the concept.
Like the original, it should be light, powerful and easy to maintain. Instead of gasoline, however, it should run on H2O. Lefebvre imagined a drive with a closed H2O circuit, in which a water pump continuously pumps water, which should be environmentally friendly and economical.
The drive should work under water pressure and although there are even detailed drawings of the drive, not much is said about how it works. The drive should be quite quiet, environmentally friendly and inexhaustible. Sounds like they should develop appropriate motors … There is still some time until 2025 …
MICHELIN 63001 Motorrad Reifendruck Kontrollsystem*
Universalkit für Motorrad, Moped, Scooter mit 2 Sensoren und LCD Display
Permanente Sicherheit: Anzeige beim Start, Alarm während der Fahrt
Magnethalter, LCD Display abnehmbar mit USB Induktionsladehalter
Einfache Montage, automatische Kalibierung
Für Metall. - und Gummi-Ventil (Snap-In) mit Metallgewinde
Letzte Aktualisierung am 2020-06-03 / *Affiliate Links / Bilder von der Amazon Product Advertising API