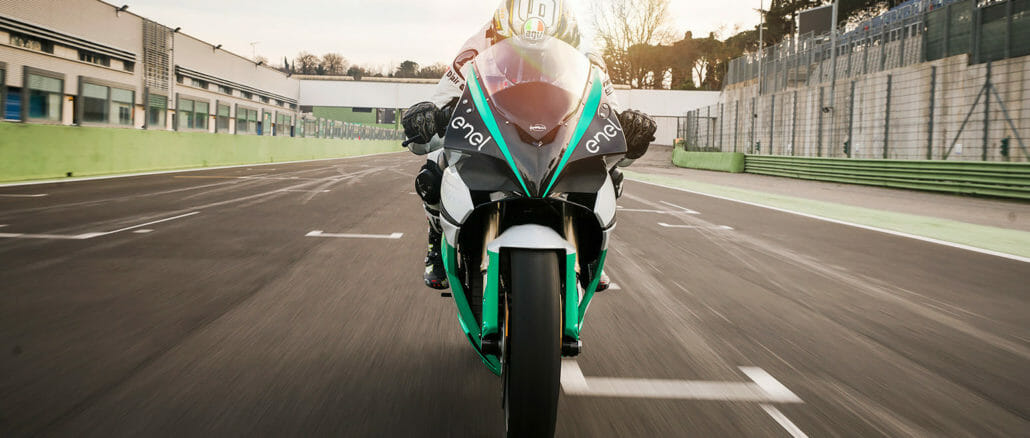 Also in Spielberg (Austria) there were again problems loading the electric motorcycles of the MotoE, also here fire broke out.
There are different messages about the incident. Some speak of an exploding charging station, some of an exploding motorcycle. The Dorna has not made it clear yet, the investigations are ongoing.
Next incident in the MotoE
Affected is the MotoE motorcycle of last race winner Niki Tuuli. During the charging process there was an explosion on Friday at 15.30 pm. Charging station and motorcycle had to be extinguished.
This is already the third incident that does not throw a good light on the new electric class. Even during a training session in Jerez, the entire paddock of the MotoE burned down. Again, there was an error by loading the machine, which triggered the fire.
The start of the race series had to be postponed. The first race took place at the Sachsenring. There was a fall, whereby the gravel bed was not able to slow down the heavy motorcycle (260 kg) sufficiently. It crashed into the Airfences and destroyed them. The bike caught fire and the race had to be canceled with a red flag.
The renewed incident in Spielberg does not change the schedule for the MotoE race, the Dorna announced.
Sale
Sena 20S-EVO-01D 20S EVO, Bluetooth-Kommunikationssystem für Motorräder, Dopplepack*
Die gleiche Zusammensetzung von Funktionen, die bereits das 20S zur weltweiten Nr.1 unter den Bluetooth-Kommunikationssystemen gemacht hat, finden Sie auch beim 20S Evo.
Nutzen Sie die aktualisierte Sprechanlagen-Funktion in Form der Group Intercom-Funktion, um mit bis zu sieben weiteren Fahrern in einer Entfernung von bis zu 2 km in Verbindung zu bleiben.
Das 20S Evo liefert weiterhin klare, präzise und komfortable HD-Audioqualität unter allen Bedingungen.
Bluetooth 4.1-Technologie, hochwertige Stereo-Bluetooth-Lautsprecher und Audio Multitasking erzeugen ein rundes, klares und unmittelbares Klangerlebnis, das Sie beim 20S bereits so geschätzt haben.
Die vereinfachte Nutzeroberfläche macht das Einrichten und Koppeln des 20S EVO dank der Bewegungsmeldertechnik von Sena unglaublich einfach.
Letzte Aktualisierung am 2019-11-02 / *Affiliate Links / Bilder von der Amazon Product Advertising API