– Glemseck 101 is THE meeting for Cafe Racer and had its 10th anniversary. The Cafe Racer, Custom Bikes in retro-look that were originally built for private races, found here back to their original purpose. The ravages of time they meet currently like no other motorcycle division. The meeting took place from 04th–06.09.2015 in Leonberg (near Stuttgart) on the former Solitude Racetrack. Giant dealer mile, camping, concerts, 1/8 mile race, and much more. The whole thing still free…
Anchor links

: - 

Cafe

 

Racer

 

conversions

 

from around the world

 - 

Show

 

race on the

 

1/8

 

mile

 - Komerz vs. Spirit - International Sprint-Poets of Sprint - P

articipants

 - R

ostrum

 - 

Even more

 

races

 

and

 

the

 

party afterwards 

- Conclusion - Gallery - Videos Youtube -
Cafe
Racer
conversions
from around the world
[sam id="2″ codes="true"]
Customizer
from around the world
were represented
by
their
works of art
to show
and
show off
even when
the
furlong
race
.
Shun
Miyazawa
from Japan
came with a
Yard
Build
Yamaha
,
Conor
Cummins
(
Isle of Man TT
–
driver
)
was
with
the
Z1000
"
sprint
Fire
"
spot
,
Winston
Yeh
(
Taiwan)
went
on a
XJR1300
to
just to name
a few
.
French, Spanish
and of course
German
riders
and
customizers
were
also
represented
.
Even
thereto
can be seen
how big the
event
has now become
,
and
how much
in vogue
.
Complete
list of
drivers
Poets of
Sprint
below.
Show
race on the
1/8
mile
The show race drew some time back, there was a lengthy interruption. Viewers had to first clear the ADAC grounds and the space under the bleachers, but more about that later.
At the first show race it was state power against omnipotence. Police Officer Jürgen Hauber ran against Pastor Jürgen Schwarz. Then there were two runs of Francesca Gasperi (test driver Kawasaki) on a Ninja H2R and Troy Corser, the two-time SBK World Champion, with the Lotus CO-1. Since a clear decision could not be made to clarify a third run. The third run was postponed because the H2R threatened to overheat. 1/8 mile race with a long service life are not the natural environment of a 300 horsepower monster.
Announced was then actually the 101 Sprint International, the main attraction (if you can "only one" speak of), but it was the Ladysrun – 4 Ladys 4 Sportbikes – preferred. Nina Prinz came here with a Suzuki GSX-R 1000, TT rider Maria Costello with BMW S1000RR, Florence Chatokhine with Ducati Panigale and Francesca Gasperi this time with Kawasaki ZX–10R.
After the award ceremony of the ladies, Nina Prinz could pocket the victory, the outstanding Run between Kawasaki and Lotus was held.
Komerz vs. Spirit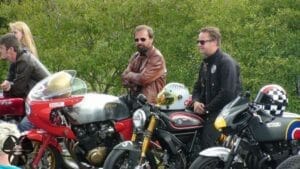 Some were too many sports bikes at once. The Showruns, the mass of visitors, too few visitors in cafe–racer outfit and the presence of sponsors has raised the debate in the social network whether Glemseck 101 lost his Spirit. -Whether It is still only commercialism. I think that can not be answered generally one and everyone sees differently. But most were extremely enthusiastic.
The fact that the event changed over the years has also clearly and alone owed the rush of visitors. For those who know the old Glemseck 101, but it is often no longer the same. How much of the HIPE comes to debt because of the anniversary will be seen next year.
But the fact is, it's still free. The event is instructed to insist on sponsors to continue and to improve. The test for this can be seen also at the grandstand.
International Sprint – Poets of Sprint
International participants occurred in a 1/8 mile race against each other. First there was a trial run and then the race. Two participants, a winner. The loser was out. With an early start, the race was repeated. 2015 it happened for the first time that a rider lay two jump start succession. This was followed by disqualification.
It was a pity that it was banned this year, fueling with burnout the tires. Everyone did not waste it. For most however, it has been lacking, it belongs fixed to each Drag Race!
P
articipants

Poets of Sprint:
Sylvain Berneron – Frankreich – Suzuki GSX1200 Inzuma – "TZAR"
Jens vom Brauck – Deutschland – Yamaha Yard Built VMAX – "Infrared"
Daniel Weidmann – Schweiz – BMW RT80 – "Polizia Uno"
Emanuele "Emacrema" Crosta – Italien – `99 Buell M2 Cyclone – "Cherry-Salt"
Ulf Penner – Deutschland – "Penners" Rocket
Jens Kallweit – Deutschland – Valtoron BMW K 1600 – "La Bulla"
Thomas Thöring – Deutschland – Yamaha TR1-R – "Skinny Beast"
Stefan Bronold – Deutschland – Moto Guzzi 4 valve – "Fugitive"
Marco "Zesi" Zesiger – Schweiz – "Ferdinand the Sparrow"
Kris – Frankreich – GSX-R 1100 – "101 KMP Gex – Reloaded & Pumped Up"
Laurent Dutruel "Zen" – Frankreich – Ducati 900 SS Turbo
Ralf Steinert – Deutschland – Suzuki GSX-R 1100
Janne Kosonen "Flying Finn" – Finnland – Ducati Monster 1200 S – "Psychedelic Rock`n`Roll Monster"
Carlos one of "The Delgado Bros" – Spanien – Kawasaki Z1000 – "El Jarama 1000"
Marcus Walz – Deutschland – Triumph Speed Triple
Dirk Oehlerking – Deutschland – BMW R100RS Turbo – "Salt Racer"
Albin Carrière – Frankreich – Suzuki XR41 inspired Racebike
Florent Berneron – Frankreich – Ducati Scrambler – "Hero 01"
Tobias Aichele – Deutschland – Honda CBX "101" – "SixScreamer"
Sebastien Lorentz – Frankreich – BMW Boxer Reloaded² – "Sprintbeemer Furtherer"
Shun Miyazawa – Japan – Yard Built Yamaha XSR 700 – "Faster Son"
Conor Cummins – Manx – Z1000 – "SprintFire"
Winston Yeh – Taiwan – Yard Built XJR1300 – "Guerrilla Four"
Christoph Werner – Deutschland – Ducati Scrambler
Frank Chatokhine – Frankreich – Avinton 1640 ccm
Nina Prinz – Deutschland – Suzuki Bandit 1250 S – "Farmile"
Uwe Ehinger – Deutschland – "FXDX"
Mai-Lin – Deutschland – "Alouise"
Maria Costello – England – "Nine-T-One"
Ronna Norèn – Schweden – BMW R1150 GS – "Aurora Borealis"
Unknown Wolf (El Solitario) – Spanien – Yamaha XJR 1300 – "Big Bad Wolf"
Francesca Gasperi – Italien – Kawasaki Z1 `72 – "La Princesa"
Here the idea of the rider and the motorcycle in the video – the link to the second part will appear towards the end.
Tribune –
but too
big
rush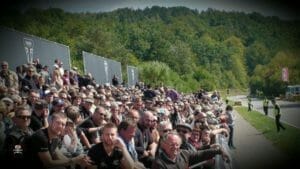 Triumph sponsored the 10th anniversary a grandstand. In recent years, the audience had to stand behind a barrier, and accordingly was also the view. Who would not secured early enough a place had bad luck. By Tribune that should be improved, but it was not enough for the huge rush. You could easily be twice as large. To better or even to be able to see, many climbed the garages on adjacent ADAC grounds or under the grandstand. This could not be permitted for safety reasons and the spectators had to vacate their seats. The races were stopped in time.
VIP
Tribune –
as it really was
For great resentment caused a portion of the grandstand was intended for "VIPs". Here was still a bit of space, but without VIP tape could not be on it. The term VIP – was chosen perhaps a bit unfortunate. For many, it came as across as if they were second-class visitors, but that was certainly not meant that way.
The VIP tribune should exactly do the opposite but actually. The masses of reporters, photographers, drivers (which start later) and their team members should not obscure the view of the race. For them, this place was intended, and therefore, this should actually be in favor of the visitors. In practice, this has not worked. Since the place was reserved for the just enumerated persons, but only a few came, one was not sure how to handle this. Assigns to the courts to "normal" visitors and late coming "VIP" finds no place feels this way around fooled. Standing ordinary visitors in front of empty stands and not allowed up, feel the ripped up. Difficult situation…
After a period of half spaces was given freely, and later the entire places. In this way was the whistle, which was intended as an absolute plus for 2015 in which many have bothered to something. As I said, it was the first year with grandstand. With such problems had not counted on in advance, and only did not even deal with it.
But mourner was I (and thus you), because I was able to create a certain point no more pictures and videos. It was simply too full…
Even more
races
and
the
party afterwards
Apart from the International Sprint, there were several additional runs. "Franco vs. Allemand – the Revance" called the race between French and German drivers. Earlier this year, was Glemseck101 to prove a guest in near Paris there against a group of Frenchmen to Furlong. Germany lost. Here there was the rematch.
With the "MO Cafe Racer Sprint" with 32 participants, the rigid frame bikes "Starr Wars", the "BMW Motorrad R Nine T Sprint", "Who wants to kill the cat", the "Classic–Racer–Sprint" and the "MO–690 Classic Sprint "there was plenty of action at the weekend on the former Solitude Racetrack.
For the musical accompaniment: DJ Nobbe, Ruby Shock, DJ Mad Man Markus, Redondo Beat, Carolina and her Thytm Rockets, Ray Collins Hot Club and Booze Bombs
Conclusion

:

Glemseck 101 was a great event in which not everything went perfectly. But the criticisms are limited for the most part on it that improvements were not perfectly implemented. Bottom line, however, remains an improvement, so all is well