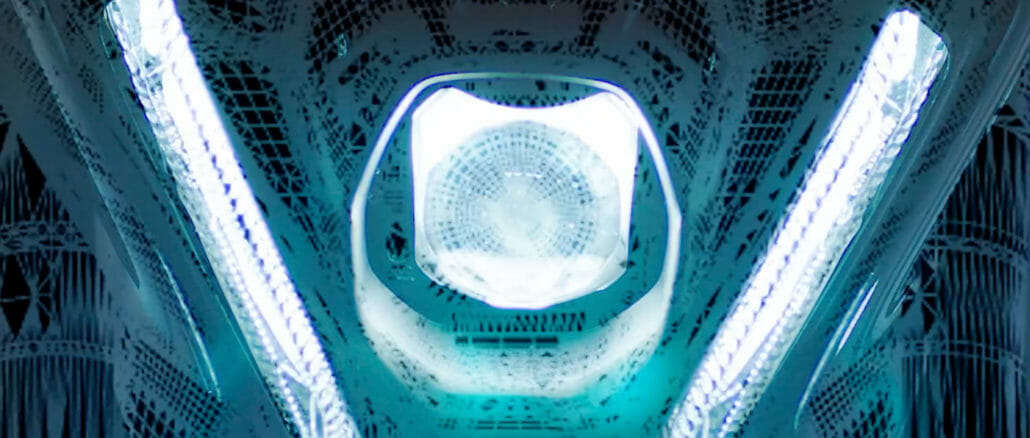 In a video on YouTube, Yamaha teases out a new MT for 2021. The presentation is already scheduled for October 27. However, it is not yet known which model it will be.
The video shows the logo of the Dark Side of Japan, which stands for the MT models. Also the video style is accordingly dark and fast. You can also see the drop of black mass, which already could be seen in previous Dark Side of Japan videos, and which probably represents something like its essence.
It's not clear yet if one or more MT models will be updated or if it could be a completely new MT model. Below the video, only #DarkSideofJapan and #HyperNaked can be found, whereas the second hashtag definitely points to a high capacity motorcycle.
Update for the MT-09 or tougher MT-10?
Rumors are talking about an updated MT-09. Very briefly, the front of the bike is dimly displayed. You can recognize a single headlight in the middle, framed by two daytime running lights. So the MT-face will change a bit.
You can also see a piston and a connecting rod, which could indicate changes to the engine. This would fit in with rumors that have recently surfaced, claiming that the MT-09 could get an increase in displacement to compensate for a loss of power due to the conversion to Euro5.
Very briefly, a sketch of the motorcycle can also be seen. The chassis does not match the current MT-09, which could indicate that the model has been completely redesigned, or it could be a completely new MT. Also the license plate holder is no longer attached to the swingarm.
But you should not exclude a stronger MT-10, which should compete with the Kawasaki Z H2 and the Ducati Streetfigher. That would fit to #HyperNaked.
At the presentation on October 27th we will learn more.
JIGUOOR Motorradhelm Licht, 4-teiliger wasserdichter LED-Aufkleber EL Light Flash Strip Kit, Motorradlichtstreifenleiste Fahrsignal Sicherheits-LED-Licht für Nachtantrieb Dekorationssatz (Rot)*
【Hohe Qualität】: Brandneues und hochwertiges Material mit wasserdichtem Design. Das Produkt kann nicht leicht korrodiert, flexibel und hochtemperaturbeständig sein. Der LED-Aufkleber ist super...
【Universal Fit】 : Motorradhelm DIY Lichtstreifenaufkleber ist universell für alle Arten von Motorradhelmen geeignet. Batterietyp: Wird mit 2 AA-Batterien betrieben.
【3 Modi】 : Die Motorradhelmbeleuchtung LED enthält 3 verschiedene Beleuchtungsmodi: Immer an, Blitz und Schnellblitz; Sie können es einfach mit dem Controller ändern.
【Wasserdichtes Design】: Wasserdicht, geringer Stromverbrauch. Hat eine lange Lebensdauer bei normaler Temperatur und ist stoßfest. Verwenden Sie 3M doppelseitigen Kleber, der nach dem Abziehen...
【Sicherheit gewährleisten】 : Die Blinkerleuchte ist an einem Motorradhelm angebracht, um eine Warnwirkung zu erzielen, die besonders bei Nebel, Regen oder Schnee oder nachts oder in dunkler...
Letzte Aktualisierung am 2021-05-06 / *Affiliate Links / Bilder von der Amazon Product Advertising API