The Czech Road Racing Horice went. Wolfi # 53 was there again. What he experienced…
300 curves of Gustav Havel
The legendary road race, the "300 curves of Gustav Havel" in Czech Horice was held on Ascension Day. Wolfi # 53 has two wins in the 250cc class here and wanted to add a new this year.
Technical problems made for the sixth place. A bad start then made the chances dashed forward driving. "The victory I had to beat me quickly out of my head, because the bike was not perfect. I tried to bring the 3rd place finish, but after 4 laps, I had to give up because I had a technical defect again unfortunately" said Wolfi # 53
[sam id="2″ codes="true"]
There was
still the
600cc
class
.
Wolfi
#
53
improved from
workout to workout
and
felt
visibly
comfortable on
his
Daisy
.
The result was
the
starting place
13
and
the race
he
wanted to
finish
in
the
top ten
.
The weather should make him not thwarted. The start was solid and Wolfi # 53 was able to maintain the connection to the group in front of him. But since he was not 100% into the race created a gap.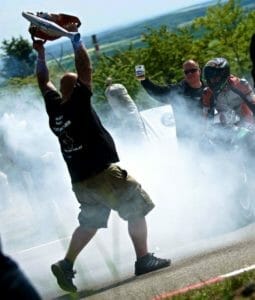 Because of a serious fall, the race for an hour was interrupted. The race was then restarted with a sprint over 5 rounds. This time succeeded Wolfi # 53 an almost perfect start and he drove in the top ten. Finally, the finish he was ranked 11. "In a field of riders whose power density is so high and is highly competitive with 40 participants, I am very happy with it" – that you can Wolfi!