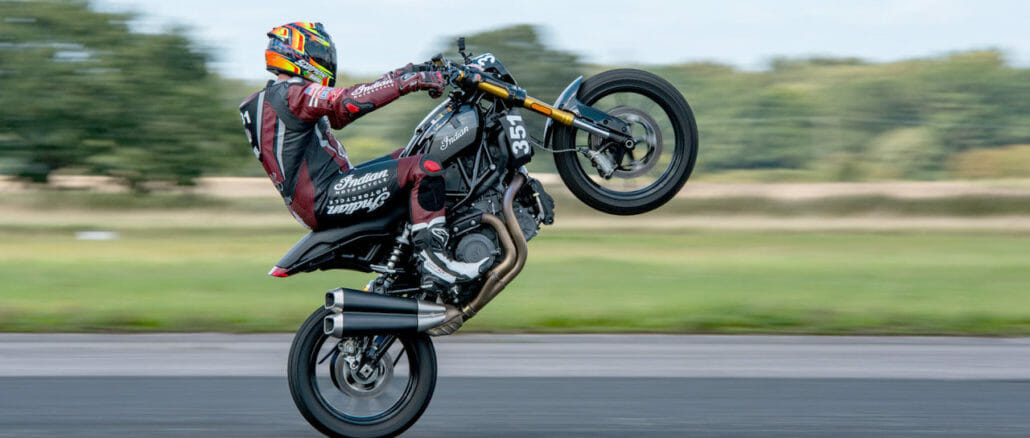 Indian participated in the Wheelie World Championship in Elvington (United Kingdom) last weekend. The American Cecil "Bubba" Myers set two speed records with the FTR1200.
Two speed records for the Indian FTR1200
The competition was started with a variety of difrent motorcycles, including turbocharged machines witch reach a maximum speed of over 210 mph (337.962 km/h). Bubbas Indian was largely untouched, only the license plate holder was removed for the event.
As Bubba competed alongside the Indian also with its own turbocharged machine, the possible runs with the Indian were limited. The fastest 1-mile wheelie he managed with 131,137 mph (211 km/h).
Then he cracked two speed records in the V-Twin to 1350cc category. Once on the 1/4 mile with a flying start (145,543 mph / 234 km/h) and once on the Standing Start Mile with 145,613 mph or 234.3 km/h.
Talking about the weekend, Bubba Myers, commented, "This has been a really positive introduction to the FTR. The bike was pretty much standard compared to everything else out there this weekend, so to set the speeds I did shows how much potential there is. The balance of the bike is really good, but I was most impressed by the engine; Its torque is really impressive and within just a couple of passes I was super comfortable with it. We're pleased to begin the FTR's story with some records in the bag too. A big thanks to Indian Motorcycle Company for the support, I hope we're back next year."
Sale
Sena 20S-EVO-01D 20S EVO, Bluetooth-Kommunikationssystem für Motorräder, Dopplepack*
Die gleiche Zusammensetzung von Funktionen, die bereits das 20S zur weltweiten Nr.1 unter den Bluetooth-Kommunikationssystemen gemacht hat, finden Sie auch beim 20S Evo.
Nutzen Sie die aktualisierte Sprechanlagen-Funktion in Form der Group Intercom-Funktion, um mit bis zu sieben weiteren Fahrern in einer Entfernung von bis zu 2 km in Verbindung zu bleiben.
Das 20S Evo liefert weiterhin klare, präzise und komfortable HD-Audioqualität unter allen Bedingungen.
Bluetooth 4.1-Technologie, hochwertige Stereo-Bluetooth-Lautsprecher und Audio Multitasking erzeugen ein rundes, klares und unmittelbares Klangerlebnis, das Sie beim 20S bereits so geschätzt haben.
Die vereinfachte Nutzeroberfläche macht das Einrichten und Koppeln des 20S EVO dank der Bewegungsmeldertechnik von Sena unglaublich einfach.
Letzte Aktualisierung am 2019-11-02 / *Affiliate Links / Bilder von der Amazon Product Advertising API