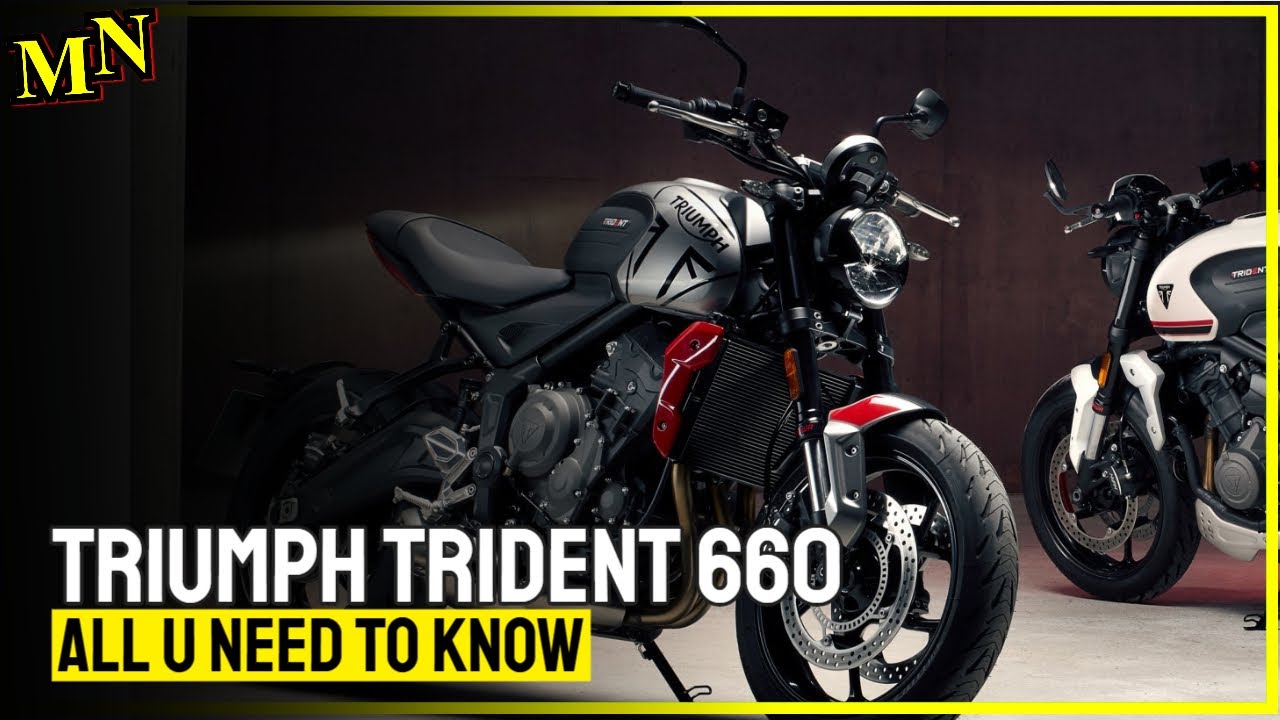 With the Trident 660, TRIUMPH has introduced a completely new mid-range roadster with a powerful three-cylinder engine. The Trident 660 aims to impress with its state-of-the-art equipment, enthusiastic handling and a very competitive price. TRIUMPH wants to open up a whole new dimension of motorcycling to a young generation.
New 660cc three cylinder – A2 compliant
The 660cc Triple has been developed specifically for the Trident with 67 new components. It is designed to offer a perfect balance between plenty of torque at low revs, a strong power delivery in the mid-range and high power in the high range. In principle, it should combine the best of both worlds, the powerful torque of a two-cylinder in the low and medium speed range, and the turning pleasure of a four-cylinder. At the same time, the drive should deliver the power smoothly, responsively and linearly.
The 660cc three-cylinder engine delivers 81 PS at 10,250 rpm and 64 Nm at 6,250 rpm. This means that it can be throttled in conformity with A2. A corresponding throttle set is offered as an option. Power reduction is achieved by means of the electronic throttle and a special engine tuning. The throttled engine delivers 47.8 PS at 8,750 rpm and 51 Nm at 5,250 rpm. As soon as you have passed the driving licence upgrade, you can upgrade the motorbike to full power at any time.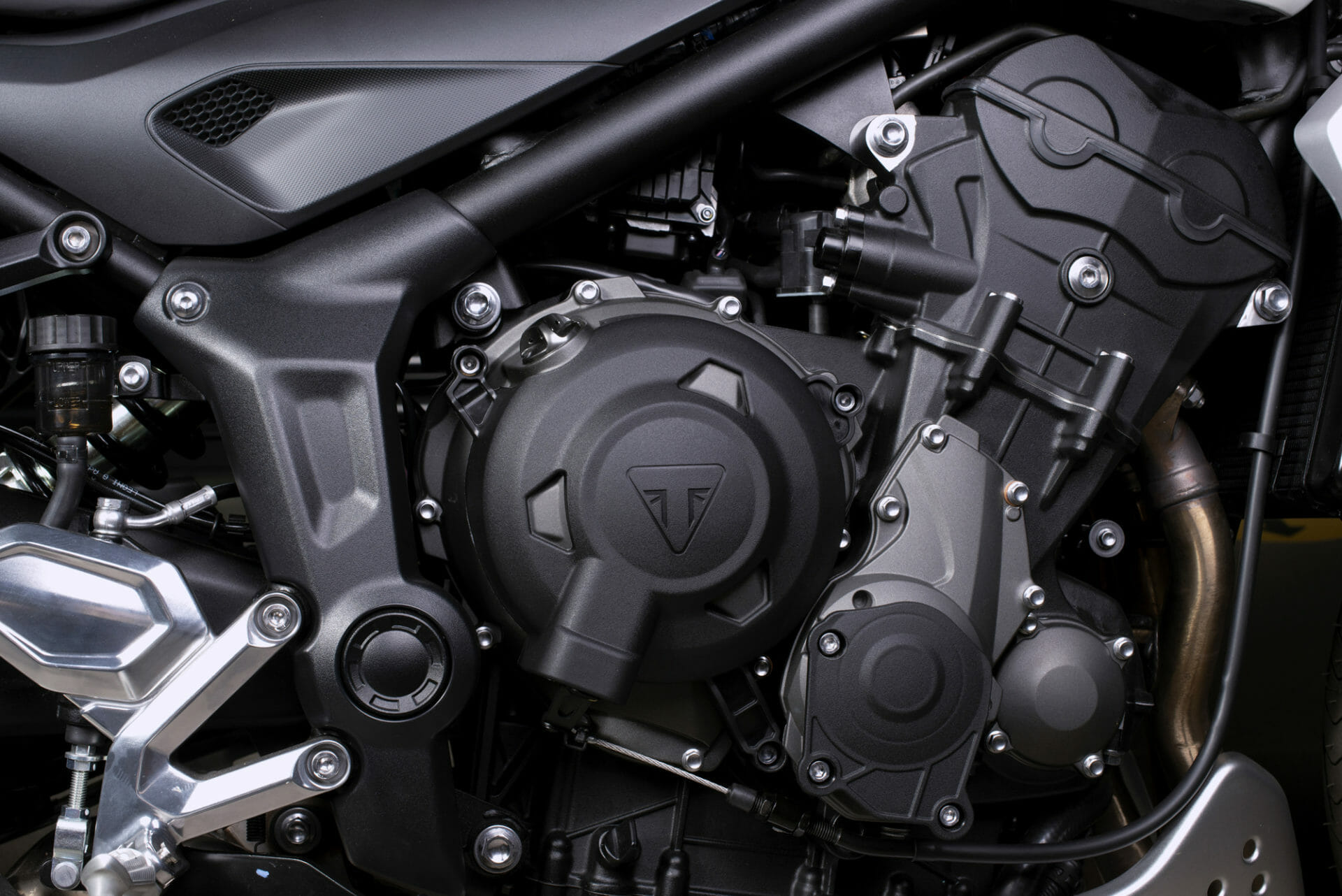 Gearbox, Clutch, Quickshifter
Power is transmitted via a 6-speed gearbox, the gear ratios of which have been adapted to the dynamic handling of the Trident. A torque-assisted anti-hopping clutch was also installed. The clutch lever should require little manual force and thus cause minimal driver fatigue. Especially in city traffic this is an important point that should not be underestimated.
For sporty driving, there is an optional shift assistant for shifting up and down without using the clutch.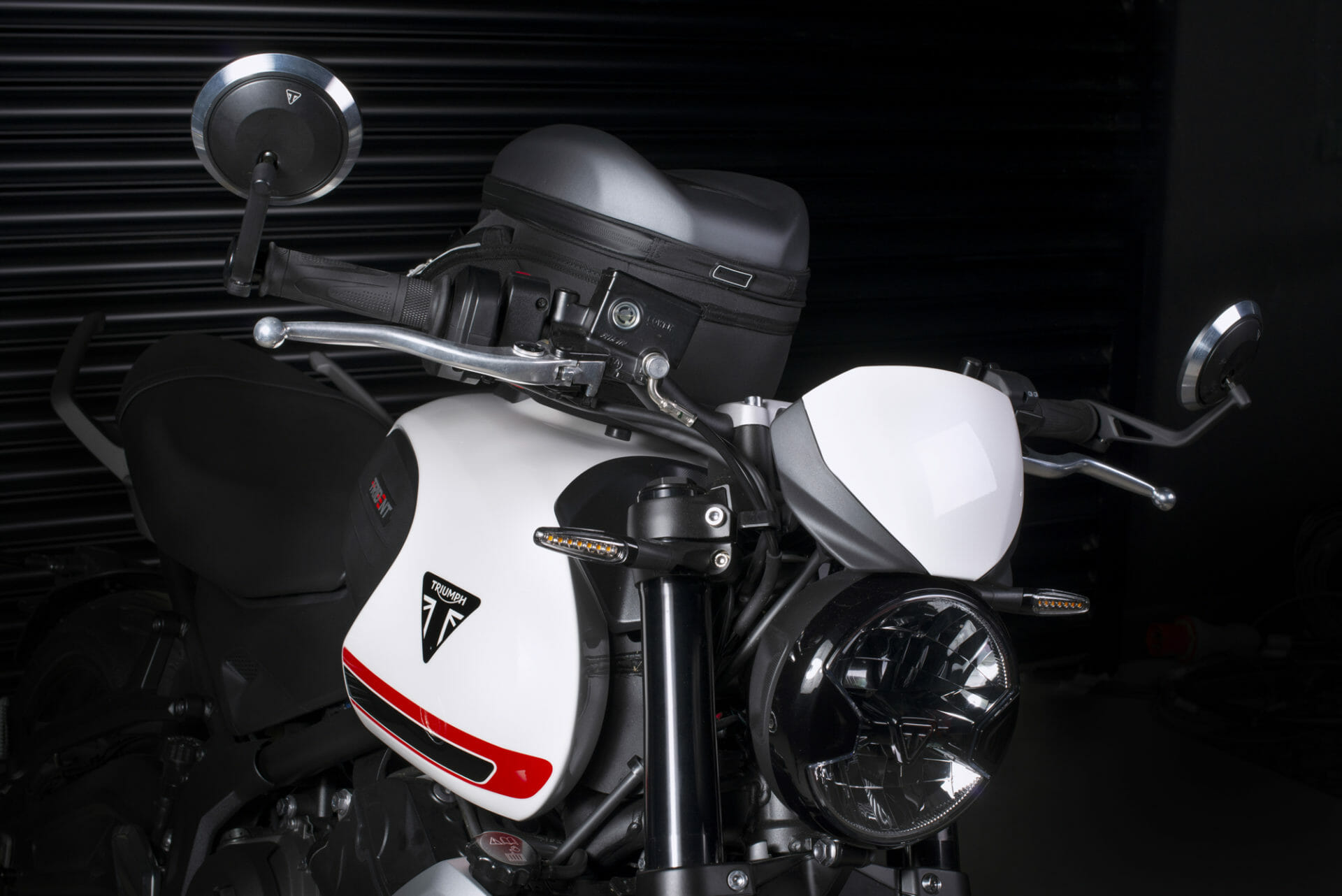 The best handling in its class
The Trident 660's chassis setup is designed to set new standards of handling in the mid-range roadster segment. It is intended to inspire confidence and enable agile handling. How well TRIUMPH has succeeded in this cannot be judged at present, however, as this would require a test drive.
The low seat height, the small width and a ready to drive weight of 189 kg should, however, allow easy steering.
The suspension is made by Showa. The upside-down fork offers a suspension travel of 120mm. The Showa monoshock with lever redirection has a travel of 133,5mm and is adjustable in spring preload.
Braking is done at the front with Nissin double piston calipers and 310mm double discs.
The handling characteristics should also be supported by the standard Michelin Road 5 tyres.
Accessible ergonomics
The tubular steel chassis is completely new for the Trident. The ergonomics are designed to suit both experienced bikers and newcomers to the motorbike. The rider should feel comfortable and be perfectly integrated into the motorbike.
The seat height is 805mm, so it should also be possible for smaller riders to get their feet on the ground while standing.
The upholstery of the seat should offer a lot of comfort. Handgrips for the passenger are optional.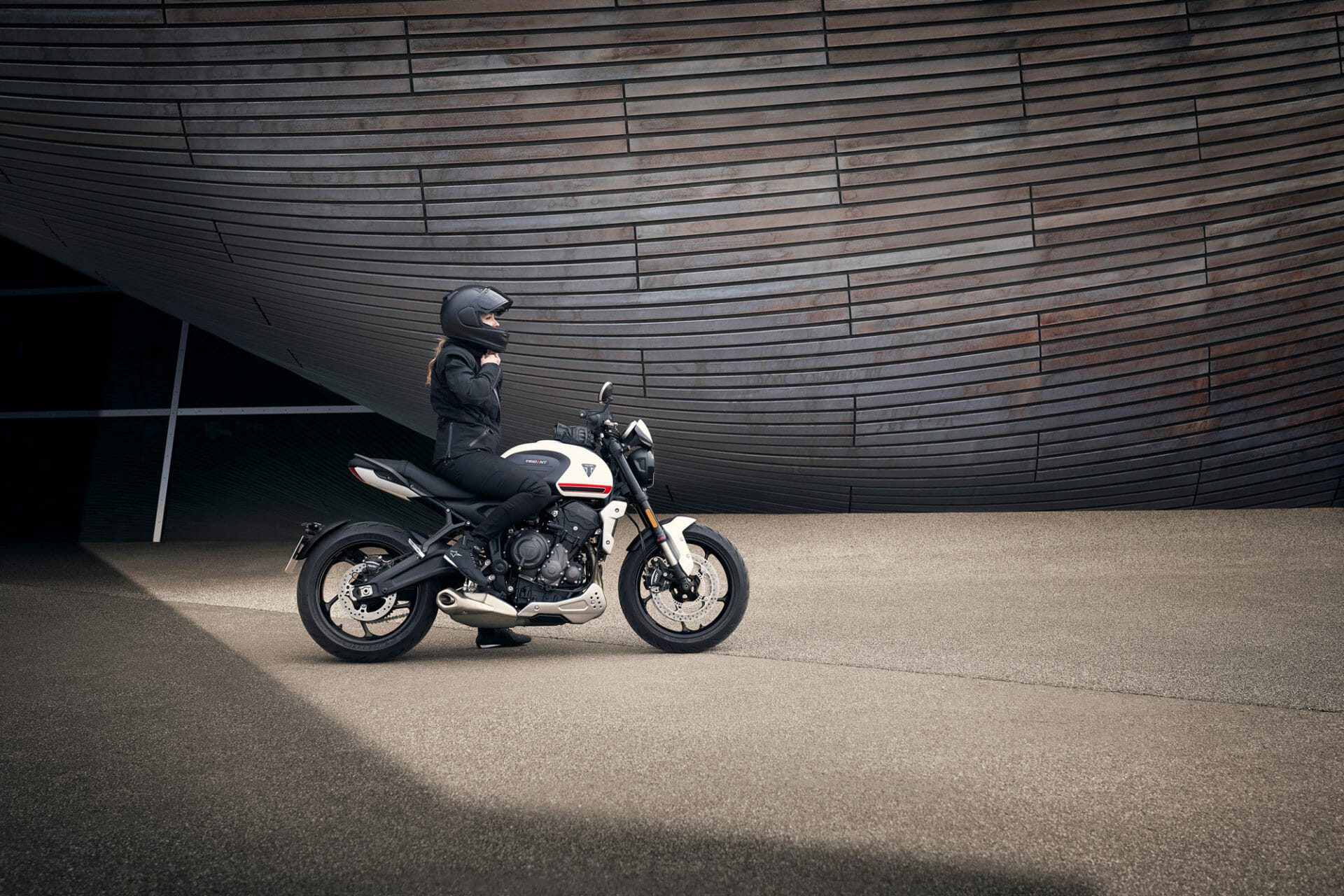 Large equipment as standard
Leading safety equipment in this class is designed to provide first-class value for money. In addition, a large driver-oriented technology package was also installed.
The Ride-by-Wire system offers the two driving modes Road and Rain. A deactivatable traction control is also installed.
All necessary information can be read off the compact TFT colour display with an integrated crystal-clear "white-on-black" LCD display. The "My TRIUMPH" connectivity accessory module can also be used to display arrow navigation and to control a GoPro, phone or music via a handlebar switch. The mobile phone must be linked via Bluetooth.
The 7-inch headlamp with a TRIUMPH logo has been specially developed for the Trident 660 and uses LED technology. The logo can also be found on the LED tail light. The turn signals are also equipped with LEDs and are self-deactivating, which means they deactivate automatically after turning. Running light indicators are available as an option.
TRIUMPH offers a choice of 45 optional accessories for the Trident. These include heated grips, a USB charging socket under the seat, frame protectors, a fly screen, handlebar end mirrors, quickshifter including blipper function, several luggage options and more.
Four different colour schemes are offered. Choose from Silver Ice & Diablo Red, Matt Jett Black & Matt Silver Ice, Crystal White or Sapphire Black.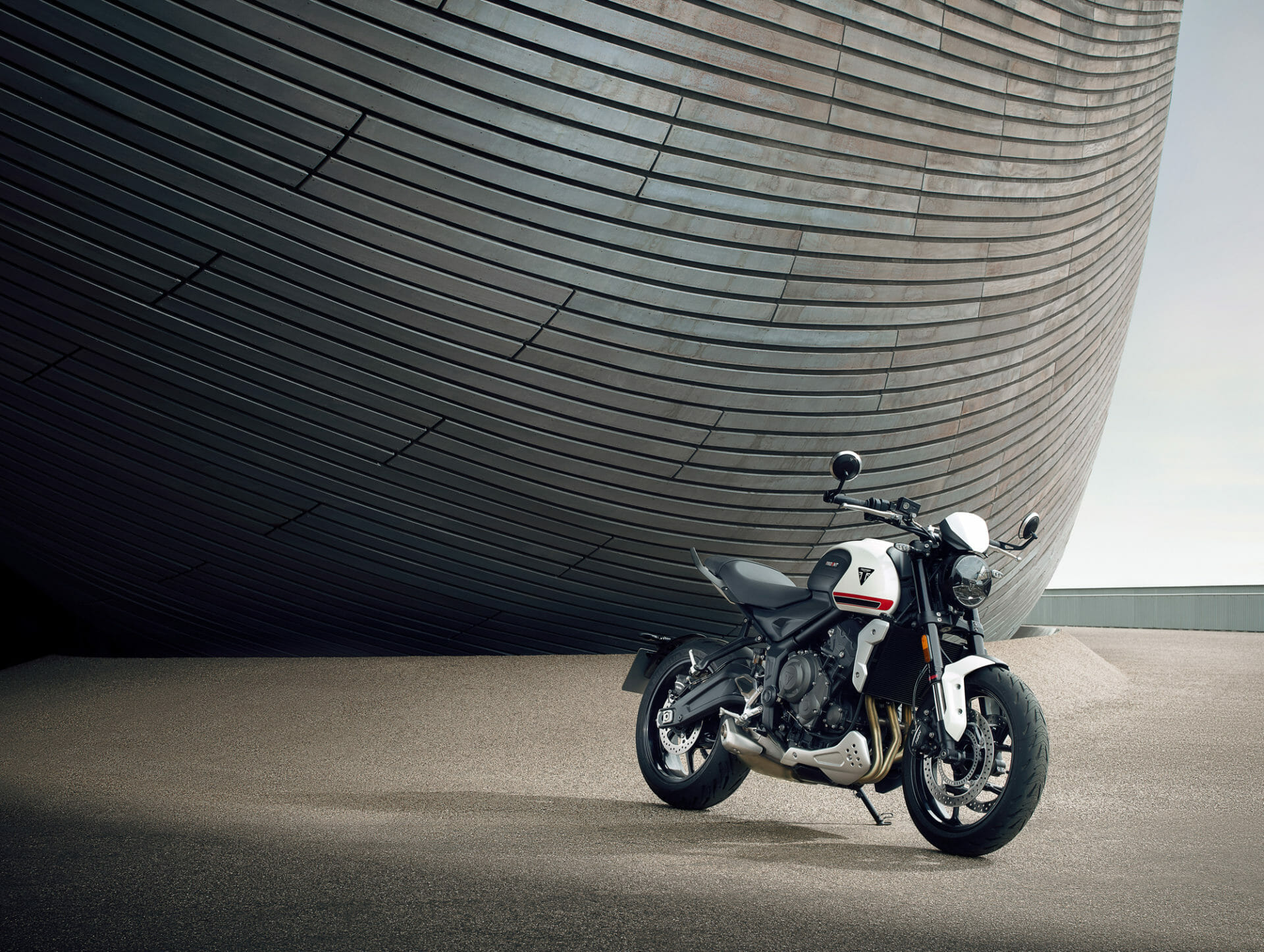 Low running costs
The service is due every 16,000 km. Compared to the competition in this class, this is 25 to 65 percent longer. The service effort in the workshop is also particularly low. The Trident's service stay is set at 8.3 workshop hours. For other, comparable models it is 11 to 15.8 hours. This should make servicing the Trident around 25 percent more cost-effective.
However, this only pays off for people who drive a lot, because TRIUMPH still asks for service every year if the mileage is lower.
A two-year warranty is valid for the Trident worldwide and with unlimited mileage. In certain sales regions, such as Germany and Austria, the warranty is extended by a two-year follow-up warranty.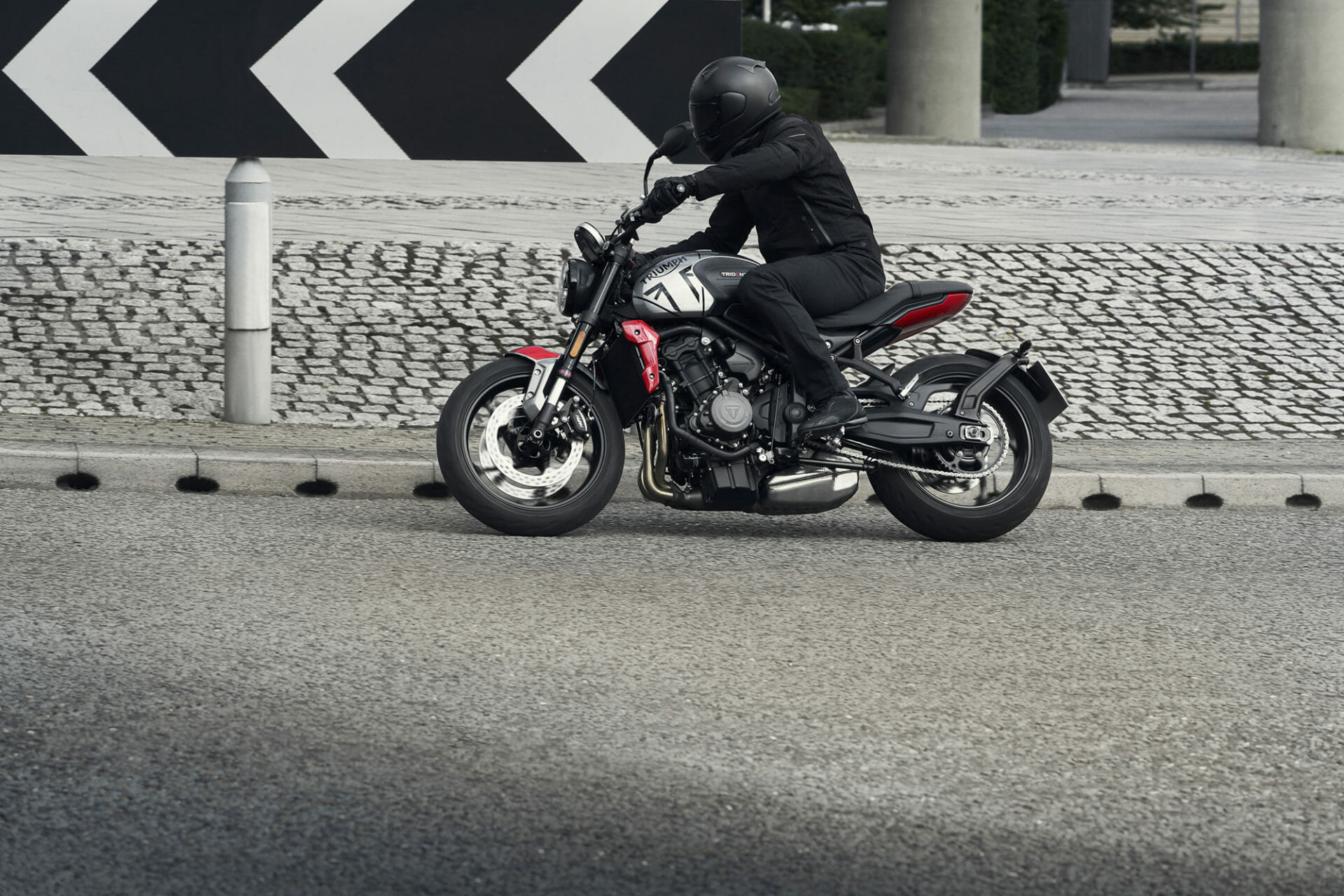 Price for Germany and Austria
The price of the TRIUMPH Trident 660 is quoted for Germany from €7,343 plus delivery charges and for Austria from €8,795 including delivery charges and NOVA.
Steve Sargent, Chief Product Officer of TRIUMPH, says: "With the new Trident 660 we want to offer riders in the exciting world of mid-range roadsters everything they can expect from a motorbike: a range of real benefits that set a new standard. These range from a competitive price, to the power and performance of our three cylinder engine, to the benefits of class-leading handling combined with ground-breaking technology. We believe that the Trident 660 is a real milestone in its category, bringing the TRIUMPH brand and the benefits of a three-cylinder engine to a whole new generation of drivers around the world".
All highlights in the short overview:
youngest member of the award-winning roadster series from TRIUMPH, which is known for its groundbreaking Street Triple RS and Speed Triple RS motorbikes and the Moto2™ racing engine range, among other things
The Trident 660 combines powerful triple power, elegant and sporty lines and groundbreaking technology for pure driving pleasure
perfect combination of powerful, linear power and powerful torque – from low rpm to the end of the speed range
81 PS peak power at 10,250 rpm and 64 Nm peak torque at 6,250 rpm
full power: 90 percent of the peak torque is available over most of the rev range
torque-assisted anti-hopping clutch
unique triple-sound
Power reduction available for A2 driving licence
Road and Rain driving modes
disengageable traction control (adapted to the driving modes)
"Ride-by-Wire" control of the throttle valves
completely new TFT colour multifunctional display, prepared for the "My TRIUMPH" connectivity system (with Bluetooth™ connection as accessory module)
Full LED lighting
ABS
Showa upside-down fork and Showa rear shock with adjustable preload
Nissin 310 mm double disc brakes
Michelin Road5 tyres
sporty, agile and dynamic, very confidence-inspiring driving experience
completely new chassis with comfortable ergonomics and low seat height of 805 mm
low weight: ready to drive only 189 kg
British design "at its best
clear, reduced design language with a striking silhouette and harmonious lines – including the unmistakable design DNA of TRIUMPH
four stylish and extremely attractive lacquer options
wide choice: 45 accessories specially designed for Trident
very competitive price: from 7,343 euros in Germany* (plus delivery charges) and from 8,795 euros in Austria (including delivery charges and NOVA)
extremely low maintenance costs
long service intervals of 16.000 km
global 2-year warranty without mileage limitation + 2-year follow-up warranty for all TRIUMPH models purchased in Germany and Austria
THE NEW TRIDENT 660 – TECHNICAL DATA (Status: 30.10.2020)
MOTOR AND DRIVE
Type – In-line three-cylinder, liquid-cooled, DOHC, 12 valves
displacement – 660 cm³
Drill hole – 74,0 mm
stroke – 51,1 mm
Compression – 11.1:1
Power – 81 PS (60 kW) at 10,250 rpm (A2 variant: 47.8 PS (35 kW) at 8,750 rpm)
torque – 64 Nm at 6,250 rpm (A2 variant: 59 Nm at 5,250 rpm)
Fuel supply – Electronic sequential multipoint injection with electronic throttle control
Exhaust system – stainless steel exhaust system with 3-in-1 manifold routing and "single sided" muffler
Final drive – X-ring chain
Clutch – Torque-assisted anti-hopping clutch, wet
Transmission – 6-speed
DRIVER'S WORK
Frame – tubular steel perimeter frame
swing arm – two-arm steel profile swing arm
Front wheel – cast aluminium wheel, 17 x 3.5
Rear wheel – cast aluminium wheel, 17 x 5.5
Front tyre – 120/70 R17
Rear tyre – 180/55 R17
Front suspension – Showa 41 mm upside-down fork with separate function (SFF)
Rear suspension – Showa monoshock shock with lever redirection and adjustable spring preload
Front brake – Nissin double piston floating caliper, 310 mm double disc, ABS
Rear brake – Nissin single piston floating caliper, 255 mm brake disc, ABS
Instruments – Multifunctional TFT colour instrument panel
DIMENSIONS & WEIGHT
length – 2,020 mm
Width (handlebars) – 795 mm
Height (without mirror) – 1,089 mm
seat height – 805 mm
wheelbase – 1,401 mm
Steering head angle – 24.6 degrees
overtravel – 107,3 mm
Weight ready to drive
189 kg
Tank capacity
14 litres
Letzte Aktualisierung am 2021-10-18 / *Affiliate Links / Bilder von der Amazon Product Advertising API