Fans of the Triumph Daytona have been waiting ages for a new model of the mid-range sports bike. Now the future Daytona 660 has been caught on test. However, the emerging euphoria could quickly subside, because a radical super sports bike can probably no longer be expected.
Rumors about a return of the Triumph Daytona have been persistent for years, often only the desire that the model will return was behind it.  This legendary designation has always been part of the mid-range SuperSports.  After a brief revival with the Daytona 765, however, it has gone quiet.  Now, however, prototype photos have surfaced showing a new model being test ridden.
Triumph's balancing act between sport and everyday life
The Triumph Daytona has a long and proud tradition.  But the latest spy photos show that the potential new edition is not aimed at racetrack junkies.  The model could position itself more as an everyday sports bike.
Looking at the images, you can clearly see the visual orientation to past Daytona models.  The headlights have been swapped for modern LED lights.  The rear end is very reminiscent of the Trident 660, although it's not clear if that's how the design will actually go into production.
Technical considerations and specifications
Speaking of the Trident – it seems that many technical aspects of the new Daytona model have been taken from that bike, or rather the Trident is the basis for the new Daytona.  It is expected that the engine and exhaust system will be largely identical, visually you can not see any changes in the photos.  Thus, the power figures could be in the range of 81 hp (about 80 hp, about 60 kW).  In terms of weight, the Daytona 660 could be between the values of the Trident 660 and the Tiger Sport 660, which could mean around 189 kg to 206 kg (416.7 pounds to 455 pounds).
That puts us a long way from the 130 horsepower produced by the 765cc three-cylinder in the 765 Daytona, but perhaps a surprise will follow here, perhaps at least a small increase in power?
Presentation still this year
One can expect that the new Daytona will be presented still this year.  Surely then also a throttled A2 version will give.
However, the model was not designed for the racetrack, it will probably be more of an everyday sports bike, which will probably rarely find its way onto the racetrack.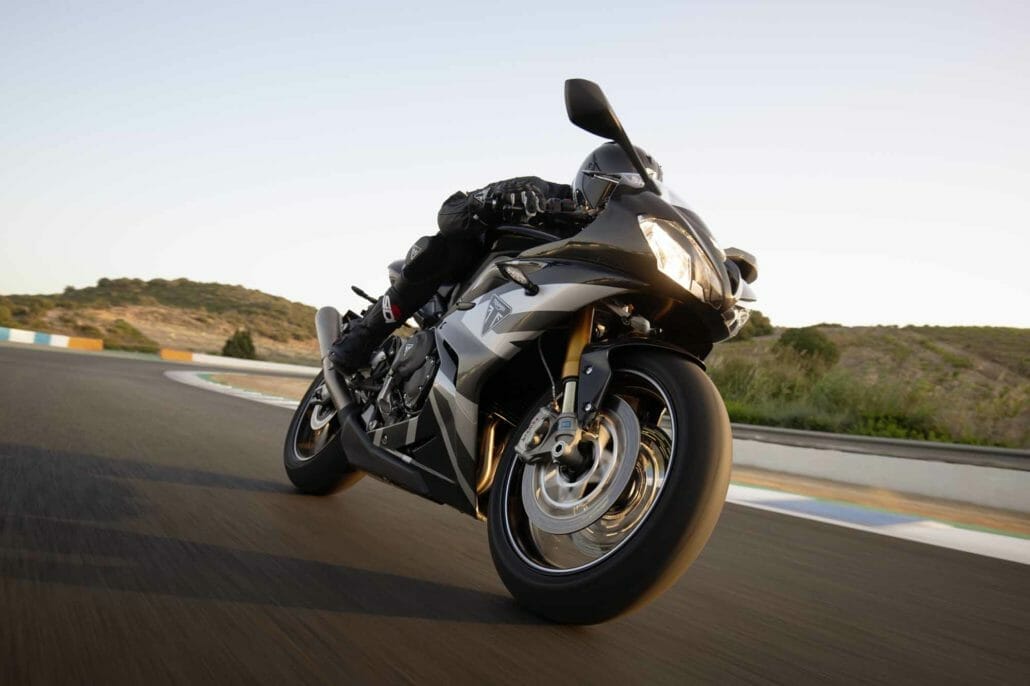 Bestseller Nr. 1
Bestseller Nr. 2
GPR Auspuff Triumph Daytona 955 2003/05 Auspuff zugelassen mit GPR Classic Poppy*
Zugelassene Linie mit herausnehmbarem Dbkiller, Straßenzulassung im Lieferumfang enthalten
Doppelter Schalldämpfer mit spezifischen Anschluss-Beschlägen im Set enthalten, wie Halterungen, Plug-and-Play, Montage ohne Änderungen
GPR Zertifiziert seine Produkte wie ISO14021, der Produktionsprozess folgt den Prinzipien der Circular Economy und die Emissionen werden durch die Bepflanzung neuer Bäume ausgeglichen
Deutliche Gewichtseinsparung und gute Leistungssteigerung
Das Set enthält keinen Katalysator
Bestseller Nr. 3
Letzte Aktualisierung am 2023-09-21 / *Affiliate Links / Bilder von der Amazon Product Advertising API