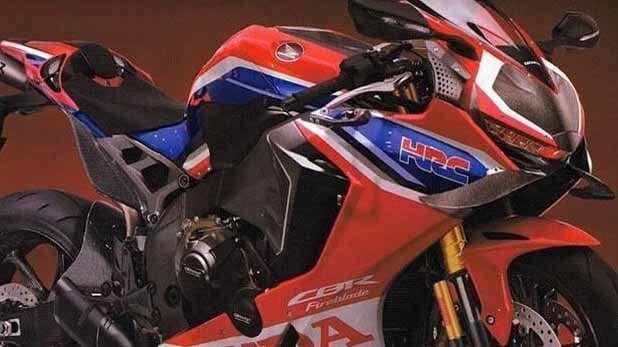 Much is not yet known about the upcoming Honda CBR1000RR for 2020, but it is said it will be the most powerful Superbike. Whether it is the strongest Superbike in general or Honda-internally will remain open in this statement.
New Honda Fireblade becomes a real racing machine !?
The motorcycle is to be a complete redesign and developed primarily for racing. Euro 5 will have to meet the engine, that should be clear. It should continue to be a four-cylinder in-line engine, which is equipped with variable valve timing. Others speak of a V4 engine in order to use the know-how from the MotoGP.
Presumably, several variants of the CBR1000RR will be available again, which differ in features and price. One speaks of 210 HP in the basic model. As sure is a higher quality version of the Fireblade, which will be considered homologation model for the WorldSBK. At least 500 pieces of the model must be produced in series.
Experience has shown that the homologation model is also offered as a "limited version" exactly 500 times. In order to compete with the Panigale V4R, the machine should be able to afford at least 220 hp in street-legal trim.
To be able to use winglets in the WSBK, they will certainly also be found on the new Fireblade.
Allegedly, the new Honda CBR1000RR for 2020 is already presented at the Tokyo Motor Show in late October.
Sale
Sena 20S-EVO-01D 20S EVO, Bluetooth-Kommunikationssystem für Motorräder, Dopplepack*
Die gleiche Zusammensetzung von Funktionen, die bereits das 20S zur weltweiten Nr.1 unter den Bluetooth-Kommunikationssystemen gemacht hat, finden Sie auch beim 20S Evo.
Nutzen Sie die aktualisierte Sprechanlagen-Funktion in Form der Group Intercom-Funktion, um mit bis zu sieben weiteren Fahrern in einer Entfernung von bis zu 2 km in Verbindung zu bleiben.
Das 20S Evo liefert weiterhin klare, präzise und komfortable HD-Audioqualität unter allen Bedingungen.
Bluetooth 4.1-Technologie, hochwertige Stereo-Bluetooth-Lautsprecher und Audio Multitasking erzeugen ein rundes, klares und unmittelbares Klangerlebnis, das Sie beim 20S bereits so geschätzt haben.
Die vereinfachte Nutzeroberfläche macht das Einrichten und Koppeln des 20S EVO dank der Bewegungsmeldertechnik von Sena unglaublich einfach.
Letzte Aktualisierung am 2019-07-30 / *Affiliate Links / Bilder von der Amazon Product Advertising API
Quelle: Young Machines