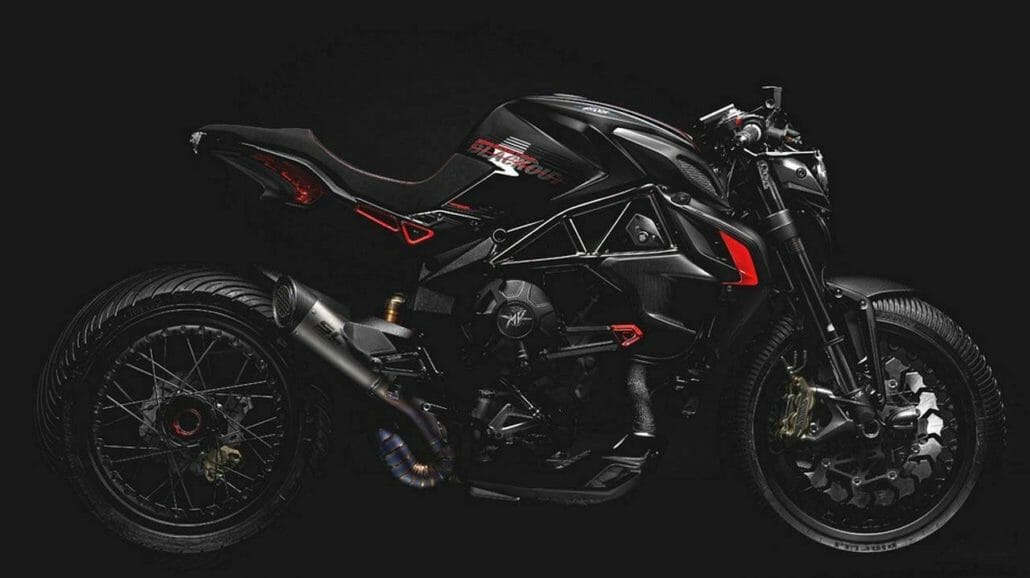 MV Agusta presents the Dragster 800 "Blackout" at the Motor Bike Expo 2017
Techno Cafe Racer
At the Motorbike Expo in Milan MV Agusta showed two special motorbikes. Once the brutal 800 RR Ballistic Trident I have already introduced in the motorcycle news. still everyone is determined Remember the dustbin fairing.
The second machine is the MV Agusta Dragster 800 Blackout. The Blackout probably rather the taste of the masses meet. It is equipped with very nice details. Most likely sting probably the LED headlights and wets the eye.
At the ends of the fork, additional headlights were installed.
The Blackout is based on the Dragster 800 and was developed in collaboration with Valtermoto.
Valtermotor is specialized in race track components and partners of the MV Agusta Reparto Corse Racing team. Valter Esposito, the founder of the company, wanted to turn the Dragster into a techno-cafe-racer.
[sam id="2″ codes="true"]
Instruction manual:
FS – View on full screen on / off
SL – Slideshow on / off – image changes every 5 seconds
If you like a picture click on the thumb
Adobe Flash Player must be enabled in order to use the Gallery
Pictures from the MV Agusta Dragster 800 Blackout:
MV Agusta Dragster 800 Blackout
Quelle: MV Agusta
Keine Produkte gefunden.