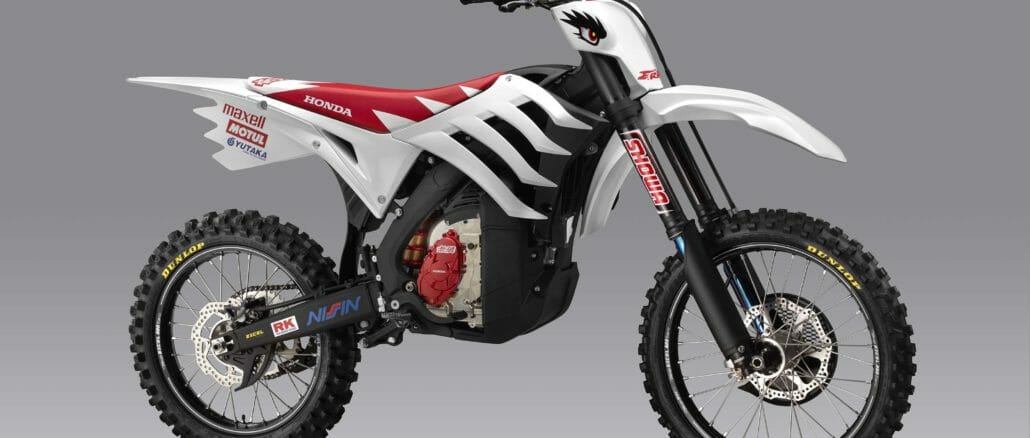 Electric motocross motorcycle
Mugen E.REX prototype has been further developed
In addition to the already presented racing machine "Shinden Hachi" for the Isle of Man TT, Mugen also presented the new or further developed prototypes of the E.REX at the booth of the Tokyo Motorcycles Show.
The bony dinosaur was introduced two years ago. The bones-inspired design has been slightly modified and now more in cooling ribs and spikes shaped. As before, the drive is electric and this engine was only seen here a few days ago. Exactly the engine is also in the prototype of the Honda CR Electric.
That's not really surprising, because Honda and Mugen are deeply connected and they work together on the EV MX program.
Overall, the two motorcycles are extremely similar, in addition to different trim elements are virtually identical.
Sale
Motorrad Vollkörper Rüstungsschutz Pro Street Motocross ATV Schutzhemd Jacke mit Rückenschutz Schwarz & Rot XXL*
Sicher und kühl: Flexibilität und Atmungsaktivität, PVC mit hoher Flexibilität, Lycra-Mesh-Gewebe und EVA-beständig und langlebig.
Leicht und komfortabel: Ergonomisches Design, kann mit elastischen Bändern und Klettverschlüssen für eine perfekte Passform und Belüftung, sehr cool für den Sommer angepasst werden.
Schutz und Anti-Schock: Die hinteren Polyurethan-Schutzplatten, dicke Polster auf beiden Seiten der Taille, starre Nylon-Protektoren an Schultern und Ellenbogen, Kompression der Brustpolster.
Effizient schützen: abnehmbarer artikulierter Rückenschutz, höchster Schutz der Schulter, des Ellenbogens, der Brust, des Rückens, der Taille und anderer wichtiger Stellen.
Größe: XXL, ist geeignet für Personen mit einem Höhe von 180 bis 190 cm, Gewicht von 80 bis 90 KG, Büste von 105 bis 110 cm, Taille von 88 bis 94 cm.
Letzte Aktualisierung am 2019-03-28 / *Affiliate Links / Bilder von der Amazon Product Advertising API
Der ursprüngliche Prototyp