Ian Hutchinson won the RL Quantum Superstock race. This was the third consecutive victory in this race and his 16th TT victory overall.

Before the race the drivers were warned against strong side bends at Crosby Hill and wet spots at Gingerhall, Ramsey Hairpin and Hillberry.
RL Quantum Superstock Race of the Isle of Man TT 2017 – the first round
[sam_ad id="2″ codes="true"]Michael Rutter led the race at Glen Hellen, a second before Hutchinson and Hickman – who was only just behind with a further 3/10 seconds. James Hillier has already finished the race at Ballacraine.
At Ballaugh, Hutchinson was already in first place. His distance to Rutter was 1.3 seconds at Ramsey Hairpin. Hickman went on three and 1.5 seconds behind Dan Kneen. On five, Dean was Harrison and on six Michael Dunlop.
The first lap drove Hutchi with 131.109 mph from standing start. The distance to Hickman was 4.5 seconds. But second place did not have more Rutter. Hickman could catch Rutter. The distance was only 0.17 seconds. This was followed by Kneen, Harrison and Dunlop.
The first four all made a round of 130 mph. Kneen took a personal best time. Bruce Anstey, Conor Cummins and Gary Johnson drove into the pits and finished the race.
The second round
At Glen Helen the gap between the first two had melted. But only to 4.1 seconds. Hickman was a bit faster then Hutchi and even faster than Rutter. The distance increased to two seconds. Kneen had the third podium spot in front of him. He lay behind Rutter for 1.5 seconds.
Up to Ramsey, Hutchi increased his lead to 7.8 seconds. Kneen went to third place and could take a lead of 3.3 seconds on Rutter.
The second round drove Hutchi with an average 130.673 mph before it went into the box to change the rear tire. The fork was also slightly adjusted, apparently he was not quite satisfied with the setting. Hickman continued with a distance of 5.8 seconds, followed by Rutter, Kneen, Harrison and Dunlop. The fastest privateer was Coward and was nine, followed by Horst Saiger at ten.
The third round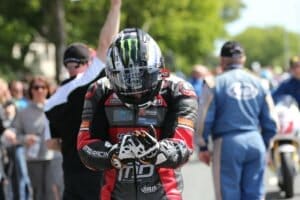 Until Glen Helen built Hutchinson his lead to 13.6 seconds. Hickman was 10 seconds before Kneen. Rutter on four got pressure from Dunlop. Which was just 0.2 seconds behind. He could go to Ballaugh Bridge.
The fourth round
Hutchi still had 12.4 seconds to Hickman. Kneen held a comfortable lead and seemed safe on three. Rutter took fourth place and made a distance of 3.5 seconds.
Hutchi easily took the win and the fastest lap of the race. 131,639 mph he managed in the final round. Hickman was 22.4 seconds later in second and on three the BMW driver Kneen.
Rutter came in fourth with just 1.1 seconds ahead of Harrison, who dropped Dunlop to sixth place.
Best privateer was Coward with the ninth place. Horst Saiger was tenth.
RUFFNEK Multifunktionaler Schal/ Tuch/ Nackenwärmer, Isle of Man TT 1961, Einheitsgröße für Damen/ Herren/ Kinder*
Die ultimative Ausstattung für den Seesack, geeignet für alle Aktivitäten im Freien. Motorradrennen, Laufen, Radfahren, Angeln, Hundeausführen, Skifahren, Fitness, Motorräder, Roller, Klettern,...
Nahtlos: 100 % Mikrofaser, hypoallergen, kein Verblassen oder Verlust an Elastizität, kein Juckreiz oder Scheuern. Entworfen mit nahtlosen (beschnittenen) Kanten, damit sie auch unter dem Motorrad-/...
Schützt vor Wind, Schnee und Sonne. Dieser feuchigkeitstransportierende Stoff hält warm. Zubehör für alle Jahreszeiten: Alle Schals bestehen aus hochwertiger fachspezifischer Mikrofaser. Das...
Nackenwärmer, Tuch, Stirnband, Ski-Schal, Gesichtsmaske, Halstuch, Beanie.
Einheitsgröße passend für Männer, Frauen, Kinder und sogar mittelgroße Hunde.
Letzte Aktualisierung am 2023-06-04 / *Affiliate Links / Bilder von der Amazon Product Advertising API
Results of the Isle of Man TT 2017 RL Quantum Superstock Race
Ian Hutchinson BMW / Tyco BMW 01:09:59.261 – 129.383
Peter Hickman BMW / Smiths Racing 01:10:21.684 – 128.696
Dan Kneen BMW / DTR powered by Penz 13 01:10:42.708 – 128.058
Michael Rutter BMW / Bathams SMT Racing 01:10:52.862 – 127.752
Dean Harrison Kawasaki / Silicone Engineering 01:10:54.002 – 127.718
Michael Dunlop Suzuki / MD Racing 01:11:03.037 – 127.447
William Dunlop Yamaha / Temple Golf Club 01:12:04.373 – 125.639
David Johnson BMW / Fleetwood Grab Services BMW 01:12:11.733 – 125.426
Jamie Coward BMW / Radcliffe's Racing 01:12:39.386 – 124.630
Horst Saiger Kawasaki / Swiss Moto 01:12:58.409 – 124.089
Daniel Hegarty Honda / Top Gun Racing / Uggly & Co 01:12:59.776 – 124.050
Martin Jessopp BMW / Riders Motorcycles BMW 01:13:10.344 – 123.752
Sam West BMW / PRL / Worthington 01:13:15.442 – 123.608
Brian McCormack BMW / Vanfleet Transport 01:13:28.537 – 123.241
James Cowton Kawasaki / McAdoo Kawasaki Racing 01:13:36.226 – 123.026
Dan Stewart BMW / Wilcock Consulting 01:13:39.832 – 122.926
Michael Sweeney BMW / MJR Racing 01:13:40.703 – 122.902
Philip Crowe BMW / Handtrans / Fleetwood Grab / Sheff 01:13:51.370 – 122.606
Ivan Lintin Kawasaki / Dafabet Devitt RC Express Raci 01:13:52.850 – 122.565
Daniel Cooper BMW / CMS by Dan Cooper Motorsport 01:13:58.578 – 122.407
Dominic Herbertson BMW / Dynobike 01:14:01.148 – 122.336
Steve Mercer Kawasaki / Dafabet Devitt RC Express Raci 01:14:12.277 – 122.030
Daley Mathison BMW / Eddie Stobart 01:14:24.078 – 121.708
Rob Hodson BMW / Hodson Racing 01:15:02.407 – 120.671
Mark Parrett BMW / C & C Ltd IOM 01:15:02.816 – 120.660
Michael Russell Kawasaki / RAF Sports 01:15:05.789 – 120.581
Kamil Holan BMW / McRace by IVR BMW Motorrad CS 01:15:11.517 – 120.428
Stefano Bonetti BMW / Speed Motor 01:15:14.344 – 120.352
Craig Neve Kawasaki / Callmac Scaffolding 01:15:22.646 – 120.131
Alan Bonner BMW / NW Racing 01:15:44.473 – 119.554
Adrian Harrison Kawasaki / Graham Baxter 01:15:58.315 – 119.191
Barry Furber Kawasaki / Vauxhall / Greenhous / Moto-De 01:16:05.574 – 119.002
Raul Torras Martinez Yamaha / Martimotos.com Racing 01:16:07.546 – 118.951
Ian Pattinson BMW / Weardale Racing Ltd 01:16:28.106 – 118.417
Alessandro Polita BMW / Team Penz13.com BMW Motorrad 01:16:34.564 – 118.251
David Sellers Suzuki / PRF Suzuki 01:16:39.103 – 118.134
David Hewson BMW / Obsession Engineering Ltd 01:16:48.525 – 117.893
Anthony Redmond BMW / Team Tony 01:17:15.477 – 117.207
Richard McLoughlin Kawasaki / Clean Rubber 01:17:23.928 – 116.994
George Spence Yamaha / Dod Spence Racing 01:17:32.110 – 116.788
Julien Toniutti Yamaha / Optimark Road Racing Team 01:18:00.367 – 116.083
David Madsen-Mygdal Honda / RJP Racing 01:18:27.779 – 115.407
Richard Wilson Honda / Excel Signs Washington 01:19:01.541 – 114.586
Forest Dunn Honda / Forest Dunn Racing 01:20:26.235 – 112.575
Frank Gallagher Kawasaki / Frankieg Racing 01:20:41.550 – 112.219
Image Gallery RL Quantum Superstock Race
[flagallery gid=135 skin=minima_jn align=Center]
Quelle: IOMTT.com or click Info
Press conference on the RL Quantum Superstock Race:
Videos from the RL Quantum Superstock Race: