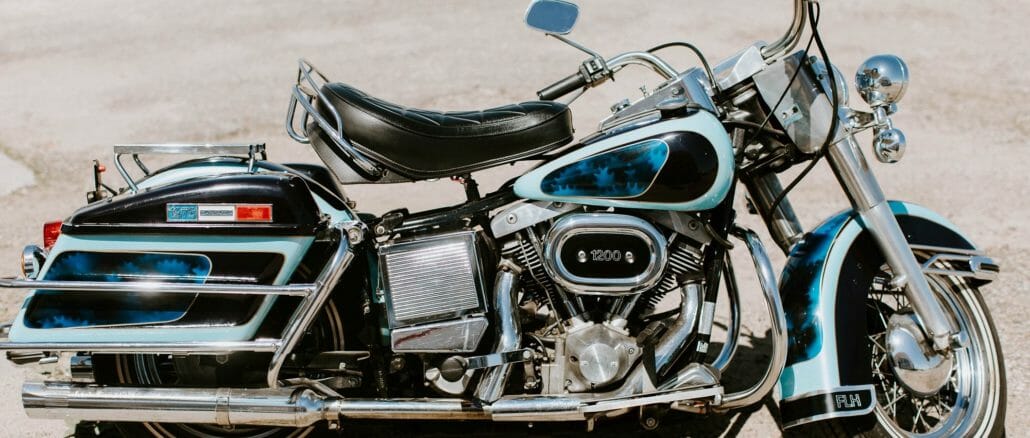 The 1976 Harley-Davidson FLH 1200 Electra Glide from Elvis Presley was part of an auction at Hard Rock Cafe Hollywood, which took place on 08/31/2019. It was expected that the motorcycle would be auctioned for about 2 million Dollar. That would make it the most expensive motorcycle in the world.
Harley-Davidson from Elvis Presley auctioned
The starting bid was set at $ 100,000, the auction steps at $ 10,000. However, a new record for the world's most expensive motorcycle could not be broken. The Harley went for "only" $ 800,000 to the new owner. This makes it the third-most expensive motorcycle in the world.
First place remains the Vincent Black Lightning of 1951, which was sold last year for 929,000 Dollar.
Sale
Sena 20S-EVO-01D 20S EVO, Bluetooth-Kommunikationssystem für Motorräder, Dopplepack*
Die gleiche Zusammensetzung von Funktionen, die bereits das 20S zur weltweiten Nr.1 unter den Bluetooth-Kommunikationssystemen gemacht hat, finden Sie auch beim 20S Evo.
Nutzen Sie die aktualisierte Sprechanlagen-Funktion in Form der Group Intercom-Funktion, um mit bis zu sieben weiteren Fahrern in einer Entfernung von bis zu 2 km in Verbindung zu bleiben.
Das 20S Evo liefert weiterhin klare, präzise und komfortable HD-Audioqualität unter allen Bedingungen.
Bluetooth 4.1-Technologie, hochwertige Stereo-Bluetooth-Lautsprecher und Audio Multitasking erzeugen ein rundes, klares und unmittelbares Klangerlebnis, das Sie beim 20S bereits so geschätzt haben.
Die vereinfachte Nutzeroberfläche macht das Einrichten und Koppeln des 20S EVO dank der Bewegungsmeldertechnik von Sena unglaublich einfach.
Letzte Aktualisierung am 2019-11-05 / *Affiliate Links / Bilder von der Amazon Product Advertising API