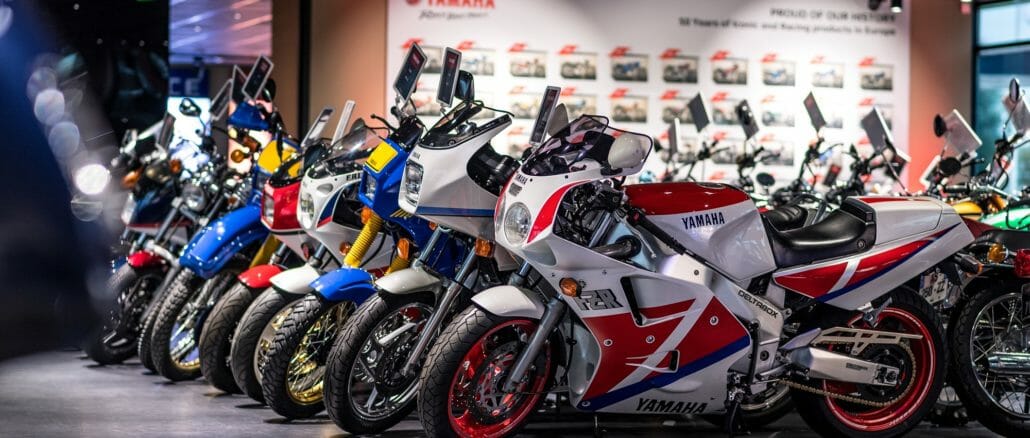 Yamaha Europe has created the Collection Hall to preserve the company's legacy and tell its story.
European Yamaha Motor Collection Hall
On September 25, the official opening of the Collection Hall in Amsterdam (Netherlands) took place. The exhibition aims to show and preserve the racing and production history of the brand. Significant motorcycles from 1961 to today can be admired there.
A selection of historic racing motorcycles whether off-road or Grand Prix championships can be seen. In addition to the Yamaha YZE750, with which Stephan Peterhansel won the Dakar in 1991, stands the YZF-R1, with which Ben Spies dominated the Superbike World Championship.
Motocross fans should be particularly interested in the World Championship Winner YZ 450 F by Stefan Everts, or their equally successful development. The YZ 450F by Adrien Van Beverens with which he won the l'Enduropale du Touquet in 2015 is also part of the exhibition.
Insights into the evolution of Yamaha motorcycles are shown in the 2007 MT-03 concept. In addition, the MF 1 of 1961, the YL 1 of 1969, the YAS 1 of 1968 and the XJ 650 Turbo of 1986 can be seen.
Eric de Seynes, Präsident Yamaha Motor Europe N.V.: "The Yamaha Motor Europe Collection Hall is dedicated to the memory of our past in racing, and to the memory of what has revved the heart of our customers. A "home" for our iconic models and it has two vocations: first to inspire our engineers and designers in their process of creating future models, and second, support the credibility and the emotional value of our novelties, in the respect of our past creations."
But there is a downer, the exhibition is not open to the public. Parts of it are supposed to be shown on different shows and events.
Sale
Sena 20S-EVO-01D 20S EVO, Bluetooth-Kommunikationssystem für Motorräder, Dopplepack*
Die gleiche Zusammensetzung von Funktionen, die bereits das 20S zur weltweiten Nr.1 unter den Bluetooth-Kommunikationssystemen gemacht hat, finden Sie auch beim 20S Evo.
Nutzen Sie die aktualisierte Sprechanlagen-Funktion in Form der Group Intercom-Funktion, um mit bis zu sieben weiteren Fahrern in einer Entfernung von bis zu 2 km in Verbindung zu bleiben.
Das 20S Evo liefert weiterhin klare, präzise und komfortable HD-Audioqualität unter allen Bedingungen.
Bluetooth 4.1-Technologie, hochwertige Stereo-Bluetooth-Lautsprecher und Audio Multitasking erzeugen ein rundes, klares und unmittelbares Klangerlebnis, das Sie beim 20S bereits so geschätzt haben.
Die vereinfachte Nutzeroberfläche macht das Einrichten und Koppeln des 20S EVO dank der Bewegungsmeldertechnik von Sena unglaublich einfach.
Letzte Aktualisierung am 2019-11-04 / *Affiliate Links / Bilder von der Amazon Product Advertising API