Ducati joins forces with Lamborghini to test groundbreaking V2V technologies that could revolutionize road safety for motorcyclists.  By analyzing specific hazard scenarios and developing innovative warning systems, the duo is paving the way for safer and connected mobility of the future.
Involved in international initiative: Ducati's role in the Connected Motorcycle Consortium.
Since its foundation in 2016, Ducati has been a committed player in the Connected Motorcycle Consortium (CMC), a global association with the aim of integrating motorcycles into the future ecosystem of connected mobility.  This is intended to increase road safety for motorcyclists worldwide.  The Bologna-based company once again demonstrated its commitment to this initiative at an event at the Lausitzring in Germany.
Technology in focus: What's behind the networking of motorcycles and cars?
Until now, the focus of the automotive industry has been primarily on networking cars with each other through so-called vehicle-to-vehicle (V2V) communication. However, CMC has made it its business to also integrate the special requirements of motorcycles into this technology.  The standardized integration of motorcycles into V2V systems should minimize the risk of accidents in the future.
Safety through reaction time: How does the system work?
A key element in the development of these technologies is the system's reaction time.  The faster a system can respond to potential hazards, the better the risk of accidents can be minimized.  CMC and its members, which include Ducati, have conducted numerous studies on the most common types of accidents and their severity.  Based on this, specific use cases have been developed where networking could be particularly effective.
Ducati and Lamborghini in practical testing
To demonstrate the effectiveness of the technologies developed, Ducati cooperated with Lamborghini, which also belongs to the Audi Group.  A Lamborghini Urus was provided for the practical tests.  The focus was on the three most dangerous scenarios for motorcyclists: limited visibility in intersections and situations in which motorcyclists themselves do not have a clear view.
Technical partners and prototype development
In the development process, Ducati worked closely with various suppliers, including Bertrandt for the hardware area and Nfiniity for the operating system and algorithms.  An additional screen on the motorcycle displays warnings that can alert riders to potential hazards.
Three specific use cases in view
The three scenarios that Ducati and Lamborghini have analyzed and tested in detail are Intersection Movement Assist (IMA), Left Turn Assist (LTA) and Do Not Pass Warning (DNPW).  These cases are expected to become more controllable through V2V communication, helping to reduce the number of accidents.
Ducati's vision for the future of road safety
Simone Di Piazza, Innovation Manager at Ducati, underlined the importance of road safety for the company: "For Ducati, the issue of road safety is really important. We are proud of the work presented today and are convinced that inter-vehicle communication will play a crucial role in reducing the number and severity of accidents involving motorcycles."
To make the CMC's research results transparent, Ducati and Lamborghini have released a video featuring a Ducati Multistrada and a Lamborghini Urus in action.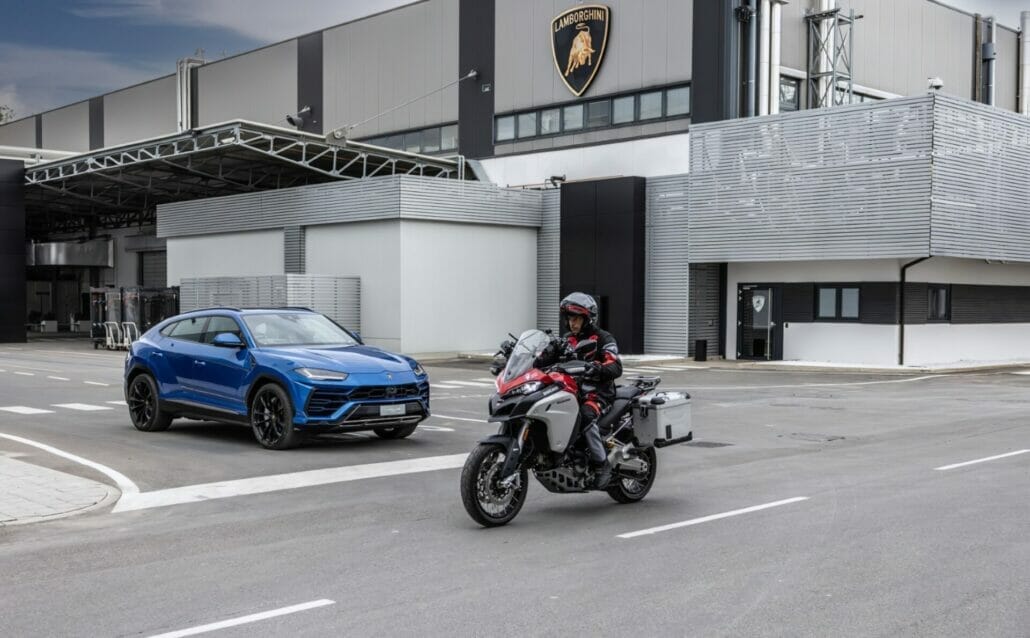 Bestseller Nr. 1
DUCATI MG20, Unisex-Erwachsene City-Elektrofahrrad, 20 Zoll, Rot, Einheitsgröße*
RAHMEN: Hergestellt aus Magnesium, leicht und stoßfest. Die Fließfähigkeit des Profils wird durch die Verwendung der Druckgusstechnologie ermöglicht, wodurch nahtlose Linien und luftigere Formen...
KOMFORT: Die geringen Abmessungen der 20"-Reifen und die Möglichkeit, das E-Bike und die Pedale einfach zu schließen, machen MG-20 zum idealen Mittel für den Stadtverkehr, dank der geringen...
PERFORMANCE: Der herausnehmbare SAMSUNG 36V 10.5Ah 378Wh Akku und der 250W Heckmotor erkennen die Straßenverhältnisse, die Steigung und die beim Treten aufgewendete Kraft und bieten je nach...
ZUSAMMENKLAPPBAR: Der Rahmen und die Pedale können leicht zusammengeklappt werden, wodurch ein minimaler Platzbedarf und eine flexible Nutzung auch in Kombination mit öffentlichen und privaten...
Das Fahrrad wird zu 90% zusammengebaut geliefert. Bitte sehen Sie sich die unten stehende "Assembly% Guide" an, um zu sehen, welche Maßnahmen zur Fertigstellung der Montage erforderlich sind.
Bestseller Nr. 2
CARRERA DUCATI Herren Carduc 004/S Sonnenbrille, Oit, One Size*
Sonnenbrille CARDUC 004/S für Herren, nicht polarisiert, Größe 57/17/145
der Marke CARRERA DUCATI
Sonnenbrille CARDUC 004/S
Die Sportprodukte der Marke CARRERA DUCATI sind so konzipiert, dass Sie Ihren Lieblingssport genießen können, ohne sich um etwas anderes kümmern zu müssen, als das Beste zu leisten
Hergestellt aus hochwertigen Materialien für jede sportliche Aktivität
Bestseller Nr. 3
Letzte Aktualisierung am 2023-08-25 / *Affiliate Links / Bilder von der Amazon Product Advertising API