A collection of extremely rare veteran and vintage motorcycles from Warren Hicks, a Victorian collector and enthusiast, will be auctioned at the Shannons Timed Spring online auction.
Zenith Bi-Car Frame No 3
The six motorcycles in his collection were built between 1907 and 1925. All six auction pieces are extremely rare. However, the Zenith Bi-Car Frame No 3 built in 1907 is a very special piece. It is the only known example of the radical design that is equipped with a front wheel hub steering.
The Zenith Bi-Car is in the condition of a barn find. In the international motorcycle scene it already has an almost mythical status, as the specimen up for auction has not been seen in public since 1974.  A strong international interest in this rare piece is expected and the price is expected to be between 50.000 and 70.000 dollars.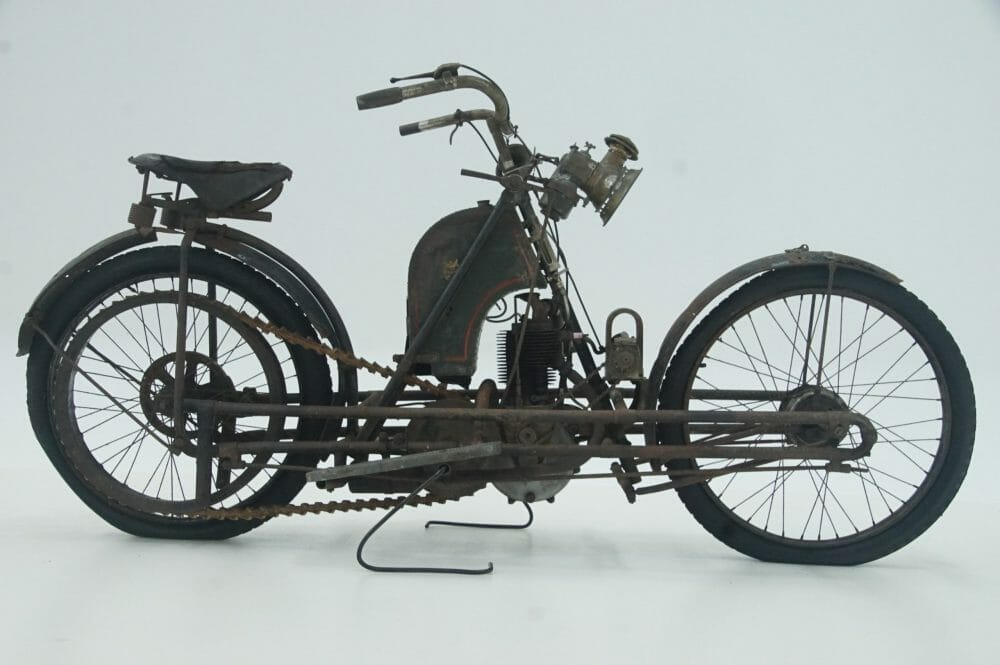 Excelsior V-Twin 1000cc Two speed
Another auction object is the "Excelsior V-Twin 1000cc Two speed". It is in a complete and good condition, but has not been used since 1978. It is equipped with a 1.000cc V-Twin engine. The footboards are made of cast iron and braking is done with a foot brake pedal.
The Excelsior is known as the first motorcycle equipped with a 2-speed gearbox. Shifting is done by a long lever on the left side of the bike. A sales price between 40,000 and 60,000 dollars is expected.
FN Four
An "FN Four" is also part of the auction. Was built around 1910 and is in a complete, original but unrestored condition. This rare motorcycle has a four cylinder engine with shaft drive and has been with its current owner since 1970. A large package of spare parts, including four-cylinder replacement engines, is also part of the auction. One expects auction proceeds of 40.000 to 50.000 dollars.
Stanger V-Twin 538cc
The Stanger V-Twin 538cc was only built 20 times and it is estimated that there are only two left in the world. One is in a british museum and the other one is now coming under the online hammer. Built in 1922, the bike was last ridden in 1975, has a chain and belt drive and no front brake.
1922 Cito KG Solo
Of the 500cc OHV KG Cito built in Germany there are most likely only three left. The company was taken over by Allbright in 1923. The motorcycle is equipped with shaft drive and a Bosch generator for the electric light. The sales price here is expected to be between 40,000 and 50,000 dollars.
Further information about the online auction and the motorcycles can be found at http://shannons.com.au
Letzte Aktualisierung am 2022-03-14 / *Affiliate Links / Bilder von der Amazon Product Advertising API