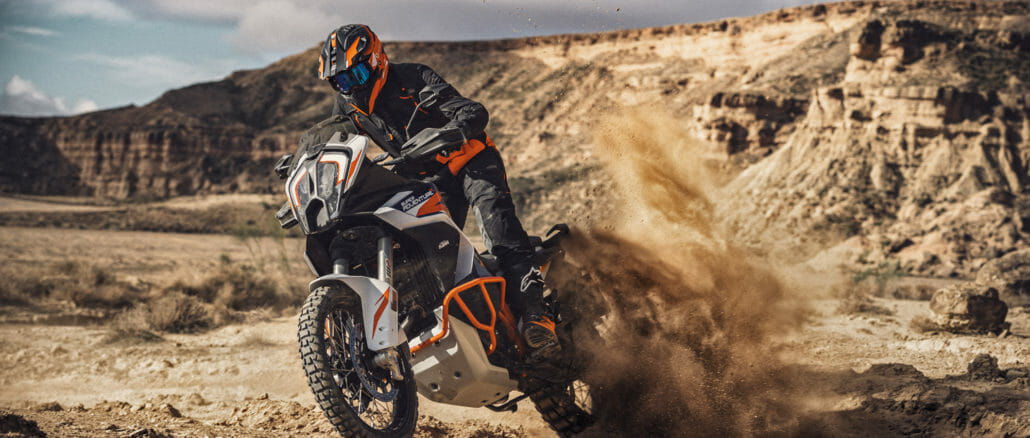 The two 2021 models 1290 Super Adventure S and 1290 Super Adventure R have already been presented. However, there will still be a standard version coming, which will simply be called the 1290 Super Adventure.
Documents reveal new standard model
New EU type approval documents reveal the third model, which, compared to the S and R models, will presumably have reduced equipment.
The 1290 Super Adventure S is the first model to feature radar-based cruise control as standard. The off-road-oriented Super Adventure R didn't feature this system.
The S and R both weigh a ready-to-ride 245 kg. In addition to the radar, the R does not have a semi-active suspension system. However, additional weight is added by the protective bars, so that in the end the weight is identical.
There are no official figures yet, but it can be assumed that the same parts have been omitted from the basic version as on the R. The protective bars are probably also missing here. With a specification of 240 kg, the standard version weighs five kilos less than the two known models. 
As for the engine and power, there will be no differences. Here, the data is the same for all three models. The same dimensions as the S version also suggest that it will also be equipped with the forged wheels and that the spoked wheels will be reserved for the R version.
Sale
Monster Energy Supercross - The Official Videogame 4 (Playstation 4)*
Der vierte Teil der offiziellen Videospielreihe zur AMA Supercross Championship ist Next-Gen-ready!
Spüre den Fahrtwind der Monster Energy Supercross-Saison 2020 mit 100 Fahrern, 11 offiziellen Stadien und 17 Rennstrecken
Mehr offizieller Content als jemals zuvor: Viele neue Inhalte und ein eigener Streckenkonfigurator warten auf dich
Jetzt mit dem von Supercross-Fans heiß ersehnten Fahrer Ken Roczen!
Audience Rating: Freigegeben ohne Altersbeschränkung
Letzte Aktualisierung am 2021-10-21 / *Affiliate Links / Bilder von der Amazon Product Advertising API