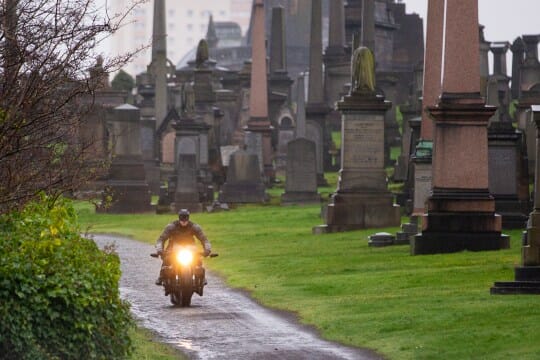 The filming of the new Batman film with Robert Pattinson has started and shows Batman's new motorcycle.
The recordings were made in Glasgow and Robert Pattinsons stunt double drove the bike.
The motorcycle looks very massive due to the fat cylinder heads and the fat front wheel. The mirrors were attached to the handlebar ends, which makes the motorcycle look even wider. There is a large round headlight in the front of the retro slap-on fairing. Of course, a friendly black dominates on a Batman motorcycle.
The filming took place in the Necropolis Cemetery near Glasgow Cathedral and the Glasgow Royal Infirmary. In the film, the locations represent Gotham.
The film deals with Batman's early years (strictly speaking, his second year) and is supposed to portray him again as a super-detective and not as a superhuman action hero.
A scene that you will definitely not see in the finished film:
The Bike Shield - Motorrad-Garage - schützende Zelt-Abdeckplane (Größe S)*
The Bike Shield muss sicher im Boden verankert werden. Einfach zu handhabende Schutz- und Abdeckungsmöglichkeit mit einem Design, das sich wie ein Zelt als Motorradgarage um Ihr Motorrad legt und es...
1 Jahr Garantie. 16 Quadratrohre, eine Bodenplatte und ein Verriegelungssystem, alle mit Galvanisierung, sorgen dafür, dass Ihr Motorrad sicher geschützt ist.
100 % wasserdicht, besonders dicke Polyurethanbeschichtung auf der Innenseite mit einer Wassersäule von 2000 mm. Außenseite mit stark wasserabweisenden Eigenschaften und Schutz vor schädlicher...
Um Feuchtigkeit aus der Motorradgarage abzuführen, ist sie mit Belüftungsöffnungen ausgestattet.
Praktisch - kein Kontakt von Auspuff und Abdeckung, einfach parken und abdecken, alles in nur drei Sekunden.
Letzte Aktualisierung am 2021-06-17 / *Affiliate Links / Bilder von der Amazon Product Advertising API