CCM (Clews Competition Machines) celebrates its 50th anniversary with a special Heritage model limited to 71 units.
Based on the Spitfire, British motorcycle manufacturer CCM is building the Maverick, a version that is also capable of off-road use.
CCM is a motorcycle manufacturer from Bolton in England, which many probably do not have so on the screen. Nevertheless, it is a tra...
Already Lara Croft rode on a CCM in the movie Tomb Raider 2001, now Scarlett Johansson will climb on the CCM Spitfire Blackout as Bl...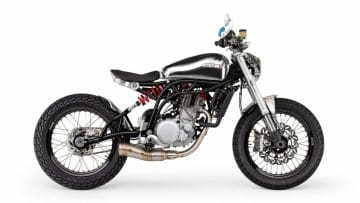 The British motorcycle manufacturer CCM presented the Spitfire Six at last year's "Motorcycle Live" exhibition. The strictly limited...
CCM, a British motorcycle manufacturer, brings its single-cylinder models Bobber, Six and Foggy as a special model "Stealth...