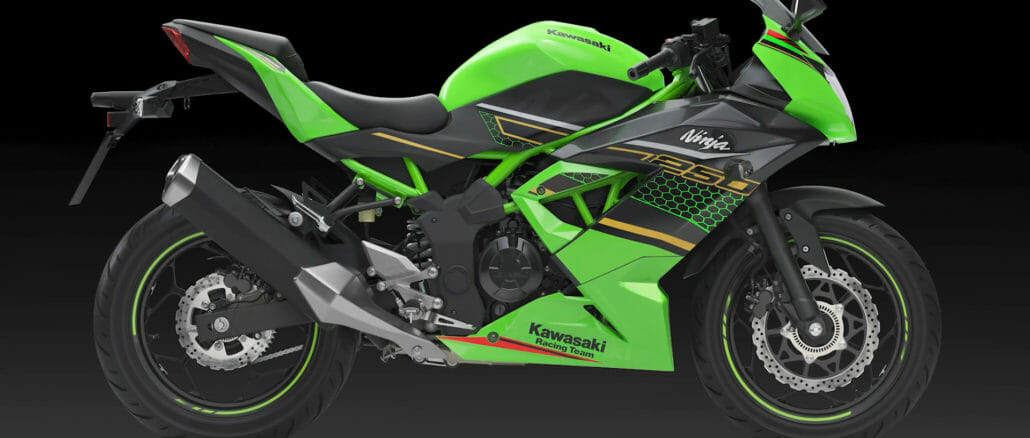 Kawasaki Indonesia has announced by video the Ninja 250L for 2020. In honor of the 5th world title in the WSBK by Jonathan Rea, it will come in the colors of the KRT racing team.
Kawasaki Ninja 250SL (Indonesia)
Besides, it will also be available in a black and white combination.
The data of the model 2019 (should be identical):
total length 1935
Total width 685
Total height 1075
Center distance 1330 (per mm)
Seat height unpublished
Weight 151 kg
Water-cooled 4-stroke single cylinder 249 cc
28ps / 9700rpm
6-speed gearbox
Fuel tank capacity 11 l
Tire size F = 100 / 80-17 R = 130 / 70-17
Rumors about a 4-cylinder 250er are synonymous. Kawasaki is said to have even released a video in which the engine was heard. However, the video was quickly taken offline again. On the Eicma we will learn more
Sale
Sena 20S-EVO-01D 20S EVO, Bluetooth-Kommunikationssystem für Motorräder, Dopplepack*
Die gleiche Zusammensetzung von Funktionen, die bereits das 20S zur weltweiten Nr.1 unter den Bluetooth-Kommunikationssystemen gemacht hat, finden Sie auch beim 20S Evo.
Nutzen Sie die aktualisierte Sprechanlagen-Funktion in Form der Group Intercom-Funktion, um mit bis zu sieben weiteren Fahrern in einer Entfernung von bis zu 2 km in Verbindung zu bleiben.
Das 20S Evo liefert weiterhin klare, präzise und komfortable HD-Audioqualität unter allen Bedingungen.
Bluetooth 4.1-Technologie, hochwertige Stereo-Bluetooth-Lautsprecher und Audio Multitasking erzeugen ein rundes, klares und unmittelbares Klangerlebnis, das Sie beim 20S bereits so geschätzt haben.
Die vereinfachte Nutzeroberfläche macht das Einrichten und Koppeln des 20S EVO dank der Bewegungsmeldertechnik von Sena unglaublich einfach.
Letzte Aktualisierung am 2019-11-02 / *Affiliate Links / Bilder von der Amazon Product Advertising API