Honda has announced the drivers for the NorthWest 200, Isle of Man TT and Ulster GP, Ian Hutchinson and Lee Johnston
(Article in video form at the bottom)
[sam id="2″ codes="true"]
Honda Road Racing Team 2018
Although Honda had a really bad start in road racing last year with the new Fireblade, do not forget that they are the most successful manufacturers in the long history of the TT. The Fireblade itself is the most successful 1000cc machine there, although the new model made difficulties last year.
As previously reported, John McGuinness crashed with the SP2 at last year's NorthWest 200 and is still struggling with the injuries. That might also be the reason why he will not compete with the Fireblade this year. Even Guy Martin had no luck with the new Fireblade and crashed at the TT, but remained unhurt.
The new drivers are not unknown. Ian Hutchinson and Lee Johnston will race for Honda in the Superbike and Superstock 1000 classes.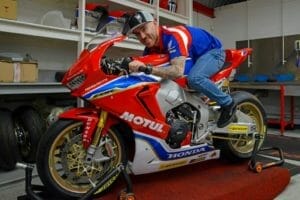 Hutchinson has been able to clinch 16 TT victories so far and made it to the podium 27 times. He also has experience with Honda. In 2010 he scored historic 5 TT victories and celebrated them with the Padgetts Honda team. Currently, he is one of the strongest riders on the Isle of Man TT despite the fact that he almost lost his left leg in 2010 after a serious accident. However, due to his iron will, he not only struggled back to the bike, even to his old strength and to one of the best road racers ever.
Since his left leg is severely limited, he drives since then with converted motorcycles and shifts his right foot. In 2017 he broke his leg again at the Tourist Trophy.
Lee Johnston drove 2008 for the first time in at the North West 200 and at the TT 2012. His record is also impressive. Three wins and six podiums at the NW 200, and at the TT he was already twice on the podium.
Hutchy has not raced with the Honda Fireblade SP2 and is looking forward to the first tests that will start soon.
Johnston has a small advantage here, because he already knows the machine from Le Mans. There he was reserve driver for the Honda Endurance Racing Team.
Letzte Aktualisierung am 2023-11-29 / *Affiliate Links / Bilder von der Amazon Product Advertising API
Pictures from the Honda Road Racing Team 2018
[flagallery gid=224 skin=photomania]
Source: Honda Racing
This article in video form:
https://youtu.be/mLMRAfHvAYM