Presentation of the Honda CBR1000RR at Intermot. The Fireblade 2017 looked closely. Data and details
On the 10th of October, 2016 the CBR1000RR was first shown and data were given. On the Intermot, however, I had the opportunity to watch the new Fireblade.
Honda CBR1000RR SP and SP2
It will come in two variations. The CBR 1000 RR SP and SP2. Total Control is the principle behind the new Fireblade. This is not only an indication of the ample electronics helpers, no, it is basically the driveability and the performance which is thus possible. Not the pure performance data on the paper. What ultimately burnt into the asphalt was in the foreground. – Handling and control
Difference between SP and SP2: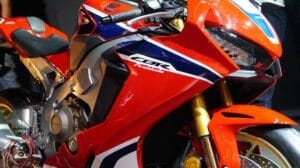 Of course the electronic helpers can help. 9-stage traction control, 3 different performance modes, motor brake control in three steps, wheelie control, automatic switch including blipper – even this can be adjusted or deactivated in 3 steps . The assistance systems are based on the gyro sensor, which collects data over 5 axes.
The SP2 is more for race track friends and thus, of course, even more sporty trimmed. However, it is still eligible. It is also equipped with Lanch Control, speed limiter for the pit lane, two additional freely adjustable performance modes and lighter rims
.
Data of the Honda Fireblade CBR1000RR SP and SP2:
What is of course interested is the engine power. 192 hp at 13,000 revolutions and 116 Nm at 11,000 revolutions will or will have both versions. So there will be no increase in performance for the SP2. The engine of the SP2 has already been somewhat revised. Strictly speaking, the cylinder head, valves, combustion chamber and pistons were designed to provide increased potential for performance enhancements.
Anyone who wants more can rely on a racing kit.
The SP 195 KG weighs a lot and is filled with fuel, because of the other rims the SP2 should be slightly lighter
.
Other Data:
The chassis comes from Öhlins and is electronically adjustable. In front a NIX30-fork is installed and a TTX36 rear suspension. The adaptation takes over the SCU – Suspention Control Unit, which adjusts the setting based on wheel speed, speed, brake pressure, throttle position and so on.
Of course, you can adjust your preferences manually or use the Preferences Track, Sport or Comfort. All settings are shown on the TFT display, which is identical to the MotoGP replica RC213V-S.
Turn signal, taillight, headlights with daytime running lights – LED technology is used for lighting. Both headlights and dipped beam are installed in both headlights.
To save weight, the Fireblade is started by a lithium-ion battery. The anti-hopping clutch has been revised.
192 hp at 13,000 revolutions
116 Nm at 11,000 revolutions
Öhlins semi-active chassis – NIX30 fork and TTX36 strut
TFT display
Tank capacity 16 liters
Wheelbase 1.404 mm
Seat height 820 mm
Tires 120/70 17 inch front and 190/50 17 inch rear
What is still open, price and exact appearance.
9-stage traction control
Motor brake control in three stages,
Wheelie control
Switch-gear incl. Blipper
Rear Lift Control
Gyro sensor
Honda Fireblade CBR1000RR SP and SP2 presented in the Motorcycle News on YouTube:
https://youtu.be/gBan3SgtWgA