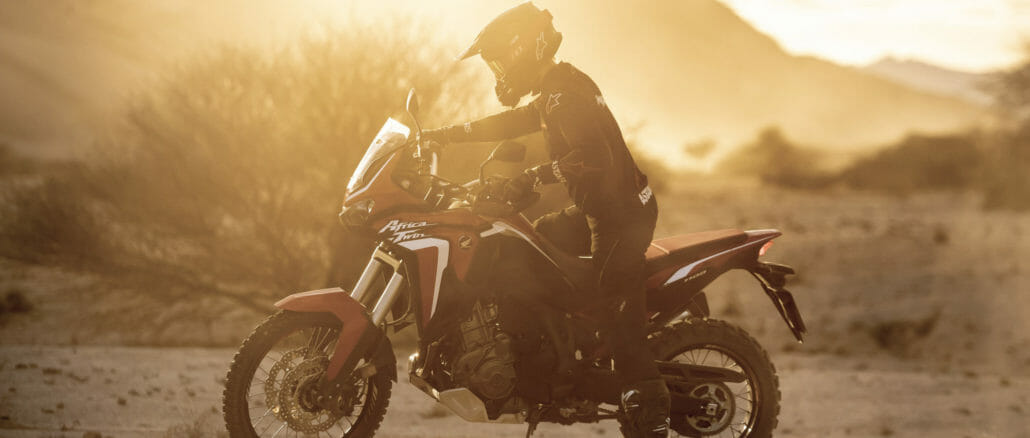 With the new Africa Twin Honda brings their next evolutionary stage of the adventure bike. The off-road performance was increased by various changes.
Honda Africa Twin & Africa Twin Adventure Sports 2020
Thirty years ago, the first Africa Twin (Honda XRV650) was launched in Europe and in 2016 it was completely redesigned (CRF1000L). Now it's time for the CRF1100L.
The new model
The new Africa Twin sets a clear focus on off-road, which should be reflected in the look and, above all, in the driving experience. The new model is smaller, slimmer and five kilograms lighter. The engine brings a seven percent increase in power compared to its predecessor, with six percent more torque and more power over the entire engine speed range. He already fulfills the upcoming Euro 5 standard.
The chassis has been completely redesigned and uses an aluminum subframe. The aluminum rear swingarm is based on the motocross bike CRF450R.
The seven-stage Honda Selectable Torque Control (HSTC) is controlled by a six-axis Intertial Measurement Unit (IMU). It comes with a three-stage wheelie control, rear lift control and cornering ABS (including off-road mode).
The optional dual transmission clutch (DTC) has a curve recognition. The previously available driving modes Urban, Tour and Gravel will be supplemented with a new off-road mode.
features
The seating area has been made narrower (-40 mm) and the handlebars are positioned higher (+22.5 mm). The seat height is still 850 to 870 mm. This results in a more upright seating position and thus more comfort and control over the bike. The windshield is fixed and slightly lower than before. On the Adventure Sports, the windshield is adjustable in five levels.
Handguards are standard equipment.
The new LED twin headlights have been mounted higher and equipped with integrated daytime running lights, which automatically adjust their intensity to the ambient conditions. The Adventure Sports also has a three-stage cornering light.
Standard equipment is a cruise control. By Bluetooth one can couple different devices with the motorcycle, for the iPhone, there is even a connection to the MID via USB. Everything is controlled via the multi-information display (MID) with full-color TFT touch screen (6.5 inches). It should be easy to operate with gloves.
Full braking from speeds in excess of 50 km / h triggers the emergency stop signal, a kind of automatic hazard warning system that also shuts off automatically depending on the driving situation.
driving modes:
Tour delivers maximum power delivery (1) for passenger and luggage tours, medium engine braking (2) and active cornering ABS for asphalt.
Urban offers medium power delivery (2), medium engine brake (2), and active on-road curve ABS for a variety of requirements.
Gravel is the mode with the lowest power delivery (4) and engine braking effect (3). The cornering ABS is active in an off-road setting. The ABS of the rear brake can not be turned off.
Offroad uses low to medium power delivery (3) and the lowest engine braking effect (3). The cornering ABS is active in an off-road setting. The ABS on the rear wheel can be switched off.
User 1 & 2 allows two personalized, combined setups. The power development is adjustable in stages 1 to 4, the engine brake in stages 1 to 3. In addition, on- and off-road ABS can be customized.
The engine
The engine has a displacement of 1084cc and produces 102 PS (101 hp / 75 kW) at 7,500 rpm, and 105 Nm at 6,250 rpm. The new engine, in conjunction with a manual transmission, weighs 66.4 kg and is thus 2.5 kg lighter than before. If one compares the variant with DOC one comes now to 74.9 kg which are 2.2 kg less.
The 270 ° crank offset and the irregular firing order were retained.
New is a crankshaft sensor that detects misfires. This is necessary in order to meet the Euro5 emissions standard as well as the on-board diagnosis of the second generation (OBN-2). Instead of lambda probes, linear air-fuel (LAF) sensors in the exhaust manifold now measure the mixture.
The clutch now has a smaller diameter and a lower spring tension, so it is easier to operate. A quickshifter for clutchless upshifting of the gears is optional.
The chassis
 The double loop tubular steel frame has been completely redesigned. Honda wanted to increase the off-road capability significantly, but at the same time improve the all-round qualities on the road.
On- and off-road performance is also based on the Inertial Measurement Unit (IMU) from Bosch. It captures roll angle and rate, tilt angle and rate, as well as yaw angle and rate in real time. This controls the rear-wheel traction via TBW and HSTC. The curve ABS, the wheelie control and the rear-lift control also uses the data.
Showa's upside-down fork features a 230mm travel. Tension and compression are adjustable without steps. The rear suspension has also been redesigned. It offers a travel of 220 mm, a 45 mm cartridge and an extra reservoir for sustained good damping even in extreme terrain. Again, one can adjust the tension and compression.
Optional for the Africa Twin Adventure Sports is the damping system Showa EERA (Electronically Equipped Ride Adjustment), an electronic suspension.
The ground clearance is still 250 mm, the wheelbase 1,575 mm. Fully inflated, the new Africa Twin weighs 226 kg (5 kg less than before). The Adventure Sports have a tank volume of 24.8 liters, the standard variant have 18.8 liters.
It comes on stainless steel spoked wheels (21 inches in the front and 18 inches in the back.) The Adventure Sports also comes with protective bars.
 Optionally there are various accessories.
Technical specifications:
ENGINE
Type: Two-cylinder liquid-cooled SOHC four-stroke inline engine, Unicam cylinder head, 8 valves, 270 ° crankshaft
Displacement (in cm3): 1,084
Bore & stroke (in mm): 92 x 81.5 mm
compression: 10.1: 1
Power (kW at rpm): 75 at 7,500 rpm
Torque (Nm at rpm): 105 at 6,250 rpm
Noise (dB): 73
Oil volume (in liters): 4.8 / 4.3 (5.2 / 4.7 DCT)
FUEL SYSTEM
Mixture preparation: PGM-FI gasoline injection
Tank volume (in liters): 18.8 / 24,8
CO2 g / km: 112 g / km (MT) / 110 g / km (DCT)
Fuel consumption: 4.9 l / 100 km (20.4 km / l) MT / 4.8 l / 100 km (20.8 km / l) DCT
ELECTRONICS
Starter: Electric
Battery capacity: 12V-6Ah lithium-ion battery (20 hours)
ACG / generator power: 0.49 kW / 5,000 rpm
DRIVE
Coupling: MT: Multi-disc clutch in oil bath / anti-hopping clutch / DCT: 2 multi-disc clutch packs
Transmission: 6-speed manual (optional: 6-speed DCT)
FRAME
Type: double loop tubular frame
CHASSIS
Dimensions (LxWxH, in mm): 2,330 x 960 x 1,395
Dimensions AdvSpo: 2,330 x 960 x 1,560 (1,620 with windscreen in highest position)
Wheelbase (in mm): 1,575
Steering head angle: 27.5 °
caster (in mm): 113
seat height (in mm): 850/870 (low option: 825 mm, higher option: 895)
Ground clearance: 250 mm
Curb weight: 226 kg (DCT 236 kg)
Empty weight AdvSpo: 238 kg (DCT 248 kg) / With Showa EERATM 240 kg (DCT 250 kg)
SUSPENSION
Front: Showa 45 mm Cartridge Upside-Down Telescopic Fork, travel 230 mm, fully adjustable (preload, rebound and compression)
Front AdvSpo: as above / EERATM Showa 45 mm Cartridge USD-Telegabel, travel 230 mm, fully adjustable (preload, rebound and compression)
Rear: Monobloc aluminum swingarm, Pro-Link suspension, Showa gas springs, Spring preload hydraulically adjustable via handwheel, Adjustable damper train, 220 mm travel
rear AdvSpo: as above / EERATM aluminum swing arm, Pro-Link suspension, gas spring, spring preload hydraulically adjustable via handwheel, electric adjustment damper train stage, 220 mm travel
WHEELS
Type front: aluminum spoked wheel
Type rear: aluminum spoked wheel
Front rim size: 21M / C x MT2,15
rear rim size: 18M / C x MT4,00
front tires: 90 / 90-21M / C 54H, tubular tires (Bridgestone Battlax Adventurecross Tourer AX41T / Metzeler Karoo Street)
rear tires: 150/70-R18M / C 70H, tubular tires (Bridgestone Battlax Adventurecross Tourer AX41T / Metzeler Karoo Street)
BRAKES
ABS system: 2 channel, IMU supported, ABS modes with on and off-road setting
Type front: 310mm Wave double discs, aluminum hub, floating bearings, 4-piston radial forceps, sintered metal brake pads
Type rear: 256 mm Wave brake disc, single-piston brake caliper, sintered metal pads, 2-channel ABS can be switched off at the rear
INSTRUMENTS & ELECTRONICS
Instruments: LCD Tachometer, 6.5 inch TFT Touch Screen Multi Information Display
Security system: immobilizer, optional alarm
Headlamp: LED
Taillight: LED
Electronics: Daytime running lights, Bluetooth audio and Apple CarPlay®, USB port, automatic turn signal reset, cruise control, emergency brake, IMU, HSTC, wheelie control
Electronics – in addition to the Adventure Sports: bend light
Sale
Sena 20S-EVO-01D 20S EVO, Bluetooth-Kommunikationssystem für Motorräder, Dopplepack*
Die gleiche Zusammensetzung von Funktionen, die bereits das 20S zur weltweiten Nr.1 unter den Bluetooth-Kommunikationssystemen gemacht hat, finden Sie auch beim 20S Evo.
Nutzen Sie die aktualisierte Sprechanlagen-Funktion in Form der Group Intercom-Funktion, um mit bis zu sieben weiteren Fahrern in einer Entfernung von bis zu 2 km in Verbindung zu bleiben.
Das 20S Evo liefert weiterhin klare, präzise und komfortable HD-Audioqualität unter allen Bedingungen.
Bluetooth 4.1-Technologie, hochwertige Stereo-Bluetooth-Lautsprecher und Audio Multitasking erzeugen ein rundes, klares und unmittelbares Klangerlebnis, das Sie beim 20S bereits so geschätzt haben.
Die vereinfachte Nutzeroberfläche macht das Einrichten und Koppeln des 20S EVO dank der Bewegungsmeldertechnik von Sena unglaublich einfach.
Letzte Aktualisierung am 2019-11-01 / *Affiliate Links / Bilder von der Amazon Product Advertising API
20YM Africa Twin and Africa Twin Adventure Sports

20YM Africa Twin and Africa Twin Adventure Sports

20YM Africa Twin and Africa Twin Adventure Sports

20YM Africa Twin and Africa Twin Adventure Sports

20YM Africa Twin and Africa Twin Adventure Sports

20YM Africa Twin and Africa Twin Adventure Sports

20YM Africa Twin Adventure Sports Front Side Pipe

20YM Africa Twin Adventure Sports

20YM Africa Twin Adventure Sports

20YM Africa Twin Adventure Sports

20YM Africa Twin Adventure Sports

20YM Africa Twin Adventure Sports

20YM Africa Twin Adventure Sports

20YM Africa Twin Adventure Sports

20YM Africa Twin Adventure Sports Tricolor

20YM Africa Twin Adventure Sports Darkness Black Metallic

20YM Africa Twin Adventure Sports Tricolor

20YM Africa Twin Adventure Sports Tricolor

20YM Africa Twin Adventure Sports Tricolor

20YM Africa Twin Adventure Sports Radiator Guard

20YM Africa Twin Adventure Sports Heated Grips

20YM Africa Twin Adventure Sports Headlight
20YM Africa Twin

20YM Africa Twin

20YM Africa Twin

20YM Africa Twin

20YM Africa Twin

20YM Africa Twin

20YM Africa Twin

20YM Africa Twin

20YM Africa Twin

20YM Africa Twin

20YM Africa Twin

20YM Africa Twin

20YM Africa Twin

20YM Africa Twin Screen

20YM Africa Twin Right Switch

20YM Africa Twin Apple Car Play

20YM Africa Twin

20YM Africa Twin Headlight

20YM Africa Twin Exhaust

20YM Africa Twin

20YM Africa Twin

20YM Africa Twin

20YM Africa Twin

20YM Africa Twin Radiator

20YM Africa Twin Meter

20YM Africa Twin Rally Step

20YM Africa Twin Rear Suspension

20YM Africa Twin Suspension