Glemseck 101, Europe's largest CafeRacer event, returns from September 1 to 3, 2023, offering motorcycle fans exciting races, custom bikes and a varied program at the historic Solitude race track in Leonberg near Stuttgart.  The spectacle will take place next weekend and is also still free of charge.
Since the first event in 2005, the Glemseck 101 has become one of the largest motorcycle gatherings, with over 40,000 visitors from all over the world.  This makes it not only the largest cafe racer event in Europe, but also one of the largest motorcycle events in Germany. 
The meeting point is traditionally the first weekend in September at the Hotel Glemseck or the Bikertreff Glemseck at the historic Solitude race track in Leonberg near Stuttgart. On site there is an extremely large dealer mile, food trucks, bars and in the evening one big party. But that's not all by far, we'll get to that now….
A mecca for customizers, hobby mechanics and motorcycle enthusiasts
Glemseck 101 is a hotspot for international designers, builders, customizers and their motorcycles.  It is described as "Germany's largest custom bike meeting" and "Europe's best meeting place for friends of café racer culture" with the "hottest bikes in the world".  Customizers, hobbyists and motorcycle maniacs from all over the world gather here to showcase their creations and skills and demonstrate the performance of their custom bikes.
Yes, because the bikes are not only exhibited and have to look great, they also have to prove themselves on the road, because the heart of the Glemseck 101 are the drag races on the 1/8 mile. The bikes will be driven by the customizers themselves, stars of the motorcycle scene, racers, racing legends and RoadRacers.
Schedule of the 1/8 mile races
Now you get the at least actual schedule. Of course, it should be noted here that there could always be shifts. Especially the weather can of course have an influence here, although the Glemseck weather, except for a short but heavy rain shower last year, has actually almost always fit. According to the current forecast, the probability of rain is 0 percent and the temperature is given as a good 20 degrees – so actually perfect.
Along the route, there will again be a grandstand, but its seats are limited. Here, too, access is free of charge, but it is also "first come, first served".
Saturday
– 12:50 10-minute interview
– 13:00 101 Opening Show Run – Supported by BMW
– 13:10 BMW – R18 Custom Sprints
– 13:45: Presentation of the Seehaus e.V. Sabaku (motorcycle you can win)
– 14:00 h: Honda – the Hornet Buzz
– 14:15 h: 101 Sprint International
– 15:30 h: Burr Sss
– 16:00 o'clock: Royal Enfield – Twin Sprint
– 16:15 Clock: Rocket Race Club Est. 101
– 17:30 h: Rock`t Roller
– 17:45 h: StarrWars
– 18:45-19:00: 101 Winners Sprint – Answering the final question
Sunday
– 12:00 p.m.: Opener "A Star is born by Siggnature Bikes
– 12:10 pm: Smoke on the Tramac (a surprise)
– 12:30 pm: AMSC – Wild Bunch (old rivalry on old bikes, "no prisoners")
– 13:00: MO – 101 Cafe Racer Sprint
– 14:00 o`clock: Big Coffee
– 14:30 h: Rock`t Roller
– 15:00 h: MO – 101 Classic Racer Sprint
– 16:00: Classic Moped Sprint
– 16:30 h: The Final Flag 2023
– Approx. 16:45: Track will be closed
Musical highlights at the 101 Party
The 101 Party leaves nothing to be desired when it comes to music. On Friday, "The Hot Rod Gang" will heat up the crowd first with their experimental homage to American 50s music, followed by "Mad Guz & The Mojos", who will make a splash with their "Rough Rolling Blues". On Saturday it continues loud and rough: "Dusty Dave & The Heart Attacks" offer dirty blues boppers, and "Sandy Lee And The Wantons" set off a real sound firework as "Last Gig in 2023".
Transit, parking and camping
The Glemseck 101 is an event by bikers for bikers and is accordingly also primarily geared towards visitors arriving by motorcycle.
There is free parking for motorcycles directly on the event site. The entire event area is designed to be easily accessible and passable by motorcycles. Nevertheless, please note that the entrance to the festival area might be temporarily closed for safety reasons, especially on the main event days Saturday and Sunday. Walking speed applies throughout the site and emergency lanes must be kept clear at all times.
So that no one has to lug their helmet around all day, the Streetbunnycrew is again offering to store personal items.  A small fee will be charged for this, 100% of which will then go to a social project.
Of course there are also parking spaces for cars, but they have to pay a parking fee of 10 Euro per day or 15 Euro for the complete weekend. These parking spaces are located outside the premises. Visitors with limited mobility can be driven directly to the entrance of the event area, but the vehicle must then be parked in the normal parking spaces.
On the subject of overnight accommodation: The camping facilities on the site are exclusively for motorcycles and tents. Cars and campers are not allowed on the campground. However, a time window of 90 minutes is provided for setting up and dismantling with an escort vehicle. Those who wish to drive their car to the campground to unload must pay a deposit of 50 euros for the 90 minutes. Camping costs 20 euros per tent per night or 25 euros for two nights.
A special raffle for a good cause
This year, Glemseck 101 offers not only motorcycle-related attractions, but also a philanthropic facet.  The raffle of the "Sabaku 沙漠", a Honda CL 500 Scrambler in desert style, takes center stage.  The custom bike was provided by Honda Germany and lovingly modified in collaboration with David Wolf from Glemseck Moto and the team from Seehaus e.V.,.  The sale of raffle tickets for this raffle serves a good purpose: Every donation supports Seehaus e.V. in trauma counseling.  While last year the raffle tickets were sold for 10 € each, this year the participants can freely choose the amount of their donation in order to generate perhaps even more support than last year.  For more information on the raffle and the conditions of participation, interested parties can visit the website www.vereinslotterie.de/seehaus.  Loose will be sold however also still locally, as far as available, because these are limited on 8,000 pieces.
The opportunity for a test drive
Various manufacturers are offering test drives again this year.  Starting point is the entrance area of the 101, if you come from Leonberg. BMW, HONDA, ROYAL ENFIELD and ZERO will offer test motorcycles for these tours. For BMW and Honda, there is advance online registration for the test rides.
All this and much more is on offer at Glemseck 101. If you're up for it now, I'm sure we'll see each other there, because I won't miss it either. Of course, a detailed report will follow for all those who could not be there live.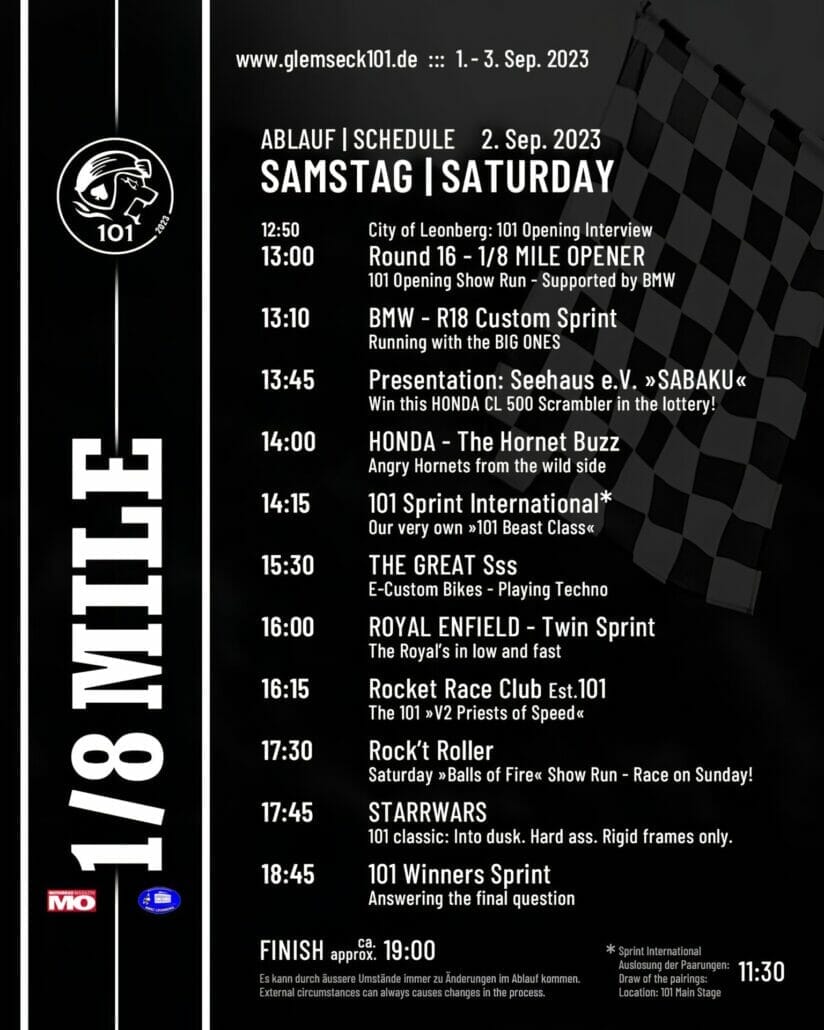 Bestseller Nr. 1
Bestseller Nr. 2
Jorde Calf Herren Vintage Cafe Racer Retro 2 | Schwarz Retro Moto Distressed Echtleder Jacke | Vintage Style Motorrad Schwarz Jacke, Antik D2, XXL*
Rider Jacket Men and also known as Leather Jacket Retro Distressed black rider jacket has stand round collar and handcrafted high quality leather with first class stitching
Herren Vintage Cafe Racer Retro 2 Motorrad Distressed Biker Lederjacke Lieben Sie das Aussehen von Rennbikern der Vergangenheit und verkleideten Lederjacken? Wenn ja, dann ist hier Ihre Chance, wie...
Bikerjacke, Cafe Racer Jacke, 100 % echtes Leder, offene Saumbündchen mit Reißverschluss, 2 Schlitztaschen mit Reißverschluss, 2 Brusttaschen und 2 Innentaschen
Wir freuen uns, eine Bewertung zu schreiben, also wenn es etwas gibt, das wir von unserem Ende verbessern können, können wir uns damit befassen. Wir beabsichtigen nie, unsere Kunden zu enttäuschen...
Herren-Motorradjacke im Used-Look, schwarz, Retro, Vintage, Cafe Racer, Motorrad-Lederjacke hat ein weiches Polyester-Innenfutter, das eine Kirsche auf der Oberseite ist, nicht nur hält sie die...
Bestseller Nr. 3
Letzte Aktualisierung am 2023-09-25 / *Affiliate Links / Bilder von der Amazon Product Advertising API