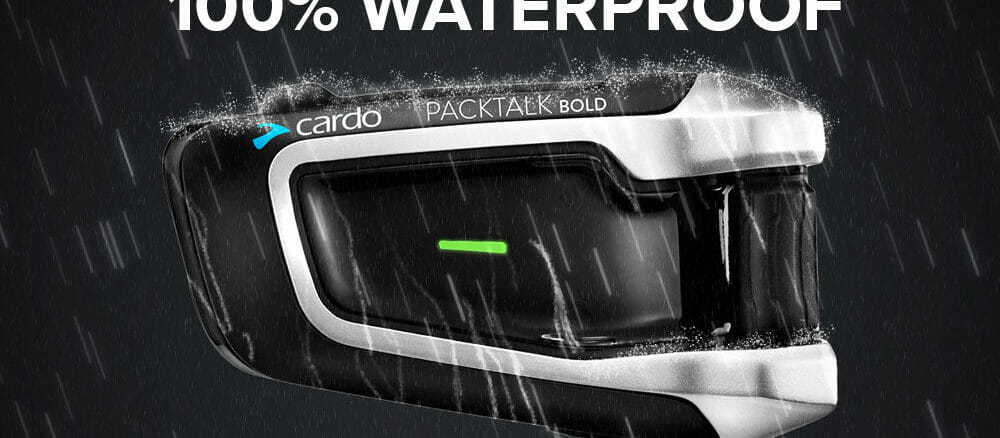 Cardo Systems is the world leader in wireless communication systems for motorcyclists. Special attention should now be drawn to the fact that the complete system product range is waterproof to IP67.
Entire Cardo Systems product range is waterproof (IP67)
"As we ourselves are motorcyclists, we know how important it is to invest in equipment you can rely on. We also understand that the sun does not always shine, but that should not keep you from choosing your bike. Already with the launch of our very first motorcycle communications system in 2004, we knew how important our waterproof products are and have since stuck to that goal, "said Alon Lumbroso, CEO of Cardo Systems.
All offered devices were tested according to IP67 guidelines, from FREECOM1 + to PACKTALK Bold. In the test, the device must still function properly after a 30-minute bath in one meter of water.
Many years of experience, expertise and valuable customer feedback are incorporated into the development of the devices. Their reliability, regardless of the weather, is very important to Cardo. At each step of the development process, each piece of hardware is tested according to the guidelines previously described. After the device has been completed, the official test for certification follows.
Head of Product Management at Cardo Systems, Shahar Keren, adds: "It is important that we offer the key features at the highest level. So it was not enough for us to just be water repellent. As with our partnership with sound experts from JBL, we want the best for our customers. "
Sale
Cardo FREECOM 4 Plus – 4-Wege-Bluetooth-Kommunikationssystem mit natürlicher Sprachbedienung, Sound von JBL (Doppelpack)*
4-Wege-Bike zu Fahrrad, Bluetooth-Kommunikationssystem. Ob Sie alleine oder in einer Gruppe von 4 fahren, erleben Sie den fortschrittlichsten Bluetooth-Kommunikator auf dem Markt
Natürliche Sprachbedienung. Unsere brandneue, stets aktive, natürliche Sprachsteuerung macht Sie von der Notwendigkeit, jemals wieder eine Taste zu drücken. Sag es einfach, was du willst. Es wird den Rest tun.
Sound by JBL. Leistungsstarke Lautsprecher von JBL Experten mit speziell abgestimmtem Musikprozessor machen Ihr Fahrerlebnis außergewöhnlich.
Extra-schlanke Kommunikation. Nur 20 mm von oben nach unten, aerodynamisches Design und geringe Windbewegung machen das andere Bluetooth-Headset wie stumpfe Werkzeuge.
Wasserdicht Egal, was Sie darauf werfen – Ihr IP67 wasserdichtes FREECOM 4 PLUS nimmt Wasser und Staub auf und hält Sie immer in Verbindung.
Letzte Aktualisierung am 2019-11-03 / *Affiliate Links / Bilder von der Amazon Product Advertising API
Sale
Cardo FREECOM 4 Plus – 4-Wege-Bluetooth-Kommunikationssystem mit natürlicher Sprachbedienung, Sound von JBL (Einzelpack)*
4-Wege-bike zu Fahrrad, bluetooth-kommunikationssystem. Ob Sie alleine oder in einer Gruppe von 4 fahren, erleben Sie den fortschrittlichsten bluetooth-kommunikation auf dem Markt
Natürliche sprachbedienung. Unsere brandneue, stets aktive, natürliche Sprachsteuerung macht sie von der Notwendigkeit, jemals wieder eine Taste zu drücken. Sag es einfach, was du willst. Es wird den Rest tun
Sound by JBL. Leistungsstarke Lautsprecher von JBL Experten mit speziell abgestimmtem musikprozessor machen Ihr Fahrerlebnis außergewöhnlich
Extra-schlanke Kommunikation. Nur 20 mm von oben nach unten, aerodynamisches Design und geringe windbewegung machen das andere Bluetooth-Headset wie stumpfe Werkzeuge
Wasserdicht egal, was Sie darauf werfen – Ihr IP67 wasserdichtes Freecom 4 Plus nimmt Wasser und Staub auf und hält Sie immer in Verbindung
Letzte Aktualisierung am 2019-11-03 / *Affiliate Links / Bilder von der Amazon Product Advertising API