The presentation of Ducati's latest 2024 motorcycles will take place in six stages, with the finale set for November 7.  The process can be followed via the Ducati website and the brand's social media.
New starts at Ducati
Ducati has once again ushered in the season of World Première. In this series of events, the Bologna-based company has been presenting its new products for the coming season for several years.
The impressive successes that Ducati has achieved, both commercially and sportingly, in the first six months of 2023 mark the start of its focus on the future. The journey, which will take motorcycle enthusiasts to many different places, begins on July 27: from desert areas to mountain roads to cities and, of course, race tracks.
On the road to the new era
The first date of the World Première will pay tribute to an iconic model of the manufacturer from Bologna. The series will then continue on September 19, where a new motorcycle will be presented every two weeks, until November 7. On that day, one of the most characteristic machines in Ducati's history will be honored.
Ducati's 2024 new products and live demonstration at EICMA 2023.
The six stages dedicated to Ducati's 2024 novelties will be documented both on the Ducati website and on the company's social media. Starting Thursday, November 10, when EICMA 2023 opens its doors to the public, all the new models will be live.
Here is the calendar for all episodes of Ducati World Première 2024:
27 July 2023: Ducati World Première – Episode 1
19 September 2023: Ducati World Première – Episode 2
03 October 2023: Ducati World Première – Episode 3
19 October 2023: Ducati World Première – Episode 4
02 November 2023: Ducati World Première – Episode 5
07 November 2023: Ducati World Première – Episode 6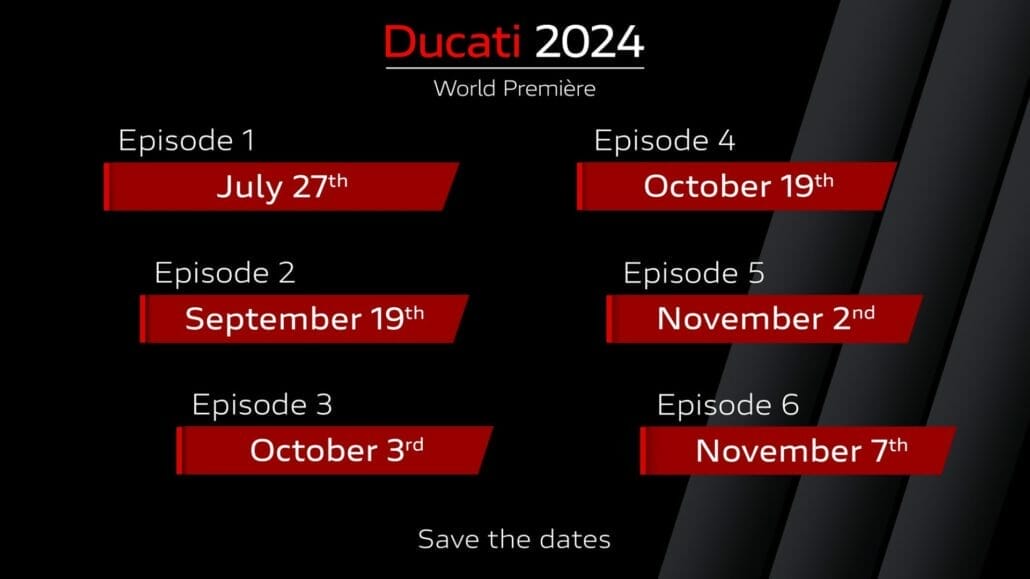 Bestseller Nr. 1
Ducati Corse E-Scooter Pro-III R, Elektroroller, mit integrierten Blinkern, Pirelli 10 Räder, Lebensdauer 50 km, Motor 350 W, Akku 468 Wh, Doppelscheibenbremse*
PIRELLI REIFEN: Die neuen Street-Reifen mit 10 Zoll (35,6 cm) in Zusammenarbeit mit Pirelli entwickelt, verbessern die Bodenhaftung und helfen Ihnen, verschiedene Arten von urbanen Oberflächen zu...
Sicherheit: Die doppelte Scheibenbremse vorne und hinten erleichtern das Bremsen in jeder Situation; die KERS-Technologie ermöglicht eine kleine Energierückgewinnung der Batterie, die dann verwendet...
Bestseller Nr. 2
DUCATI, Urban Fahrrad und Scooter, Sportrucksack für Erwachsene, Schwarz, Einheitsgröße*
Wasserdicht: Rucksack aus wasserdichtem Material für maximalen Schutz Ihrer Gegenstände auch an regnerischen Tagen
Vorderseite: Die Außenschale aus EVA-Material erhöht die Festigkeit beim Aufprall oder Stürzen, schützt die Gegenstände im Inneren
Leichter Rücken: Die Air-Mesh-Rückenpolsterung dämpft die Überlastung auf dem Rücken und bietet mehr Komfort während der Fahrt und eine bessere Mobilität
Innenfächer: Die Innenfächer in verschiedenen Größen sorgen für einen ordentlichen Transport Ihrer Gegenstände und sorgen für eine Kapazität des Rucksacks bis zu 25 l
Bestseller Nr. 3
Letzte Aktualisierung am 2023-09-24 / *Affiliate Links / Bilder von der Amazon Product Advertising API