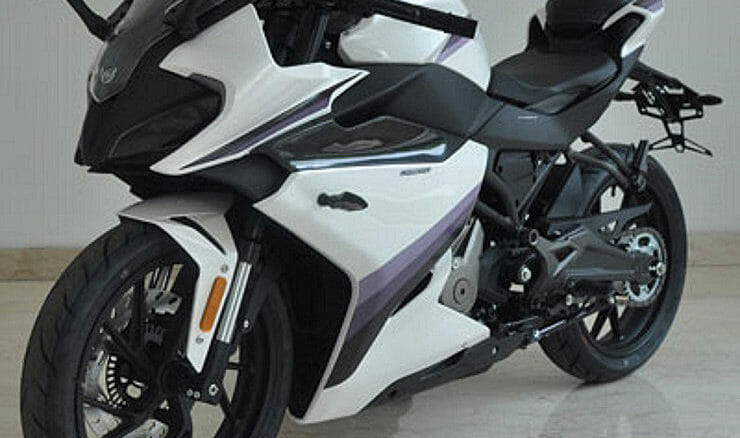 The Chinese motorcycle manufacturer, who now works with KTM, is expected to launch a 250cc motorcycle shortly.
CFMoto 250 SR
Already at the beginning of the year, they showed a small sports motorcycle based on the 250 NK. With the 250SR one can see the end product, because the picture comes from a type approval application from China.
It should be equipped with a 249cc engine, which provides about 26 hp and is in a tubular steel frame. The wheelbase is 1360 mm. It is equipped with a USD fork and the lighting is all around using LED technology.
Ready to ride it should weigh 165 kg.
The design of the motorcycle comes from Gerald Kiska, who also developed the look of the last KTM generation. However, where KTM is more concerned with a distinctive and edgy, the SR comes rather with a familiar but beautiful athletic look.
Sale
Sena 20S-EVO-01D 20S EVO, Bluetooth-Kommunikationssystem für Motorräder, Dopplepack*
Die gleiche Zusammensetzung von Funktionen, die bereits das 20S zur weltweiten Nr.1 unter den Bluetooth-Kommunikationssystemen gemacht hat, finden Sie auch beim 20S Evo.
Nutzen Sie die aktualisierte Sprechanlagen-Funktion in Form der Group Intercom-Funktion, um mit bis zu sieben weiteren Fahrern in einer Entfernung von bis zu 2 km in Verbindung zu bleiben.
Das 20S Evo liefert weiterhin klare, präzise und komfortable HD-Audioqualität unter allen Bedingungen.
Bluetooth 4.1-Technologie, hochwertige Stereo-Bluetooth-Lautsprecher und Audio Multitasking erzeugen ein rundes, klares und unmittelbares Klangerlebnis, das Sie beim 20S bereits so geschätzt haben.
Die vereinfachte Nutzeroberfläche macht das Einrichten und Koppeln des 20S EVO dank der Bewegungsmeldertechnik von Sena unglaublich einfach.
Letzte Aktualisierung am 2019-11-02 / *Affiliate Links / Bilder von der Amazon Product Advertising API