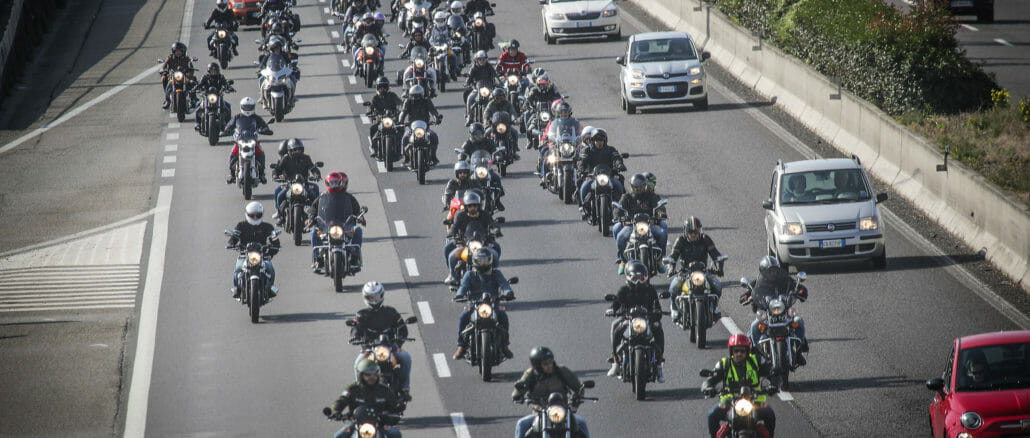 Last weekend (6-8 September 2019), 30,000 bikers from all over Europe visited the Moto Guzzi factory in Mandello (Italy). The famous red gate was opened.
Together they celebrated one of the most famous and popular Italian brands.
30,000 visitors at the Moto Guzzi Open House 2019
In addition to a factory tour, test drives, tours in the area and petrol talks, the celebration on Saturday at Moto Guzzi Village was a highlight. The right mood was provided by some live bands
The Prima Donna of the weekend was the Moto Guzzi V85 TT. The travel enduro in a classic look thrilled most visitors. It is already a real bestseller.
Nostalgic-Art 23261 - Moto Guzzi - Parking Only , Retro Blechschild , Vintage-Schild , Wand-Dekoration , Metall , 30x40 cm*
Dieses hochwertige Vintage Blechschild ist eine tolle Dekoration - egal ob für die Küche, im Wohnzimmer oder in der Garage.
Das ansprechende Retro Motiv wird mit brillanten Farben auf das Metall gedruckt. Bestimmte Teile des Motivs sind geprägt, so dass es besonders plastisch wirkt.
Sie können dieses Metall-Schild durch die vorgebohrten Löcher kinderleicht mit Nägeln an der Wand anbringen.
Als schöne Alternative zu normalen Postern bringt dieses Schild tollen Retro Flair in die Wohnung.
Das Schild ist in Deutschland gefertigt und überzeugt auf starkem Stahlblech mit Qualität "Made in Germany".
Letzte Aktualisierung am 2019-11-02 / *Affiliate Links / Bilder von der Amazon Product Advertising API