Who has the Bike & Music Weekend missed in Geiselwind, has really missed something! With great weather was a lot on offer there. You had to gaze when one does over the festival grounds strolls that you did not want to miss the many program points …
Geiselwind is as always a highlight of the year
The well-organized festival invited 19 times in order to party and to burn some tires (as already reported)! There preserve various motorcycle local dealer who offered test drives. A merchant mile was constructed, and sustenance was well taken care of (for everyone really was something there).
The Festival of Knight Rider MCs was really something for everyone. One good thing is that they do not forget people with disabilities. It was set up a extra parking. A stage, so that wheelchair users can also see the shows was well built, and a wheelchair has even participated in the Burnout Contest! 
On festival weekend were about 23,000 visitors, 7000-8000 bikes, 45 exhibitors, 15 bands on 70,000 sqm of paved and 100,000 sqm camping area go. According to official figures, even bikers from eastern Siberia (8,000 km) and Moscow (approximately 4,000 miles) were there. Sick … Could they really arrived by bike but I do not find in the press release. 
If you needed a break, the "beer garden" offered outside the hotel. Here all drove vehicles who wanted to campsite over and all the just wanted to do their laps around the grounds. Here was see and be seen, because if I tell all vehicles, I mean not only bikes and US-Cars! It went all over what you can imagine. Rollators with incredible sound, limousines with swimming pool, tricycles with beer bench including binge drinking, women dancing on the pole …
The music in Bike & Music
15 bands were already written as above over the weekend live on stage. Or rather, "the stages", because there was an outdoor and an indoor.
Occurred among others, the cult band Black Star Riders (former Thin Lizzy), Haysee Dixie, Snakecharmer, The Kuhboys, Ski King … And to be quite honest I have not seen one and did not even identify one (at least not that I know of ). Shame on me … I was but for other reasons as … 
Stunt show with Motorcycle, Quad and Smart
[sam id=2 codes=true]the Portuguese Ricardo Domingos is already since 2010 on the Bike & Music and thrilled with his stunt show. Not only with the bike, even with a quad and of converted Smart (with Hayabusa engine) he is on the way. With the Smart to make a stoppie I did not think so far for possible … 
As for precision and balance makes him so quickly before any thing. But best check them out videos on Youtube …
Rainer Schwarz and Julien Welsch also showed their shows I've unfortunately not seen. 
It`s Dragrace Time
Dragster 25, including 15 with more than 2,500 horsepower were there.
[sam id=2 codes=true]Two Top Methanol Funny Cars could be admired. With alcohol and supercharging operated, they can get a power up to 3,000 hp at 800 kg. That is: Acceleration from 0 to 100 km / h in 0.9 sec from 0 to 200 in 3.5 and at the end of the quarter mile at a top speed of 340 km / h.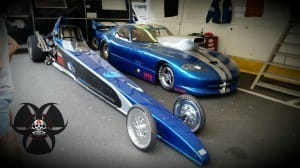 A Top Fuel FunnyCar, powered by nitromethane, reached an engine power of 8,000 hp. Bottom line is the 0.78 sec from 0 to 100 2.5 sec from 0 to 200 and 440 km / h after Quatermile. 
15,000 horsepower reaches a JetCar that is driven by a turbine. Great part! Noise without end and absolutely amazing! 
Dragster bike teams were also represented. Part turbocharged reached the one horsepower of 300-350.
Unfortunately, the track in Geiselwind was a bit short, so that the driver after a short burnout (to warm up the tires) could only go short on the gas. The actual possible acceleration could only guess, since many do not come on the short piece of the rear wheel slip. It was so worried for a lot of fog on the line … of course It was also quite normal asphalt. Drag races are often driven on special tracks which is you take your shoes off when walking over it, is so sticky this. 
Who wants to see the dragster in its natural surroundings, this weekend (08.-10.8.2014) to Hockenheim go to the Nitrolympx.
The paddock of Dragster was accessible to everyone and you could marvel at the amazing aggregates. In many engines was still screwed. Dragster are always in need of care and when it comes to racing and performance, there is always something to screw. 
The smell of rubber and unburned gasoline – Burnout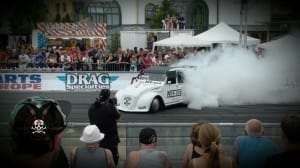 In the burnout show you get enough of the beloved smell. Here there are positive as well as negative to say. Before I start with the negatives I have to say that I was only on Saturday on site. So how was it on the other days I can not judge.
Negative was alone, the number of motorcycle burnouts. There was only one, which is something little. He has been doing this for years and has already introduced some good ideas. He takes as his or woman on the carriage behind, wearing a gas mask because of the smoke. Then he burnt in different variations. Sitting on the tank, standing on the bike … Honest, respectful for it, but what happened to the time when people still burnte on the spot to be nothing more and saw the tire burst? To burst he has also brought the tire, but it was too much show. Too much Stuntrider and too little Burnout. 
The Knight Riders still have the record of the most simultaneously burn end (sounds crappy, but you know what I mean). The record stands for years. How would it be to beat the record next year itself? I would join !!! 
The remaining Burnout show was more to my liking. Here came to cars and the burnten its finest, turned their donuts … 
Particularly noteworthy is a wheelchair user. With his wheelchair he also laid out burnouts. For this purpose, a motorized third wheel on the wheelchair was used, and by blocking the lateral wheels he made burnouts or even put down donuts. Class thing! Whether you have a handicap or not, is important to continue to lead a life !!! So I can only say he is an absolute role model and we should all take a lesson from him !!!
US-Cars
US cars were in abundance locally. It seemed too much of it as would be gone as bikes. But what is also not a bad thing. To see there was definitely more than enough. American Dragster, Hot-Rods, Pick-ups, the typical muscle cars with big block or Smal-block … it represented everything that. Even a Transformer had been hiding under the US-carriage. 
Last but not least…
… I must say that it was a great festival that I can recommend to anyone! Unfortunately I was only there on Saturday and so I can not judge how the party in the night was. I can imagine though! Possibly it works next year, then the report is guaranteed to be quite different, then I get also determines what of the music in "Bike & Music" 
See you next year at the Bike & Music Weekend in Geiselwind, possibly. Burnout with new record Let's see if I can persuade someone to … 
Zu der Bildergalerie mit über 300 Fotos