Nicky Hayden's burial was accompanied by hundreds of bikers and broadcast live on the Internet. The moving mourning celebration is now available as a video on the web.

Farewell to Nicky Hayden #69
On 29.05.2017 the Kentucky Kid Nicky Hayden was buried in his homeland Owensboro. The mourning ceremony was held at the St. Stephen Cathedral Church. Held by several priests.
In the mourning speech, Nicky was not treated as the motorcyclist or the world champion, but as what he was: son, brother, friend, soul-mate and rogue. Stories from his life were told, also from the fact that he was chosen by fellow students as the biggest rogue of all.
At the family's request, the funeral was broadcast live through Nicky's Facebook page. There, the stream can now be found in video and has 1.4 million visits, well 77,000 Emojis  and was shared nearly 16,000 times.
Unscrupulous exploitation of Nicky's death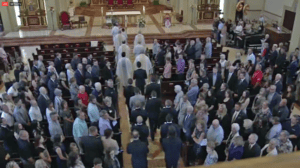 Unfortunately there are also people who feel the profit in the tragic event. Just after the death were offered merchandising articles from the # 69, in some cases also donation collections. However, this was not a licensed product and therefore strictly illegal. Nicky's family has distanced themselves from this and warns against it.
Please refer to the pages below for the official purchase. They also found the Nicky Hayden Momorial Fund. The proceeds will benefit children in Kentucky.
Hundreds of bikers accompany Nicky on his last ride