On Friday, we finally had the right weather for the Qualifying on the Isle of Man. This could also be seen at the round times.

Qualifying results from Friday
[sam_ad id="2″ codes="true"]With the Superstock BMW, Ian Hutchinsons reached 129,535 mph. Bruce Anstey 129,212 mph with the Honda RC213-VS. Hutchi was the first to go on the 37.73-mile course, followed by Peter Hickman with the Smith Racing Superstock BMW.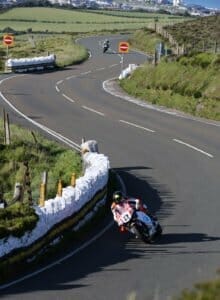 Kneen had a problem and stopped at the Qarter Bridge, but then could continue. The Norton riders David Johnson and Josh Brookes did not have that luck. For them, Barregarrow and Ballaugh was the end.
Hickman finished the first round at 128,028 mph, and was the first to finish one round, as Hutchi had to stop at Governor`s. Jason and Hillier reached a round of just 127 mph.
On his second lap, Hickman was slightly slower. For this, Anstey reached his fastest lap and was thus fastest on a Superbike.
Hutchi was the fastest with the 129,535 mhp in the class Superstock and also overall fastest.
Kneen was able to continue his good pace and drove in the Superstock class 127.23 mph, but then Rutter and Harrison were faster with 128,588 and 128,477 mph. They joined Hutchinson and pushed Knee to fifth place.
The newcomers also got used to the track. Paul Jordan made 114.88 mph, Joey Thompson 112.91 mph, and Adam McLean 119.06 mph.
Today's accidents
Steve Mercer had suffered a minor accident but only minor injuries. Frank Gallagher has broken a toe at Goosneck.
Sidecars
Because of the accidents, there was a small delay. After that the siedecars were released. Dave Molyneux and Dan Sayle opened with 113.001 mph before Tim Reeves / Mark Wilkes with 111.999mph. Carl Bennett / Maxime Vasseur (109.51), Alan Founds / Jake Lowther (109.04), Lewis Blackstock / Patrick Rosney (107.95) and Estelle Leblond / Melanie Farnier (106.59).
In the second round Molyneux and Syles made the fastest time of the week – 114.74 mph. Reeves and Wilkes were not far away with 114.35 mph
TT Zero
The two Mugen riders Bruce Anstey and Guy Martin reached a round of 109,520 and 108,413 mph.
The results are listed:
[flagallery gid=131 skin=minima_jn align=Center]
Quelle: IOMTT.com and click Info
Letzte Aktualisierung am 2023-09-24 / *Affiliate Links / Bilder von der Amazon Product Advertising API