Husqvarna has presented the updates for seven models and a completely revised model, the new TC 85. What is new and a comparison of the data with the other mini models 2018 can be found here.
Husqvarna TC 85
[sam_ad id="2″ codes="true"] The new generation of the TC 85 is technically located at the height with the full-size Husqvarna motocross line-up. It gets a completely new frame and spring elements from WP supension to the current standard. The new engine has a wide and controllable power development.
The Chromium Molybdenum steel frame is manufactured by WP Performance Systems. The frame has a completely new geometry, which aims to enable flex properties for improved handling and comfort. Together with the new, laterally mounted cylinder head fastenings, an increase in the torsional rigidity of 7% results, whereby the longitudinal stiffness is reduced by 25%. This allows the frame to move in unison with the suspension to capture large impacts while providing improved mobility and high speed.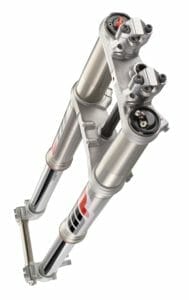 Components of WP are responsible for the damping. The WP AER 43 fork saves 1 kg and is now easier to adjust. At the rear, the WP XPlor PDS is used, which can be adjusted in compression and rebound.
Braked front with 4-piston brakes from Formula that bite in 240 mm wave discs. At the rear the brake disc was reduced by 2 mm to 22 mm in order to achieve a better feeling for the brake.
The crankshaft is also new. It is lighter and has been new balanced to reduce vibrations. This has also increased the torque and thus the drivability.
[flagallery gid=124 skin=photomania]
Quelle: Husqvarna
Comparison of the Husqvarna Mini Models 2018
| | | | | | |
| --- | --- | --- | --- | --- | --- |
| Mini models 2018 | TC 50 mini | TC 50 | TC 65 | TC 85 17/14 | TC 85 19/16 |
| Engine | | | | | |
| Engine type | Single cylinder, 2-stroke | Single cylinder, 2-stroke | Single cylinder, 2-stroke | Single cylinder, 2-stroke | Single cylinder, 2-stroke |
| Displacement | 49 cc | 49 cc | 64,9 cc | 84.93 cc | 84.93 cc |
| Bore/stroke | 39,5/40 mm | 39,5/40 mm | 45/40,8 mm | 47/48.95 mm | 47/48.95 mm |
| Starter  | Kickstarter | Kickstarter | Kickstarter | Kickstarter | Kickstarter |
| Carburetor | Dell'Orto PHBG 19 BS | Dell'Orto PHBG 19 BS | Mikuni VM 24 | Keihin PWK 28 | Keihin PWK 28 |
| Control | – | – | Slide valve, exhaust gas pressure dependent | Rotation speed dependent exhaust flap | Rotation speed dependent exhaust flap |
| Lubrication | Sepearte oil lubrication | Mixture lubrication 1:60 | Mixture lubrication 1:60 | Mixture lubrication 1:40 | Mixture lubrication 1:40 |
| Transmission | Single gear automatic | Single gear automatic | 6 gears | 6 gears | 6 gears |
| Gear ratios | 14:31 | 14:31 | 13:37  16:34  18:31  21:30  23:28  24:26 | 11:29  14:28  16:26  19:26  21:25  20:21 | 11:29  14:28  16:26  19:26  21:25  20:21 |
| Primary ratio | 61:33 | 61:33 | 23:75 | 20:64 | 20:64 |
| Final drive | 10:42 | 11:40 | 14:48 | 13:46 | 13:49 |
| Cooling | Liquid cooling | Liquid cooling | Liquid cooling | Liquid cooling | Liquid cooling |
| Clutch | Centrifugal clutch (adjustable) | Centrifugal clutch (adjustable) | Wet multi-disc clutch, Formula hydraulics | Wet multi-disc clutch, Formula hydraulics | Wet multi-disc clutch, Formula hydraulics |
| Ignition | Selettra 2p D36 | Selettra 2p D36 | AET digital | MEDJ (mahle electric drives japan) digital 2K-1 | MEDJ (mahle electric drives japan) digital 2K-1 |
|   | | | | | |
| Chassis | | | | | |
| Frame | Chrome-molybdenum steel central-tube frame | Chrome-molybdenum steel central-tube frame | Chrome-molybdenum steel central-tube frame | Central double-cradle-type 25CrMo4 steel | Central double-cradle-type 25CrMo4 steel |
| Subframe | Steel | Steel | Aluminium | Aluminium | Aluminium |
| Handlebar | Aluminium Ø 22 mm | Aluminium Ø 22 mm | Aluminium Ø 22 mm |  Tapered aluminium, Ø 28/22 mm |  Tapered aluminium, Ø 28/22 mm |
| Front suspension | WP-USD Ø 35 mm | WP-USD, AER 35 , Ø 35 mm | WP-USD, AER 35 , Ø 35 mm | WP AER Ø 43 mm | WP AER Ø 43 mm |
| Rear suspension | WP mono shock | WP mono shock | WP mono shock | WP Xplor PDS | WP Xplor PDS |
| Suspension travel front/rear | 100/147 mm | 205/185 mm | 215/270 mm | 280/305 mm | 280/305 mm |
| Front brake | Disc brake Ø 160 mm | Disc brake Ø 160 mm | Disc brake Ø 198 mm | Disc brake Ø 220 mm | Disc brake Ø 220 mm |
| Rear brake | Disc brake Ø 160 mm | Disc brake Ø 160 mm | Disc brake Ø 160 mm | Disc brake Ø 210 mm | Disc brake Ø 210 mm |
| Front/rear rims | 1.60 x 10″; 1.60 x 10″ Alu | 1.50 x 12″; 1.60 x 10″ Alu | 1.60 x 14″; 1.60 x 12″ Alu | 1.40 x 17″; 1.60 x 14″ Alu | 1.60 x 19″; 1.85 x 16″ Alu |
| Front/rear tires | 2.5 x 10″; 2.75 x 10″ | 60/100 x 12″; 2.75 x 10″ | 60/100 x 14″; 80/100 x 12″ | 70/100 x 17″; 90/100 x 14″ | 70/100 x 19″; 90/100 x 16″ |
| Chain | 1/2 x 3/16″ | 1/2 x 3/16″ | 1/2 x 1/4″ | 428 | 428 |
| Silencer | Aluminium | Aluminium | Aluminium | Aluminium | Aluminium |
| Steering head angle | 67.4° | 66° | 64,5° | 66° | 66° |
| Triple clamp offset | 22 mm | 22 mm | 22 mm | 14 mm | 14 mm |
| Wheel base | 914 mm ± 10 mm | 1,032 mm ± 10 mm | 1,137 mm ± 10 mm | 1,290 ± 10 mm | 1,290 ± 10 mm |
| Ground clearance | 184 mm | 252 mm | 280 mm | 352 mm | 377 mm |
| Seat height | 558 mm | 684 mm | 750 mm | 850 mm | 885 mm |
| Tank capacity | ca. 2,3 Liter | ca. 2,3 Liter | ca. 3,7 Liter | 5 l | 5 l |
| Weight (without fuel) | 40 kg | 41.5 kg | 53 kg | 67.0 kg | 68.0 kg |