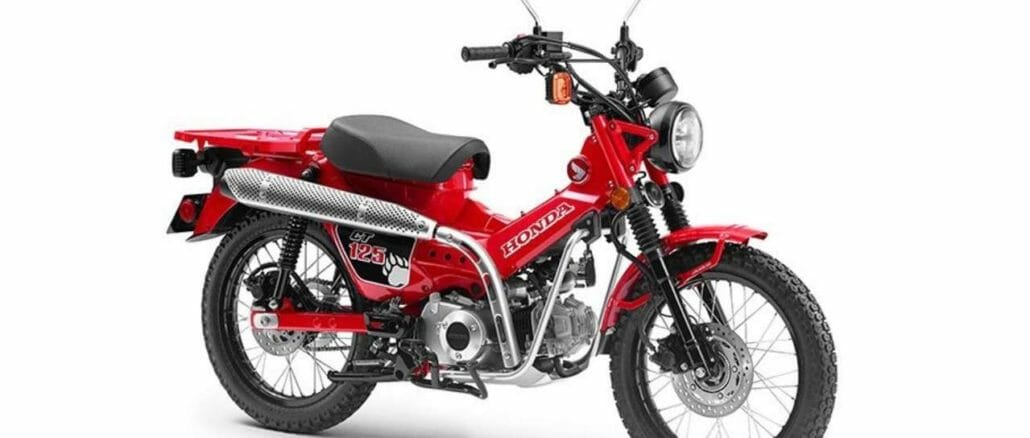 Honda would like to exhibit at the upcoming Tokyo Motor Show (24th October to 04th November) the study CT125 Concept.
Honda CT125 Concept
The basis of the off-road capable vehicle is the Super Cub. The fender is made of sheet steel, the scrambler exhaust was mounted high up and also the intake is located high up.
Also, the knobby tires, the spoke wheels, the engine guard, a crossbar on the handlebar and the bellows on the fork speak for the off-road capabilities of the CT125. All in all, it makes a quite indestructible impression.
Currently, the 125cc is titled Concept Bike, but the development is likely to be very close to the production stage. The likelihood that the CT125 will soon be on the showrooms as a production bike is certainly very high.
Sale
Sena 20S-EVO-01D 20S EVO, Bluetooth-Kommunikationssystem für Motorräder, Dopplepack*
Die gleiche Zusammensetzung von Funktionen, die bereits das 20S zur weltweiten Nr.1 unter den Bluetooth-Kommunikationssystemen gemacht hat, finden Sie auch beim 20S Evo.
Nutzen Sie die aktualisierte Sprechanlagen-Funktion in Form der Group Intercom-Funktion, um mit bis zu sieben weiteren Fahrern in einer Entfernung von bis zu 2 km in Verbindung zu bleiben.
Das 20S Evo liefert weiterhin klare, präzise und komfortable HD-Audioqualität unter allen Bedingungen.
Bluetooth 4.1-Technologie, hochwertige Stereo-Bluetooth-Lautsprecher und Audio Multitasking erzeugen ein rundes, klares und unmittelbares Klangerlebnis, das Sie beim 20S bereits so geschätzt haben.
Die vereinfachte Nutzeroberfläche macht das Einrichten und Koppeln des 20S EVO dank der Bewegungsmeldertechnik von Sena unglaublich einfach.
Letzte Aktualisierung am 2019-11-03 / *Affiliate Links / Bilder von der Amazon Product Advertising API