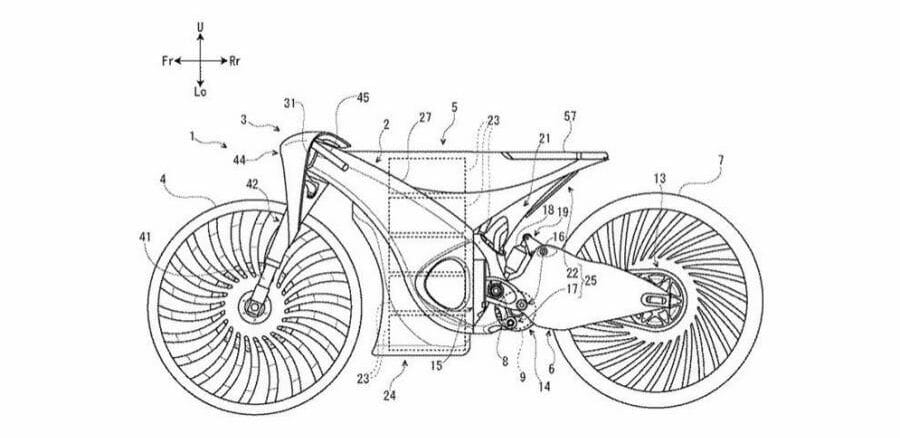 [ss_click_to_tweet tweet="Suzuki patent shows hybrid drive – also in the App MOTORCYCLE NEWS" content="Suzuki patent shows hybrid drive – also in the App MOTORCYCLE NEWS" style="default"]
Hybrid motors seem to be becoming more and more interesting for motorcycles, because after patents for a Kawasaki two-stroke engine with compressor surfaced, for charging a battery for an electric drive, a Suzuki patent now shows a different approach.
The Suzuki system has a modular structure. In full electric mode, the battery sits where the motor is normaly installed. Accordingly, the motorcycle is driven purely electrically.
A second set-up shows the motorcycle with hybrid drive. A petrol engine serves as a generator to drive the electric motor, but the wheels are not moved directly by the petrol engine.
The design of the machine is reminiscent of the crosscage concept that was shown at the 2007 Tokyo Motor Show. At that time, however, a hydrogen drive should be used. It looks as if the concept has been developed further and a switch has been made to a modular electrical system.
The level of detail of the motorcycle itself is also unusual. Usually, only the things to which the patent relates are drawn in more detail in patent drawings. The motorcycle, in which the corresponding part is, is usually shown very vaguely. This could indicate that a corresponding model is really in preparation and that a prototype may have already been built.
On the other hand, a patent is not a guarantee that a particular technology will actually be ready for series production and will also be built.
[amazon box=" B00RN90EZM "]