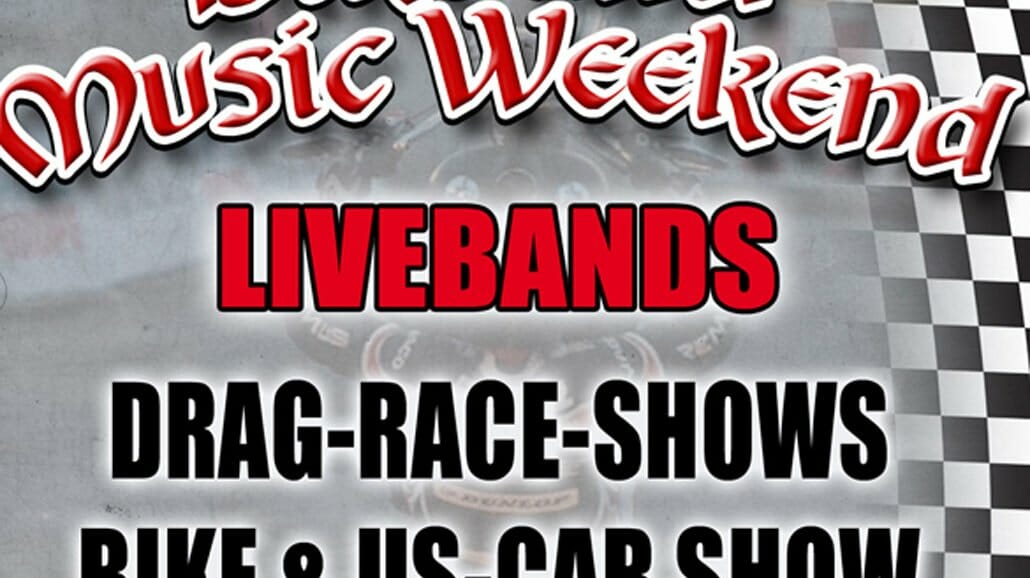 Anzeige von 2017 – sobald Daten für 2018 feststehen werden diese aktualisiert!
Günstige FESTIVAL TICKETS & TAGES TICKETS ab sofort erhältlich.
Für das Bike and Music Weekend 2017 sind bestätigt:
• ICED EARTH
• KROKUS
• THUNDERMOTHER
• JOHN DIVA & THE ROCKETS OF LOVE
• STINGER
• THE BLUE ONIONS
• DOUGIE AND THE BLIND BROTHERS
• THE SILVERETTES
• THE REVEREND ANDREW JAMES GANG
• SKI KING
• ROCCO RECYCLE
• MR. FINGER & THE SHIFTERS
• CHP
• ROCK SIN
• GONE RUBY
Sichert Euch schnell die FESTIVAL-TICKETs zum Hammerpreis von nur 37,00 €.
Tagestickets für Donnerstag, Freitag oder Samstag nur 18,00 €.
Tageskasse erhöhte Preise!
4 Tage – Volles Programm – Zu einem fairen Preis!   Zum Strohofer Online-Shop
Längst hat es sich zu einem der wichtigsten Bike-Events des Sommers etabliert: auch 2017 wird das BIKE AND MUSIC WEEKEND wieder zu einem spektakulären Wochenende rund um das Thema Motorräder und Musik einladen. Vom 3. Bis 6. August wird es wieder auf dem Gelände des Autohof Strohofers stattfinden. Jetzt wurden die Spieltage veröffentlicht und diese offenbaren tägliche Highlights! Das vollständige Programm wird mit allen Details demnächst veröffentlicht.
Anfang August wird sich das einmalige Gelände einmal mehr zum Mekka für Biker, Rocker, US-Car Fans und andere motorisierte Zweiradindividualisten verwandeln. Mehr als 20.000 Besucher kamen in den letzten Jahren jeweils, um die spektakulären Shows mit Bike Stunts, US-Cars, Drag Races und Custom Bikes zu sehen.
Aufsteigende Reifen-Qualmwolken und deftiger Grillrauch werden die Freiluft-Atmosphäre abwechselnd benebeln und die Stimmung unter den Festival Besuchern zum Kochen bringen, deren Herzen sowieso schon im V2-Takt schlagen.
Die spektakulären Bike-Stuntshows wechselt sich mit der Präsentation von hochglanzpolierten American Cars, gewaltigen Dragracern in atemberaubenden Shows und laut-kreischenden Burn Outs ab, die garantiert wieder einige Reifen zum Platzen bringen werden.
Die Besucher erwarten skurrile Eigenbau-Vehikel, die von ihren stolzen Besitzern hochglanzpoliert und knatternd zur Schau gestellt werden, und dazu warten allerlei kulinarische Schmankerl frisch gegrillt und zubereitet.
Auch in puncto Musik-Acts wird 2017 einiges geboten!
Den Anfang machen am Donnerstag KROKUS. Sie sind die international erfolgreichste Gruppe der Schweiz und bereits seit den 70er Jahren aktiv. Mit Hits wie "Bedside Radio" oder "Tokyo Nights" konnten die Eidgenossen auch in Amerika Riesenerfolge feiern.
Dabei am Freitag: ICED EARTH. Die Metal-Band um Mastermind Jon Schaffer hat im Verlauf von über 30 Jahren Bandgeschichte längst ihre Position in der Musikgeschichte erklommen und gehalten. Ihr letztes Album "Plagues of Babylon" erreichte die Top 5 der Deutschen Charts, während sie auf Tour jegliche Hallen bis zum Bersten füllten. Damit stellen ICED EARTH ein gigantisches Highlight zum Event dar.
Großes Kino bieten zudem am Freitag THUNDERMOTHER: geballte Frauenpower aus Schweden mit Wahnsinns-Riffings und Rock'n'Roll pur! Die jungen Hardrockerinnen haben dabei stets für Aufsehen gesorgt und ihre spektakulären Live-Shows sind phänomenal besucht. Die vier Rockröhren aus Stockholm sollte man sich nicht entgehen lassen!
Außerdem mit dabei ist SKI-KING, auch bekannt durch Bands wie BELOVED ENEMY, der mit seiner unverwechselbar grandiosen Stimme zwischen Elvis Presley, Johnny Cash und Lemmy Kilmister ein bunt gemischtes Solo-Set vom allerfeinsten zum Besten geben wird.
Unermüdlich, wie man SKI-KING kennt, bringt er auch unter dem Namen THE REVEREND ANDREW JAMES GANG eine seiner facettenreichsten Bands mit, um zuvor noch ein handgemachtes Coverset zu präsentieren.
Eine absolute Augenweide bietet ROCCO RECYCLE, der Solokünstler in Silber, der aus diversem Schrott wie Benzinkanistern und Mülltonnen wohlklingende Instrumente baut, um abgefahrene Cover-Versionen zu spielen.
Und wer dann immer noch nicht genug hat, dem bieten die BLUE ONIONS die No 1 Blues Brothers – Tributeshow der Extraklasse: ob fiese US-Cops, Legenden wie Ray Charles oder James Brown; ein Jake und ein Elwood bieten hier mit der original-like besetzen Band ein Blues Brothers Set, das seinesgleichen sucht und als einziges den Spirit des 1980er Filmklassikers erreicht.
Der Vorverkauf für das Mega-Event hat bereits gestartet. Tickets zum Preis von 37 Euro sind hier erhältlich:
Veranstalter: www.eventzentrum-geiselwind.de
Sale
Letzte Aktualisierung am 2018-10-24 / *Affiliate Links / Bilder von der Amazon Product Advertising API