Die ersten Trainings konnten am Dienstag stattfinden. Wie es für die einzelnen Fahrer gelaufen ist und welche Rundenzeiten sie erreichten erfahrt ihr hier 
Nachdem am Samstag und Montag die Trainings wegen dem schlechten Wetter ausfallen mussten konnte am Dienstag endlich das erste Training stattfinden.
Alte Rivalität – Michael Dunlop und Ian Hutchinson.
Diese beiden waren die Favoriten im letzten Jahr und machten die meisten Siege unter sich aus. In die Haare bekamen sie sich dabei auch. Momentan sieht es danach aus, als würde es da weitergehen wo sie im letzten Jahr aufgehört haben – zumindest was die Favoritenrolle betrifft. Sie fuhren jetzt schon Rundenzeiten von 125 mph.
Dunlop war mit der neuen Suzuki GSX-R1000 unterwegs und war zufrieden mit ihr. Ein Wunder ist das nicht, schließlich erreichte er die zweitbeste Zeit. Nach seinem vierten Platz bei der NW200 wurde die Gixxer noch etwas weiterentwickelt und das war der erste Test mit der neuen Entwicklungsstufe. Wenn man bedenkt, dass das Set-up mit der neuen Maschine gar nicht optimal auf die TT eingestellt sein kann (schließlich war es das erste Training), dann scheint wirklich einiges an Potential in dem Renngerät zu stecken.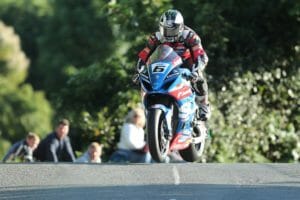 Schneller war nur Ian Hutchinson auf der Tyco BMW. Aber auch nur geringfügig. Gut 1,3 Sekunden trennten die beiden.
Dan Kneen der für Penz13.com auf einer BMW antritt konnte die viertbesten Zeit erreichen, damit war er der drittschnellste Fahrer. Publikumsliebling Guy Martin erreichte Platz 28. Zuletzt ist er 2015 bei der Senior TT um den Mountain Course gefahren.
Die genauen Rundenzeiten aller Teilnehmer sind weiter unten zu finden.
Keine Rundendzeiten, Durchschnittsgeschwindigkeit ist das Maß auf der Isle of Man TT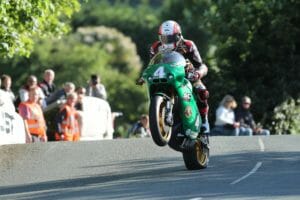 Nicht wundern, bei der Isle of Man TT wird nicht die Rundenzeit verglichen, sondern die durchschnittliche Geschwindigkeit die jemand auf dem 37,73 Meilen langen Kurs erreicht hat. Das ist für uns etwas befremdlich, da wir es nicht gewohnt sind. Außerdem ist es auch etwas umständlich, da man die Streckenlänge erst durch die benötigte Zeit teilen muss, aber wie heißt es so schön – andere Länder andere Sitten.
Bilder vom ersten Trainingstag der TT 2017
Quelle/Source: IOMTT.com and click Info
Die Ergebnisse der ersten Trainings
Videos erstes Training Isle of Man TT 2017
Letzte Aktualisierung am 20.08.2017 / *Affiliate Links / Bilder von der Amazon Product Advertising API