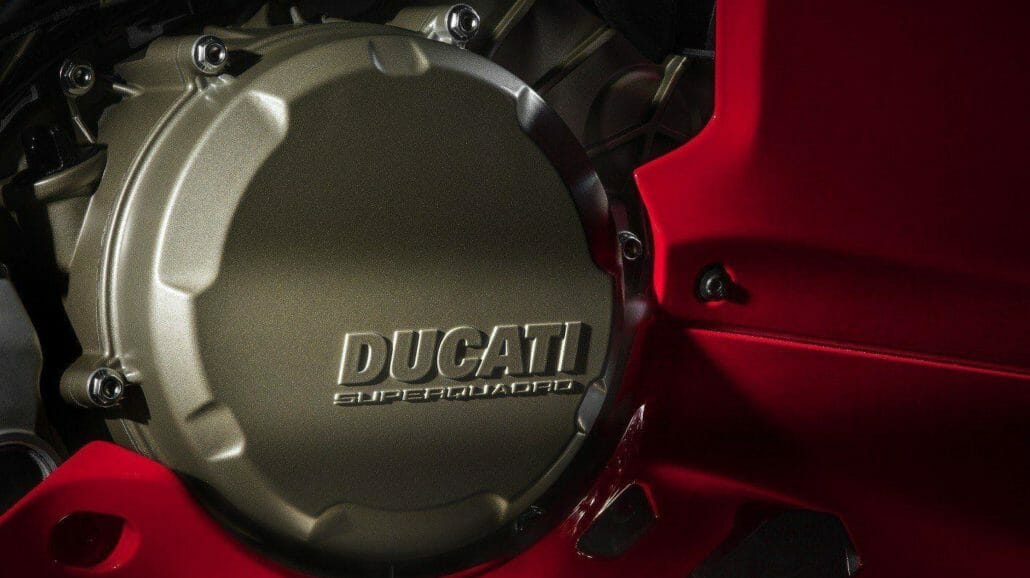 Vor Kurzem habe ich über das mysteriöse Video von Ducati berichtet. Darin wird darauf hingewiesen, dass am 07.07. in Laguna Seca also am Rennwochenende der World Superbike etwas ankündigen wird. Jetzt gibt es neue Gerüchte

Zu sehen im Video (siehe weiter unten), die Optik der Panigale, der Rennauspuff der Superleggera und ein Heck in Tricolore. Jetzt soll Ducati versehentlich die technischen Details enthüllt haben, momentan muss man es aber noch als Gerücht behandeln.
Daten der Ducati 1299 Panigale R Final Edition
Bei dem Motorrad das vorgestellt werden soll, soll es sich um die Ducati 1299 R Final Edition handeln. -Der letzten Panigale mit Zweizylinder-Motor. Die Verbindung zur Superleggera kommt daher, dass von ihr der Motor kommen wird. Dieser ist ja bekanntlich nach Euro4 homologiert. Die Leistung wird mit 209,4 PS angegeben, das sind etwas weniger als bei der Superleggera, die mit 215 PS angegeben wurde was aber in dem Papier mit einer anderen Messmethode begründet wird.
Es handelt sich also nicht um eine neue Superleggera mit Tricolore-Verkleidung. Genau genommen ist es ein Mix zwischen Panigale und Superleggera. Die teuren Teile aus Carbon werden bei der Final Edition nicht verwendet. Daher wird sie auch 190 kg auf die Wage bringen – fahrfertig. Das sind 12 kg mehr als bei der Superleggera.
Preis laut dem geleakten Informationen knapp 35.000 Pfund bzw. ca. 40.000 Euro. Kein Schnäppchen, aber trotzdem nur die Hälfte der Superleggera, die ja schon lange ausverkauft ist und von der jetzt die ersten Modelle ausgeliefert wurden.
Auch die Ducati 1299 R Final Edition soll auf 500 Stück limitiert sein.  Außerdem kann man davon ausgehen, dass sie ihre volle Leistung auch nur im Rennstreckentrimm entfalten kann und in Straßenversion etwas weniger Spitzenleistung hat. Bei der Superleggera ist es auch so. Sie wird mit einem Rennstrecken-Kit ausgeliefert. Die Auspuffanlage mit den hohen Endschalldämpfern von Akrapovic, die auch im Video der Final Edition zu sehen ist, ist Teil dieses Racing-Kits und hat keine Straßenzulassung.
Das mysteriöse Video von Ducati – evtl die Ankündigung einer Superleggera Tricolore?
Bilder der Ducati Superleggera:
Quelle: Ducati
Letzte Aktualisierung am 20.08.2017 / *Affiliate Links / Bilder von der Amazon Product Advertising API
Das angeblich versehentlich veröffentlichte Dokument zur Final Edition:
1299 R Final Edition
Today we will begin a teasing campaign for the 1299 R Final Edition which we will then launch in full detail over the Laguna Seca Moto GP weekend, July 7-9th. However, in order to help you answer questions about this important new model, we have attached for you the technical specs and Q&A. In the meantime, here are some key bits of information:
Price: £34,995
Availability: We anticipate first deliveries will take place in September 2017.
Quantity available: While there is not a stated limit, orders will be supplied on a first come, first served basis and we anticipate there will quickly be a waiting list. We will update you regularly on status of the list and anticipated delivery availability.
Key differences vs 1299 Superleggera; there are details in the attached Q&A, but for simplicity, we have also highlighted some key differences here:
Dry weight 1299 Panigale R Final Edition: 168 KG (1299 Superleggera: 156 KG)
Wet weight no fuel 1299 Panigale R Final Edition: 179 KG (1299 Superleggera: 167 KG)
Kerb weight: 190 KG (1299 Superleggera: 178 KG)
Maximum Power: 209.4 HP @ 11,000 RPM (1299 Superleggera: 215 HP @ 11,000 RPM)
Peak Torque: 104.7 NM @ 9,000 RPM (1299 Superleggera: 108 NM @ 9,000 RPM)
The discrepancy in claimed power between the 1299 Superleggera and 1299 Panigale R Final Edition is due to a change in the method of power measurement (chassis dynamometer for the Superleggera, engine dynamometer for the Final Edition).
The key engine differences between the 1299 Panigale R FE and the 1299 Superleggera are the use of steel cylinder liners, steel fasteners and a die cast crank case in the 1299 Panigale R FE.